The Best Time Bill Hader Broke Character On SNL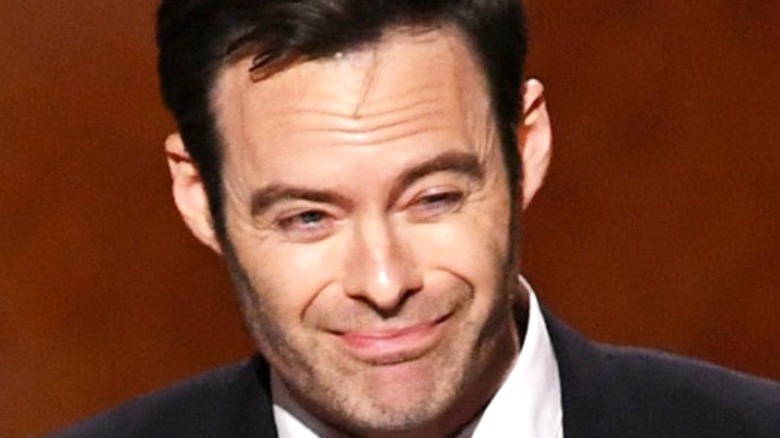 Kevin Winter/Getty Images
Bill Hader grew into one of the finest performers to ever grace the cast of NBC's "Saturday Night Live" during his eight-year run on the iconic sketch comedy series. The Oklahoma-born actor, writer, director, and comedian, now perhaps best known for his HBO series "Barry," first joined "SNL" in 2005 for Season 31 and quickly grew into a prolific impressionist and character actor on "SNL," taking on portrayals of actors Al Pacino and Alan Alda as well as political consultant James Carville that were comedic hits. Hader's original characters also grew into cult favorites; elderly reporter Herb Welch and Devin from "The Californians" resonate with fans to this day.
One recurring Hader character, in particular, brought the comedian significant attention during his run on the show for making him laugh almost every time he appeared on the show's "Weekend Update": Stefon, the segment's "city correspondent." Stefon started as a one-off character in a Ben Affleck sketch but quickly found a home behind the desk with Seth Meyers, advising New Yorkers and tourists alike on the strangest nightclubs and bars to visit across the city. Hader co-wrote Stefon sketches with then-"SNL" writer John Mulaney, who took it upon himself to introduce jokes into the sketch that Hader did not know about. This would happen just before the live version started to purposefully make Hader laugh (via YouTube). As a result, Stefon's numerous appearances on "SNL" grew beloved not just for the jokes, but for Hader's inability to make it through his appearance without laughing.
Bill Hader's first time hosting SNL made for his best character break as Stefon
The best time Hader ever broke character on "Saturday Night Live" actually came after he departed the show at the end of Season 38, in 2013 (via The New York Times). Hader returned to host "SNL" for the first time on October 11, 2014, and the show could not help but bring Stefon back for a crowd-pleasing sketch in the middle of the episode (via The Hollywood Reporter). The sketch featured Stefon's Weekend Update appearance with Colin Jost and Michael Che rather than Meyers, but there was no less hilarity in Hader's appearance as the iconic character. During the sketch, Stefon mistakes Jost and Che for politicians Barack Obama and Mitt Romney before describing a series of New York City nightclubs that all seem to feature former MTV host Dan Cortese.
As Salon noted in its recap of the sketch, the dynamic between Hader and Mulaney had been well publicized by the time this "SNL" episode aired, with fans instantly identifying each of the three "Dan Cortese" jokes as ones Mulaney added last minute without telling Hader. Audiences can hear Hader's voice slightly stagger as he reads the line while describing the first club, and he briefly pauses before continuing on to his next line. Dan Cortese circles back around at two more fictional clubs, which Hader clearly was not prepared for. Hader could barely read the lines before his face contorts with laughter — Mulaney upped the ante by including the same joke three separate times.