How Gunsmoke Affected The Cancellation Of Gilligan's Island
"Gunsmoke" was one of the longest-running television dramas of all time. Starring James Arness, Milburn Stone, Amanda Blake, Dennis Weaver, and for a time, a young Burt Reynolds, the Western-themed series aired on CBS for an incredible 20 seasons, from 1955 to 1975. "Gunsmoke" consisted of an eye-popping 635 episodes and won multiple Emmy Awards, per IMDb, before Arness' Matt Dillon character got an abrupt end in the unexpected final episode "The Sharecroppers." Arness told the Archive of American Television that when the long-running show was finally canceled, "Gunsmoke" producer John Mantley found out the news from a front page story in The Hollywood Reporter. Mantley was devastated by the "callous way" in which CBS bigwigs broke the news. "They didn't have the courtesy to call him up," Arness said.
Mantley and Arness reteamed for a reboot of "How the West Was Won," which ultimately aired three seasons on ABC. "We were off and running on that show within days, actually, of the cancellation of 'Gunsmoke,'" Arness revealed. While "Gunsmoke" had an abrupt end, it actually came eight years later than originally planned. That's because another show –-  a show that had nothing in common with "Gunsmoke" except for the fact that its title also started with the letter "G" — took a bullet for the American western drama.
A Gilligan's Island star revealed Gunsmoke was almost canceled in the 1960s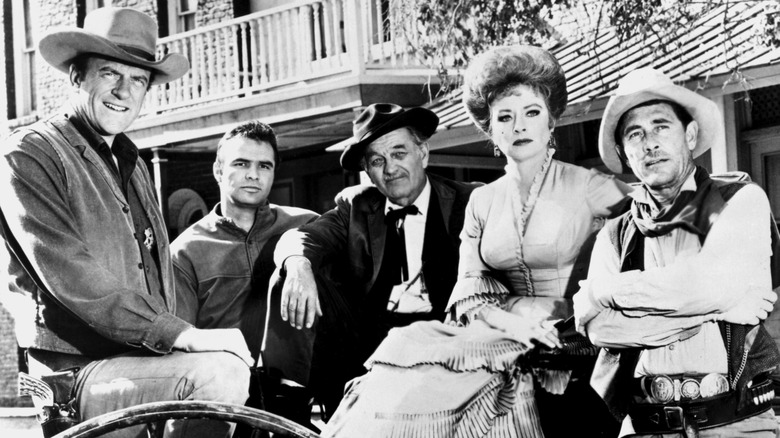 Michael Ochs Archives/Getty Images
"Gilligan's Island," the campy sitcom about seven castways stuck on an "uncharted desert isle," starred Bob Denver and Alan Hale. It aired as the lead-in for CBS' Monday night schedule for three seasons, before "Gunsmoke" rode in to steal its timeslot. That's right.
In a 2013 interview, Dawn Wells, who played Kansas farm girl Mary Ann Summers on "Gilligan's Island," told Esquire that her show took the fall in 1967 because the wife of CBS chief William Paley was a huge "Gunsmoke" fan. "What happened was Gunsmoke was canceled, and we were moved into their time slot," Wells revealed. "Mrs. Paley — the wife of the board chairman — had been on vacation when Gunsmoke was canceled, and when she got home, she said, 'You can't cancel Gunsmoke. It's my favorite show.' So they canceled us."
"Gilligan's Island" creator Sherwood Schwartz told the Archive of American Television (posted on YouTube) that after he had already been given the green light for a fourth season –- and had told his actors — his show and another half-hour comedy were dumped so "Gunsmoke," which was struggling with its Saturday night audience, could take over the Monday night time slot. Schwartz had to make the unpleasant call to his "Gilligan's Island" cast to tell them their show would not be returning after all. CBS may have sunk "Gilligan's Island" prematurely, but the show has lived on in syndication for more than 50 years. "Everybody bet it wouldn't last three weeks," Wells told Esquire. "Everybody thought it was the stupidest show ever written. It can't be stupid and have survived like it has. We've never been off the air."