We Might Finally Know What Happened To Luke On The Walking Dead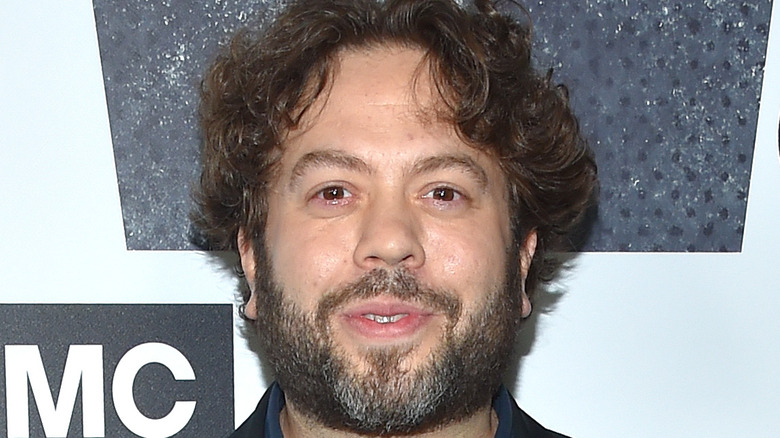 DFree/Shutterstock
In "The Walking Dead" Season 9, Episode 5 ("What Comes After"), Rick Grimes (Andrew Lincoln) boards a helicopter and departs Alexandria for the world of cinema. Only a few seconds later, a six-year time jump transports viewers into the unknown. The moment ultimately signals the ending of one era and the beginning of another. While the conclusion of the first era forces fans to bid adieu to the longtime protagonist, the dawn of the second era offers a number of new and interesting characters.
After the time jump, "The Walking Dead" quickly introduces four new survivors of the apocalypse: Yumiko (Eleanor Mastuura), Magna (Nadia Hilker), Connie (Lauren Ridloff), and Luke (Dan Fogler). Fans of the Wizarding World franchise likely recognized Fogler from his big-screen role as Jacob Kowalski in the "Fantastic Beasts" movies. Like in that film series, Fogler's "Walking Dead" counterpart quickly became a fan-favorite character, appearing prominently on the series for the next 2 seasons. 
Unfortunately, Luke has been noticeably absent throughout Season 11 so far. To the astonishment of some viewers, it's almost as if Luke disappeared out of thin air. Indeed, Fogler last appeared in Season 10, Episode 16 ("A Certain Doom"), and his whereabouts have been a talking point among fans of the series ever since (via Reddit). As tensions between the Commonwealth and its many neighbors rise to a boiling point, fans have been understandably curious to know how Luke might fit into a coming war.
Dan Fogler thinks Luke is teaching music classes on the beach at Oceanside
While on stage during a recent panel at Fandemic Tour Atlanta, actor Dan Fogler was asked a blunt, but entirely understandable question: Where is Luke? Unfortunately, fans eager for more information on when to expect Luke to return to "The Walking Dead" are going to have to wait just a little bit longer. It seems almost certain that Luke will return to the forefront of the zombie walker drama at some point in Season 11, Part 3, but it's just not entirely clear how yet. 
When asked about Luke, Fogler wasn't quite ready to share many details. As per customary spoiler etiquette, Fogler didn't go into any specifics about how we might expect to see Luke reappear. However, the actor provided confirmation about where we left Luke last and offered a bit of speculation about what he might be doing at the moment. 
In addition to agreeing with a fan suggestion that Luke is "teaching music classes," Fogler explained exactly where he believes Luke is and, more importantly, who he is spending time with. "Last time you saw Luke, he was chilling with Jules," Fogler said (via YouTube). "I suspect that he's over at Oceanside, just living it up on the beach there, having a good time."
While Fogler may not have provided all of the answers that fans are looking for, those answers may be available soon enough anyway. The final episode of "The Walking Dead" Season 11, Part 2, airs on AMC on April 10. While an exact premiere date for Season 11, Part 3, is not yet available, the final eight episodes of the series will air at some point in 2022. As with the rest of the season, AMC+ users will have access to the episode a whole week early.