The Iconic Comedian Who Helped MASH Star Jamie Farr Get His Start In Hollywood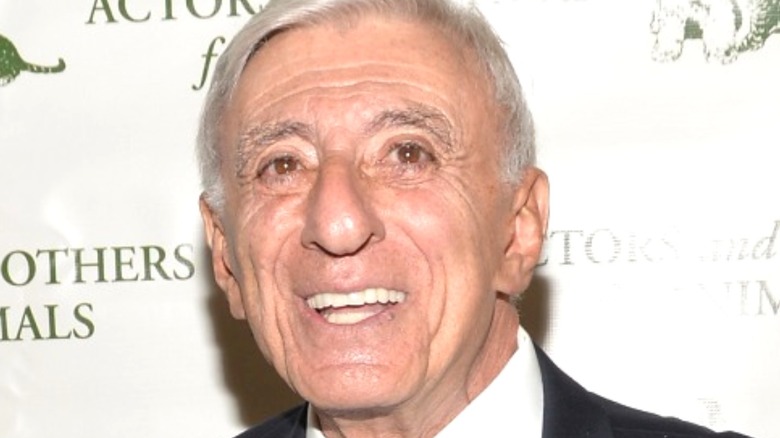 Michael Tullberg/Getty
"M*A*S*H," the '70s CBS series about the 4077th Mobile Army Surgical Hospital in Korea, has many serious moments as the medical team works to treat injured and dying soldiers. But even in the midst of war-related death and destruction, there's a healthy dose of comedy.
Much comedic relief on "M*A*S*H" comes from Corporal Maxwell Q. Klinger (Jamie Farr), who desperately wants out of Korea. In an effort to seem mentally unfit for the Army and receive a psychiatric discharge, referred to as a Section 8, Klinger regularly dons women's clothing. Whether it's a lavish wedding dress, floral head scarf or a bathrobe and fuzzy pink slippers, his fashionable antics become the norm around camp, much to his annoyance.
In addition to "M*A*S*H," Farr has starred alongside numerous industry greats, such as Lucille Ball and Dick Van Dyke. His own entrance into the world of Hollywood was far from typical. In fact, Farr largely credits one of his favorite childhood comedians with helping him get his start.
Red Skelton took Jamie Farr under his wing
Growing up in Toledo, Ohio, Farr was an avid fan of the radio shows of comedians like Bob Hope and Red Skelton. Since a young Farr was supposed to be asleep by Skelton's 9:30 p.m. time slot, he listened quietly so as not to let his mother hear (via We Are the Mighty).
As luck would have it, his path one day crossed with Skelton, who took a liking to Farr and invited him to appear on "The Red Skelton Show," a variety program that ran from 1951 to 1971. The two maintained a friendship after Farr entered the army. When Skelton toured military bases with his act, he requested Farr be assigned to him. "Red Skelton was like a second father to me and was very instrumental in helping my life," said Farr (via We Are the Mighty). When Farr entered the military, Skelton gave him a St. Christopher medal for protection. "I cherish it and wear it every day," said Farr, adding, "Red was a very kind, conscientious and loving person."
Thanks to Skelton's mentorship, when Farr left the Army in 1959, many opportunities awaited him, including a dress-wearing guest spot on "M*A*S*H," which quickly transformed into a regular, fan-favorite character (via Military.com).