What Really Happened To Pompa On Iron Resurrection
Discovery and its offshoot channels are known for broadcasting reality-based shows that explore niche subject matter. "Deadliest Catch," for example, chronicles the adventures of crab boat captains and their crew members as they venture through the Bering Sea during crab season. However, viewers who prefer their entertainment to take place on land are probably more interested in reality series such as MotorTrend's "Iron Resurrection," which delves into the world of auto-repair mechanics.
That being said, "Iron Resurrection" still offers viewers the chance to witness small miracles happen, similar to the wonders of auto renovation that can be found on shows such as "Pimp My Ride." The series follows the team at Martin Bros Customs in Austin, Texas as they attempt to turn rundown old vehicles into fully-functioning mechanical masterpieces. They're very good at their jobs, and it's not unusual for them to make old hunks of scrap appear brand new when it's all said and done. 
Of course, "Iron Resurrection" wouldn't be successful if the hosts weren't engaging and enjoyable to watch. The series is led by Joe Martin, his wife Amanda, and their friend Jayson Arrington, all of whom have been part of the adventure since 2016 (per IMDb). Sadly, other beloved cast members, such as Cato and Shorty, abruptly left "Iron Resurrection" before Season 4, causing fans to wonder if there were any disagreements behind the scenes. Pompa also mysteriously parted ways with the reality series around this time, but what happened to him?
The Pompa situation remains a mystery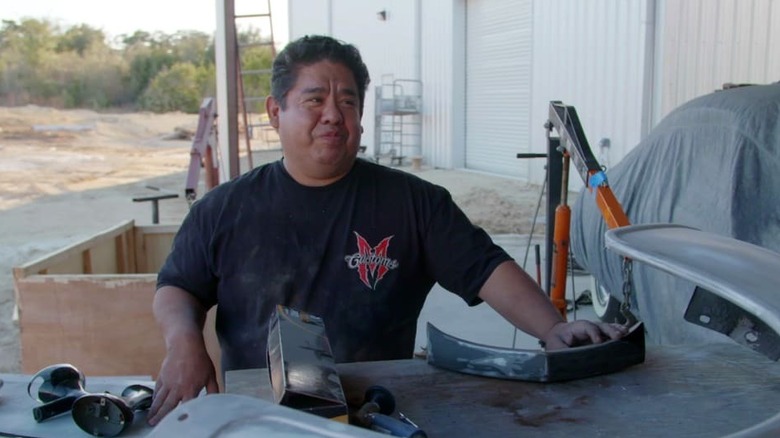 Discovery Channel /MotorTrend
Cato and Shorty disappeared from "Iron Resurrection" to spend more time with their families and focus on other business ventures. Per Distractify, it is generally believed that Pompa left "Iron Resurrection" for similar reasons, though his exit might be more complicated if the rumors are to be believed. 
As the Distractify report points out, some fans speculated that he parted ways with the reality series as he was tired of being the butt of his colleagues' jokes. He was known to scare easily, both on and off the screen, though he always seemed to take the ribbings in good jest. However, have been no reports of bad blood between him and any of his former colleagues, so until there is official clarification regarding his exit, the reason for his departure will remain unclear.
Pompa has been out of the public eye since his tenure on "Iron Resurrection, and it is unknown if he has any plans to return to television.