Why Dr. Dan Lewis From Venom Looks So Familiar
Between the unexpected campy delight of the 2018 franchise-starter and the upped ante of its hit 2021 sequel, the "Venom" franchise is turning out to be one of the most unexpected yet solid successes of our current blockbuster era. Say what you will about the continuing story of anxious investigative journalist Eddie Brock (Tom Hardy) and his alien symbiote partner, but one thing is for certain: It is wholly unlike any other superhero tale on offer..
A large amount of the unique, refreshingly bizarre energy of the "Venom" films comes directly from Tom Hardy himself, and his neurotic commitment to the roles of both Eddie and Venom, which draw from his ample, previously untapped arsenal as a comedic performer. But just as crucial to the films' success is the way Hardy plays off of the cast surrounding him. One of the supporting characters he has an engaging dynamic with is Dr. Dan Lewis, the ever-baffled fiancé of Eddie's ex-fiancée Anne Weying (Michelle Williams). Unsurprisingly, Dan is played by an actor with significant experience in comedy. Here are a few of the roles you might know him from.
Reid Scott rose to prominence as My Boys' Brendan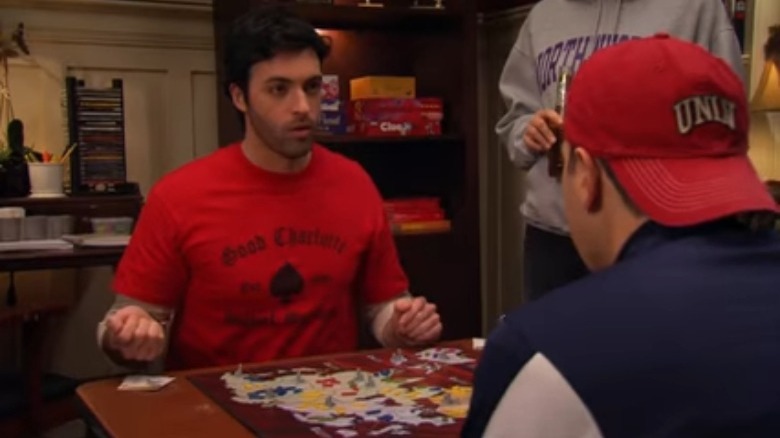 TBS
One of the most offbeat sitcoms of the 2000s was "My Boys." Created by Betsy Thomas, also known for having co-created the short-lived 2000 ABC comedy "Then Came You," "My Boys" told the story of PJ Franklin (Jordana Spiro), a Chicago-based sports journalist who navigated the trials and tribulations of dating as a tomboyish woman with mostly male friends and stereotypically "masculine" interests.
The show ran for four seasons and 49 episodes on TBS, and, like most comedies of its ilk, it was centered around a large ensemble cast, in this case comprising the titular boys. One of those boys was Brendan "Brando" Dorff, a DJ at a Chicago hard rock radio who maintained a close platonic friendship with PJ and often crashed at her apartment.
Brendan was played by actor Reid Scott — and yes, that's the same actor who also plays Dr. Dan Lewis in "Venom." Although he'd previously starred on the ABC sitcom "It's All Relative," "My Boys'" Brendan was the role that really allowed Scott to rise to prominence in the TV comedy world.
Reid Scott had a memorable recurring role on The Big C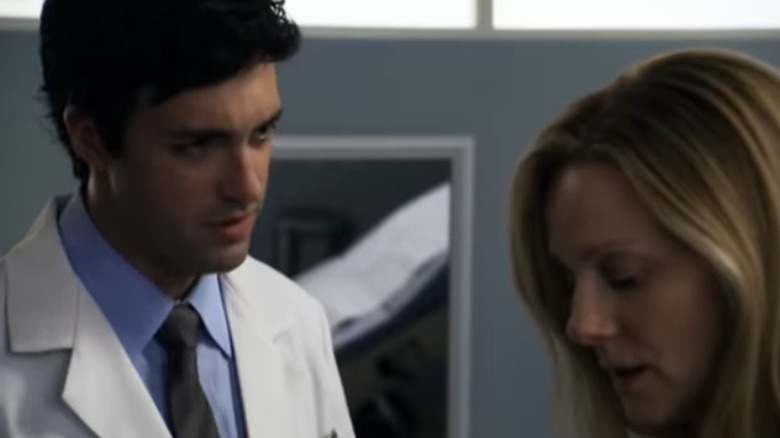 Showtime
Few recent shows embody the tightrope-walk spirit of the "dramedy" genre as completely as "The Big C." Although it was outwardly a comedy, with zany characters, farcical situations, and a running wry sense of humor, the award-winning Showtime series told the very fraught story of a woman dealing with terminal-stage cancer — and that often made it gut-wrenching by default.
"The Big C" starred Laura Linney, who received multiple Primetime Emmy nominations for her role as Cathy Jamison, a high school teacher faced with a melanoma diagnosis. In addition to her family and closest friends, one of Cathy's most important relationships was the one she had with Dr. Todd Mauer, her oncologist, played by Reid Scott in a recurring capacity throughout the first two seasons. In addition to accompanying her treatment and offering medical advice, Dr. Mauer also took on the role of Cathy's confidante as she coped with her situation, and they developed a close kinship outside his office.
He joined the annals of TV history on Veep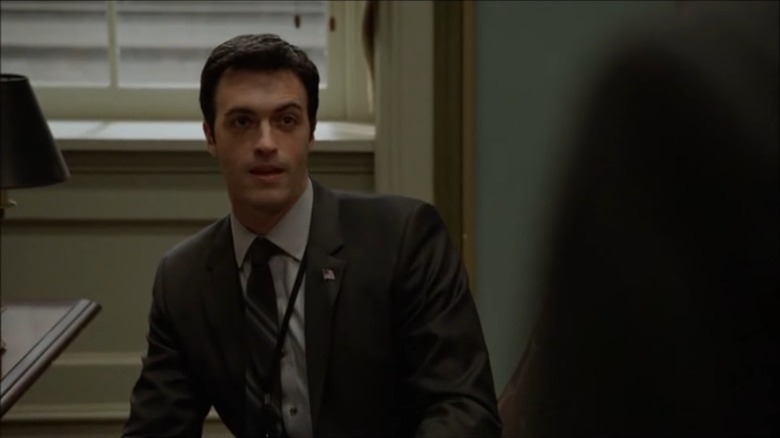 HBO
There's really no contest for the project that Reid Scott is best-associated with: That would unarguably be "Veep," the landmark HBO political comedy on which he appeared for all seven seasons and 65 episodes.
Starring Julia Louis-Dreyfus as the perpetually humiliated Vice-President of the United States, Selina Meyer, "Veep" also told the stories of Selina's aides and their various misadventures around Washington D.C., the United States, and the world. Like most Armando Ianucci projects, "Veep" was noted for its deeply cynical outlook on politics and its lack of restraint in depicting abject, irredeemable characters. And the most irredeemable of all might have been Dan Egan, the ruthless careerist and playboy who began the show as Selina's Deputy Director of Communications.
The role of Dan Egan allowed Reid Scott to display not just a complete mastery of the show's highly demanding comedic timing, but a complete willingness to commit wholeheartedly to one of TV's slimiest, most detestable roles while still lending him an inexplicable devilish charisma. The number of moral event horizons Dan crossed in his climb up the D.C. ladder was too great to keep track of, but Scott made sure his each new move was magnetic and hilarious.
Reid Scott took on a supporting role in Home Again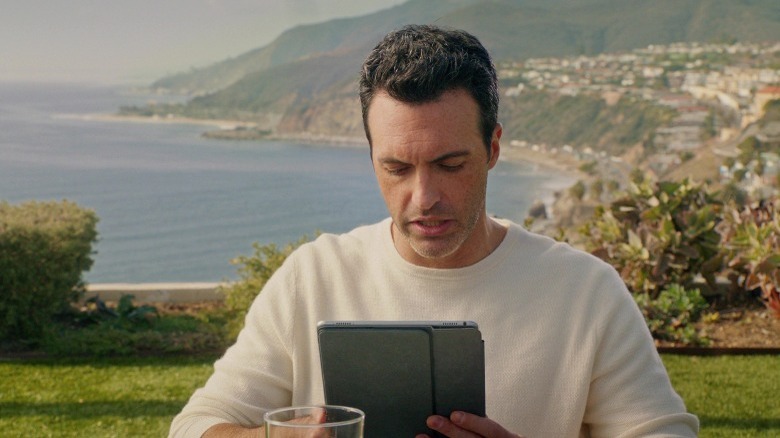 Open Road Films
Filmmaker Nancy Meyers is one of the greatest legends in the history of romantic comedy cinema, having had a hand, as either writer or director, in such bonafide hits in the genre as "Something's Gotta Give," "Father of the Bride," "The Holiday," and "It's Complicated." It's no surprise that a knack for romcom construction would turn out to run in the family, as Meyers' daughter, Hallie Meyers-Shyer, made her directorial debut with 2017's similarly successful "Home Again."
Starring Reese Witherspoon as Los Angeles-based single mother and interior designer Alice Kinney, "Home Again" starts from an offbeat, highly metatextual premise: The daughter of a famous film director, Alice meets, befriends, and eventually takes into her guest home three young aspiring filmmakers and admirers of her father's work, Teddy Dorsey (Nat Wolff), George Appleton (Jon Rudnitsky), and Harry Dorsey (Pico Alexander). Reid Scott makes a prominent appearance as another part of the "Home Again" film industry constellation: he stars as Justin Miller, a successful horror film director who becomes interested in the three young men's feature film pitch.
He drew from his Veep experience in Late Night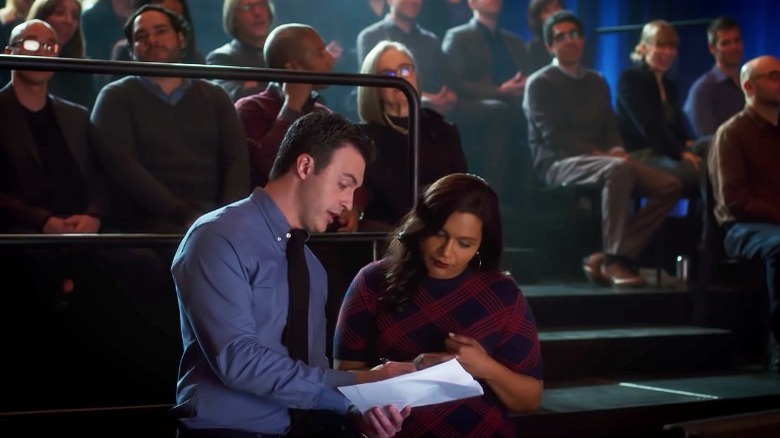 Amazon Studios
Originally released during the 2019 Sundance Film Festival, the Nisha Ganatra-directed comedy "Late Night" made history when Amazon Studios acquired it for domestic distribution for a record-breaking $13 million (via Deadline). Compared by several critics to previous workplace comedies about female mentor-pupil relationships such as "The Devil Wears Prada" (via Metacritic), "Late Night" hinged heavily on the chemistry and rapport between its two mainline stars, Mindy Kaling — who also wrote the screenplay — and Emma Thompson, who play writer Molly Patel and talk show host Katherine Newbury, respectively.
As Molly becomes acclimated to the all-white and all-male writers' room of "Tonight with Katherine Newbury," she strikes up a delicate will-they-or-won't-they dynamic with overprivileged monologue writer Tom Campbell. Reid Scott drew heavily from past experience for the role, patterning Tom's demeanor after what he'd seen of the "Veep" writing staff's behavior, and revisiting Dan Egan's entitlement and general awfulness to lay the groundwork for Tom's initial personality, as he told Entertainment Weekly.