The Worst Family Dinner Scene In Blue Bloods Season 6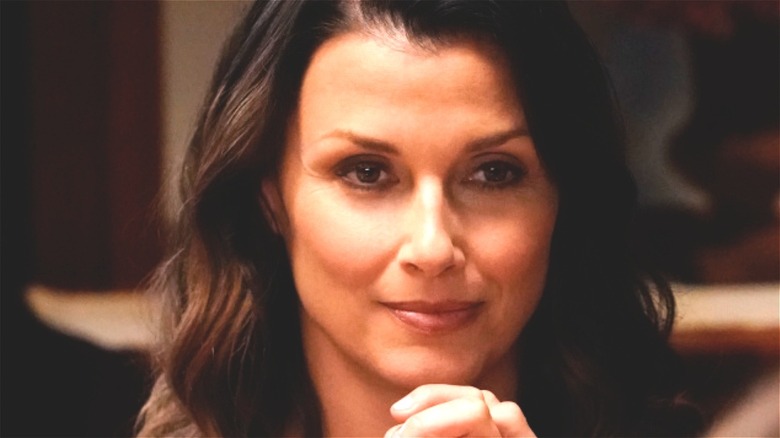 John Paul Filo/CBS
Outside of the Reagan family's regular police work, the only things more constant on the CBS series "Blue Bloods" are the family's typical dinner scenes. In just about every single episode of the long-running series, all of the Reagan clan gather around the table for a Sunday dinner. While most "Blue Bloods" episodes are partitioned into specific storylines for each prominent member of the Reagan family, these dinner scenes usually offer an opportunity for everything to come together by the end of an episode. 
Normal attendees at the weekly family meeting include everyone from former NYPD Commissioner Henry Reagan (Len Cariou); Henry's son, current NYPD Commissioner Frank Reagan (Tom Selleck); Frank's three living children, NYPD Detective Danny Reagan (Donnie Wahlberg), New York Assistant District Attorney Erin Reagan (Bridget Moynahan), and NYPD Detective Jamie Reagan (Will Estes); in addition to a growing number of Frank's grandchildren.
Although the various members of the Reagan family often discuss their work experiences at the table, these dinners also offer the family a respite from the tenseness of their jobs in law enforcement. However, one episode in Season 6 features a dinner scene that might actually be the most tense moment of the entire episode.
Linda Reagan did not enjoy talking about crime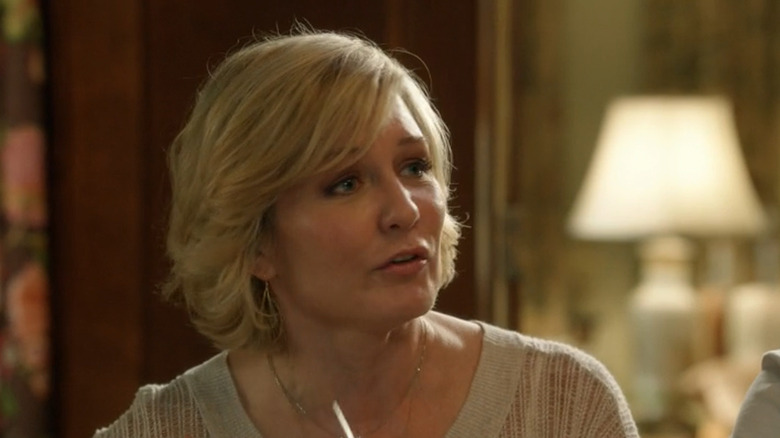 CBS/Hulu
In "Blue Bloods" Season 6, Episode 3 ("All the News That's Fit to Click"), Frank allows a reporter to go on a ride along with Danny and NYPD Detective Maria Baez (Marisa Ramirez). Unfortunately, an encounter with a gun-toting criminal lands the reporter in the hospital with a grizzly gunshot wound. 
When the Reagans later gather around the table for dinner, various family members exchange their individual perspectives on the matter. Of course, while the youngsters don't have much of a say in the matter, as the saying goes, "'Little pitchers have big ears." Both Sean (Andrew Terraciano) and Jack Reagan (Tony Terraciano) become interested in the implications of the incident. 
Unfortunately, one member of the Reagan family quickly decides she has had enough of the topic and lets those seated around her know it in no uncertain terms. "There is something very wrong with the fact that every time this family sits down for dinner we have to talk about crime and criminals," Linda Reagan (Amy Carlson) pleads, just as Frank departs the room to take a phone call. "Couldn't we just for once just sit together and have a normal family dinner?" 
Of course, it is certainly understandable why Linda would have such a reaction at this point in the series. In Season 5, Episode 22 ("The Art of War"), only three episodes earlier, Linda was grievously wounded as a result of a separate shooting. Although she survives the incident, it leaves her with a debilitating case of post-traumatic stress disorder. 
Sadly, the tense dinner scene is made even worse when Frank returns and announces that the reporter has been killed in yet another violent attack.
If you or someone you know is struggling with mental health, please contact the Crisis Text Line by texting HOME to 741741, call the National Alliance on Mental Illness helpline at 1-800-950-NAMI (6264), or visit the National Institute of Mental Health website.