Bill Nighy Didn't Know He Was In Pirates Of The Caribbean 5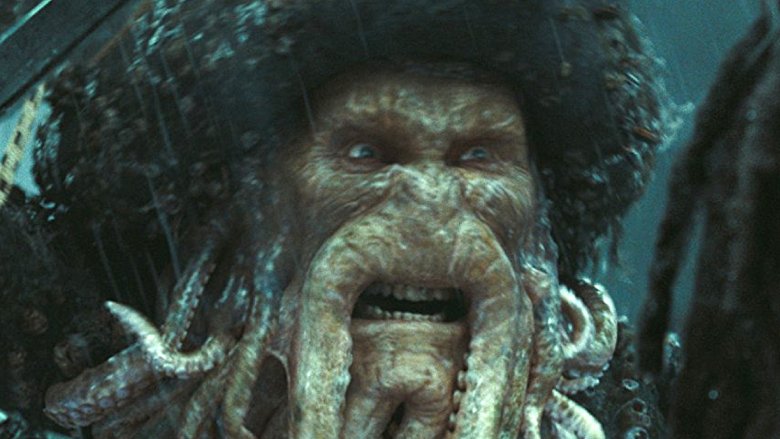 Months old spoiler for you, everyone, but a return for Bill Nighy's Captain Davy Jones is heavily teased in the post-credits scene of Pirates of the Caribbean: Dead Men Tell No Tales. However, as it turns out, the tease may remain at just that, considering the fact that Nighy wasn't even aware it existed.
The scene, one of the Easter eggs you may have missed in the movie, began with Orlando Bloom's Will Turner and Keira Knightley's Elizabeth Swan reunited. The pair is sleeping blissfully when Will wakes up to see a tentacle reaching for him– a tentacle that looks eerily similar to that of Davy Jones. Will wakes up and realizes it was just a dream, but then he finds a pile of water and barnacles next to his bed, hinting that the seafarer may have actually been in his room.
Nighy appeared as Davy Jones in Pirates of the Caribbean: Dead Man's Chest and At World's End, but his character was killed off by Will at the end of the third movie, turning him into the cursed captain. The post-credits scene was meant to suggest that the events of Dead Men Tell No Tales could have left open a return for Davy Jones, but Nighy is not so sure.
"I didn't know anything about it until a week ago," Nighy told Empire of his sort of cameo. He says that he heard about it from a cab driver, who asked if he was going to be in the next film. "I said, 'No. I didn't know there was a next one,'" Nighy said. "He said, 'Well, you were in the last one.' I said, 'No I wasn't.' He said, 'Yes, you were.' So that's all I know. You probably know more than I do."
Even though Nighy was kept in the dark about his character's potential return, he still seems on board with doing more. The actor said he would "love" to do another movie, but he hasn't been approached by Disney with any specific plans. "I'd be there like a shot," he said.
While a sequel to Dead Men Tell No Tales hasn't been ordered just yet, it certainly seems like a possibility, with the movie still making big bucks overseas despite being a bit of a domestic disappointment. The willingness of Nighy to return and the potential for Bloom and Knightley to be back as well would also be huge gets for fans of the franchise's earlier films. Hopefully next time, though, Nighy actually knows he's going to be in the film.