Saul Goodman's Worst Moment In Better Call Saul Season 1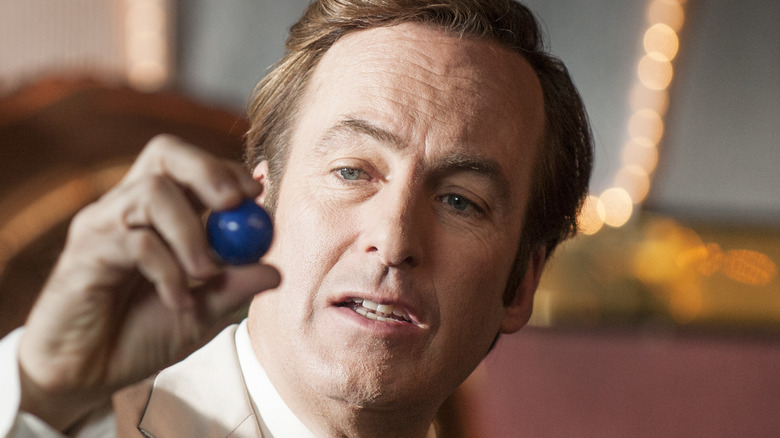 Ursula Coyote/AMC
The inaugural season of the AMC crime drama series "Better Call Saul" spends its time introducing "Breaking Bad" fans to Jimmy McGill (Bob Odenkirk) some years prior to his time working as Walter White (Bryan Cranston) and Jesse Pinkman's (Aaron Paul) lawyer under the name Saul Goodman. The season slowly starts to track Jimmy's descent from a hard-working, up-and-coming public defender in Albuquerque to a criminal lawyer by presenting the character as a former scam artist who tries to walk the straight and narrow path to please his older brother, Chuck (Michael McKean), who privately holds disdain for Jimmy. Audiences learn throughout the season that Jimmy grew up and spent his early adult years in Cicero, Illinois, where he gained the nickname "Slippin' Jimmy" for his slip-and-fall scheme tactics.
As the season depicts how Jimmy meets pivotal "Breaking Bad" character Mike Ehrmantraut (Jonathan Banks) and grows initially connected to Albuquerque's criminal underworld, audiences also see some of his time spent pulling scams with a friend named Marco (Mel Rodriguez) in Cicero. In the Season 1 finale, "Marco," Jimmy returns to Cicero after causing a scene while hosting a bingo night in Albuquerque and subsequently pulls off one scheme that has seriously gross moral implications.
Jimmy McGill pretends to be Kevin Costner during a scam-fueled bender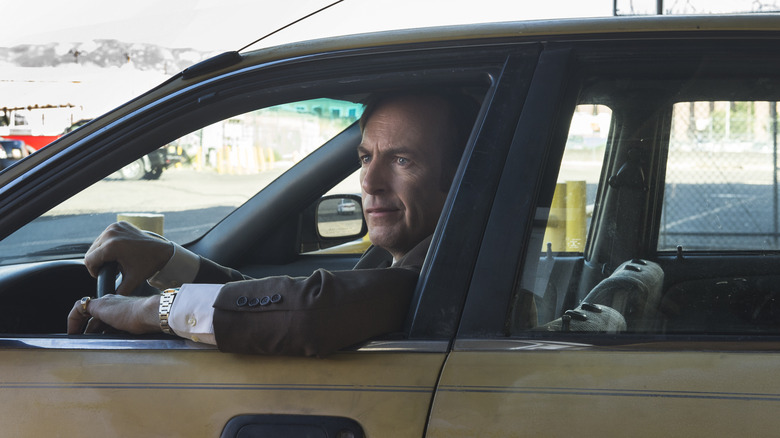 Ursula Coyote/AMC
In "Marco," Jimmy McGill returns to Cicero and is reunited with Marco at the local bar where they used to spend a significant amount of time scamming patrons. Jimmy reverts to that old behavior when he and Marco meet again: they quickly pull off a scam to make $110 off a 50 cent coin on an unsuspecting bar patron, leading to a full week of cons — just like the good ol' days.
One such con included in the episode's brilliant montage sequence calls back to the "Breaking Bad" Season 3 episode "Abiquiu," in which Saul tells Walter White that he once successfully convinced a woman that he was the actor and director Kevin Costner. "Better Call Saul" takes a throwaway joke written years prior and fleshes it out into something far grosser. Smushed into a packed sequence featuring different hilarious scam premises, Jimmy is heard saying, "You know, the guy from 'Dances with Wolves'?" to two laughing women. When the montage sequence ends, Jimmy awakens in bed with one of these women sitting over him, realizing that he is not Kevin Costner after all. When confronted with this reality, Jimmy merely states that he was Kevin Costner last night, prompting the woman to retrieve her friend from Marco's room and leave quickly, insulting Jimmy for his deceitful seduction tactics along the way. 
While none of Jimmy's scams are above board, this feels especially distasteful and morally repugnant, and it brings into question just how far Jimmy McGill might go to get something that he wants.