Friends From College Renewed For Season 2 At Netflix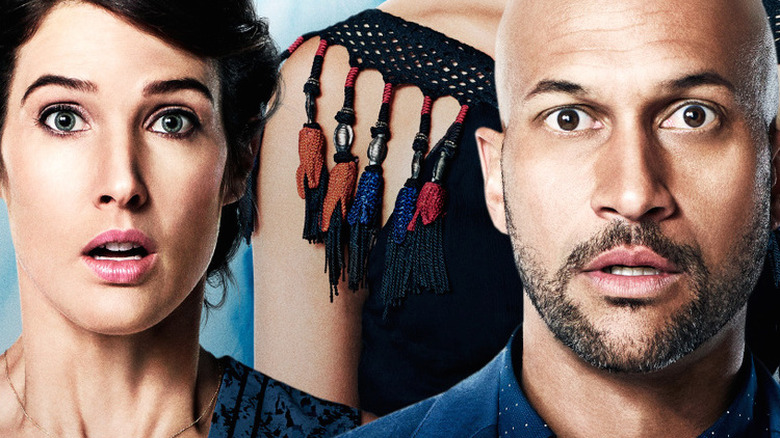 Netflix
Warning: This post contains spoilers for season one of Friends from College. 
Get ready for more debauchery: Friends from College has been renewed for a second season. 
Entertainment Weekly reports that Netflix has picked up comedy series for another round, and that season two will consist of another eight episodes. 
Co-created by Nicholas Stoller and Francesca Delbanco, the series is billed as "a comedic exploration of old friendships, former romantic entanglements and balancing adult life with nostalgia for the past" (via Variety). Friends from College follows a friendship group formed during their illustrious Harvard days, and stars Keegan-Michael Key, Cobie Smulders, Annie Parisse, Nat Faxon, Fred Savage, and Jae Suh Park. The pack are all about to enter their 40s, but have yet to leave behind their binge-drinking, raucous act-committing ways. Trouble arises when it's revealed that Key's character Ethan and Parisse's Sam are in a full-on affair, even though Ethan is married to Smulders' Lisa. Things go from bad to worse when Lisa sleeps with Faxon's Nick in the first season. 
Despite the star-sprinkled cast and premise that could have panned out quite well, the series has received overwhelmingly negative reviews. Friends from College currently sits at a dismal 24 percent approval rating on Rotten Tomatoes, with many finding fault with its short-sighted humor and somewhat obnoxious overtones. 
Variety writer Maureen Ryan said of the show, "Once in a while, members of the cast are able to lend a poignant or bittersweet note to the proceedings. But far more often, they are asked to pitch their performances in gratingly large and loud ways. Everything is oversized in Friends from College: Characters scream, shout and gesture wildly, to the point that other people on screen repeatedly ask them to rein in their sweaty hyperactivity. This is also a show that thinks it's hilarious to name a hedge fund run by nasty people 'Blackstool' (because sometimes stool means poop, get it?)."
Friends from College joins a host of other Netflix original series renewals. Last week, the streaming service announced that a second season of the Jason Bateman-led crime drama OZARK. Just before that, Netflix ordered another season of the freshman comedy GLOW, a fictional telling of an all-female wrestling show from the '80s. The series stars Alison Brie and Betty Gilpin as the leading duo.