The Worst Storyline In Blue Bloods Season 5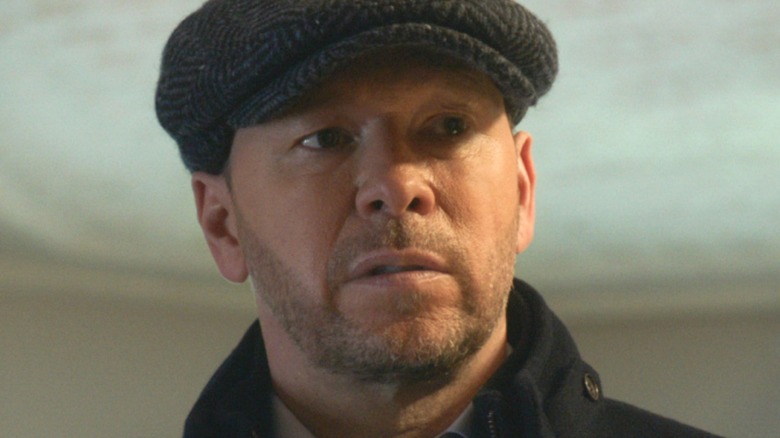 CBS
For a consistent performer on CBS, you can't get much better than "Blue Bloods." The police procedural always has something up its sleeve in the continuing exploits of the Reagan family as each episode sees them tackle a new set of crimes. They're usually divided in their missions as Danny (Donnie Wahlberg) and Jamie (Will Estes) take to the streets to catch criminals. At the same time, their sister Erin (Bridget Moynahan) goes to the courtroom to prosecute and defend her clients. 
Over the years, "Blue Bloods"  has amassed a sizable following of people who consistently tune in to see what cases the Reagans have to contend with next. As evidenced from the ratings on IMDb, fans have been pretty happy with the quality dating back to the earlier seasons. However, that doesn't mean there aren't a few dark spots on the show's legacy. For example, Season 5 has one episode that's a noticeable decline in quality from the rest.
In the Box should've stayed wrapped up
Many of the "Blue Bloods" episodes you find in Season 5 have managed to secure an overall rating of 8.0/10 or higher. That's pretty impressive, but occasionally, you run into the dip in quality, as exemplified by that season's "In the Box," which has a rating of 7.4/10 with over 350 rankings. The episode sees Danny's partner, Maria Baez (Marisa Ramirez), being held hostage. Meanwhile, Frank (Tom Selleck) finds himself in an ethical quandary when Garrett's (Gregory Jbara) son gets in trouble with the law and needs a favor.
While it sounds like the makings of a classic "Blue Bloods" plotline, fans just seemed to think it missed the mark. A couple of people even left behind reviews on IMDb, with one user noting, "I am thinking the writers must have decided to concoct a feel-good story where everything works out for the best, regardless of how ridiculous and far-fetched it is." They go on to criticize the Frank storyline because of how out-of-character it seems: "It's the first time Tom Selleck's character is shown to be weak and his sheepishness does not fit his character."
For a show that's been on the air for over a decade, it's understandable that a few episodes would miss the mark. For the most part, it's a bright light on Friday nights.