Chris Rock Is Not Will Smith's First Public Slap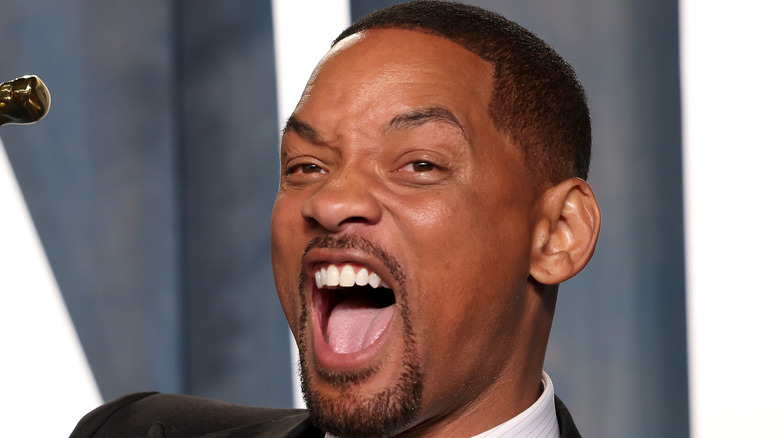 John Shearer/Getty Images
In 2018, Thanos (Josh Brolin) attacked the Avengers with the snap heard around the world. Four long years later, actor Will Smith is now the focus of a syntactically similar, but definitively different story. Indeed, not since 2018's "La La Land" fiasco has one singular moment at the Academy Awards so thoroughly captured the attention of so many people.
On Sunday night, comedian Chris Rock took to the stage at the 94th annual Academy Awards ceremony to announce the winner of the Oscar for Best Documentary Feature. Per usual, Rock used the opportunity to drop a few jokes in, including one targeted at actress Jada Pinkett Smith, who appeared visibly annoyed at the quip. While the joke didn't appear to immediately anger Pinkett Smith's husband, then-Academy Award nominee Will Smith, it didn't take long for audiences to realize that something was happening. Mere moments later, Smith rushed the stage and slapped Rock across the face. After returning to his seat, an obviously angered Smith continued to hurl invectives towards a shaken Rock.
In the time since this incident, much has been said about the attack and Smith's subsequent acceptance speech for Best Actor. Indeed, an uncensored clip of the incident shared by the Guardian on YouTube has already been viewed more than 70 million times. For reference, that's more than 55 million more views than the first teaser trailer for the Disney+ series "Obi-Wan Kenobi" (via YouTube).
However, this actually isn't the first time the palm of Smith's hand very publicly met the cheek of a third party. 
Smith previously smacked a prankster on the red carpet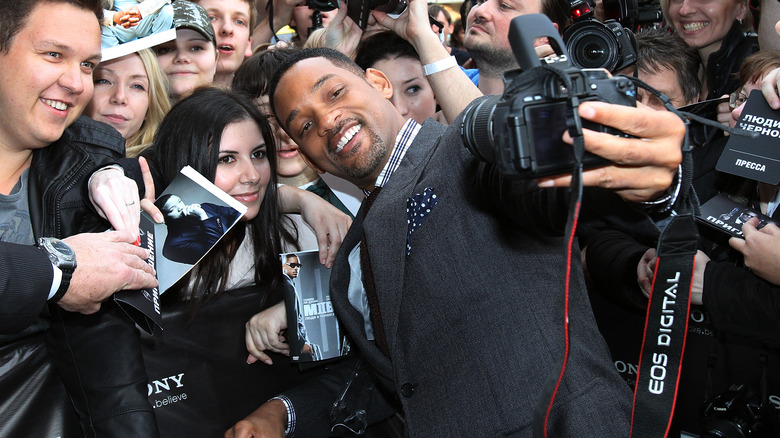 Epsilon/Getty Images
Back in 2012, Smith appeared at the Moscow premiere of "Men in Black III," where the actor triumphantly walked the red carpet, posing for pictures with numerous fans and answering the questions of a variety of journalists. He appeared to be in good spirits for the event which marked his return to one of his most popular franchises. However, the actor's mood quickly changed when one man opted to take advantage of his joviality. Inside of only a few seconds, infamous prankster Vitalii Sediuk took things more than a few steps too far.
In an Associated Press video widely shared at the time of its publication, Sediuk appears to approach Smith for a hug, but just as the actor begins to embrace him, Sediuk makes a very different kind of move. Instead of simply thanking Smith for his cordiality, Sediuk attempted to kiss the actor, planting multiple smooches on his cheeks and lips. Naturally, Smith responded incredulously, abruptly pushing Sediuk away from him and asking, "What the hell is your problem, buddy?" In the course of responding to Sediuk's unexpected advances, Smith also lightly slapped him, prompting cheers from the rest of the crowd. 
While the story around this slap certainly didn't have quite the same bandwidth as Smith's more recent slap, it nonetheless made a number of headlines. In fact, Smith wound up recounting the story to a number of different people, including on "Late Night with David Letterman," where the actor referred to the incident as "awkward" (via Daily Mail).
Smith did not offer an apology to the prankster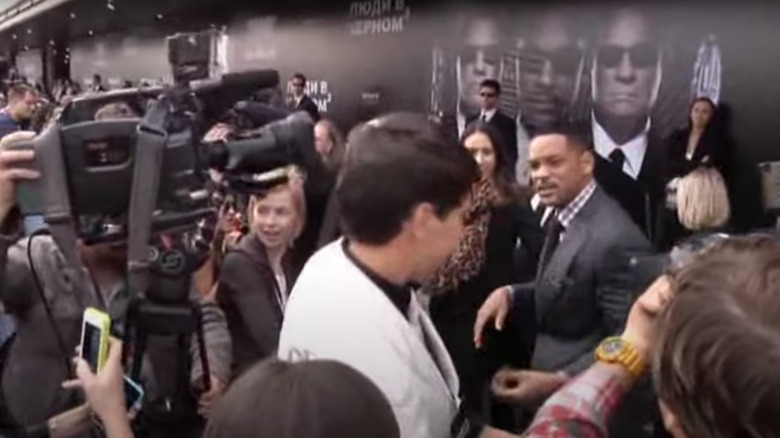 Associated Press/YouTube
Within a day of the incident involving Rock, Smith issued a lengthy, public apology for his behavior. In a statement released on Smith's Facebook and Instagram accounts, the actor called his behavior "unacceptable and inexcusable." He also took time to directly address the comedian whose joke so obviously angered him.
"I would like to publicly apologize to you, Chris," Smith's statement said (via Instagram). "I was out of line and I was wrong. I am embarrassed and my actions were not indicative of the man I want to be. There is no place for violence in a world of love and kindness."
By all accounts, it appears that Smith is taking responsibility for his physical response at the 94th Academy Awards. However, Smith seems unlikely to offer any such similar response for the 2012 incident. Indeed, in the aftermath of that slap, Smith told his own team of publicists and agents, "[Sediuk] is lucky I didn't sucker punch him" (via Entertainment Weekly).
Of course, while we'll let readers decide the appropriate response for any given circumstance, understanding the exact context of the incident with Sediuk requires some knowledge of the prankster's history. Notably, Smith is not the only actor to be accosted by Sediuk in such a manner. In fact, Sediuk has previously had unfriendly encounters with numerous other A-list talent, including everyone from Adele to Bradley Cooper and Leonardo DiCaprio to Justin Timberlake. A 2014 incident with Brad Pitt resulted in the actor obtaining a restraining order against Sediuk (via TMZ).
Nearly a decade later, something tells us Sediuk shouldn't hold his breath for an apology.