Snowpiercer Season 4 - What We Know So Far
TNT has proven time and time again that it has the utmost confidence in the latest series to take the network by storm — "Snowpiercer." The drama series based on the graphic novel "Le Transperceneige" by Jacques Lob, Jean-Marc Rochette, and Benjamin Legrand follows a group of Earth's last survivors, who are forced to make a living for themselves on a train with those in the lower classes set toward the back while the more affluent classes exist in more lavish luxury toward the front of the train. 
With plenty of real-world correlations to make, "Snowpiercer" could have a hefty lifespan attached to it, with ample more stories to tell. Three seasons have already passed, and we've known that Season 4 is already in the works for quite a while. In July 2021, TNT announced Season 4 was in the works right after Season 3 wrapped production (via Deadline). With more "Snowpiercer" barreling down the train tracks, here's everything we know about new episodes so far. 
The following article contains spoilers for the "Snowpiercer" Season 3 finale.
Snowpiercer Season 4 adds some new faces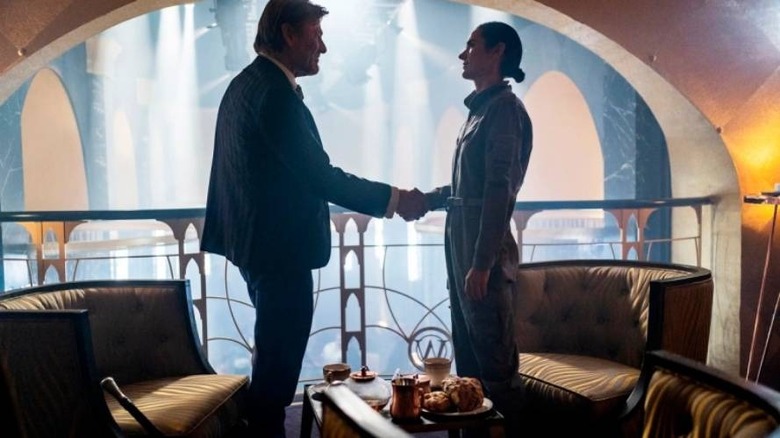 TNT
There's no official release date set for "Snowpiercer" Season 4, but we do have some clues about what next season will entail. For starters, there will be some new faces entering the mix. While we can be confident the likes of Daveed Diggs, Jennifer Connelly, and Alison Wright will return, we also know that Clark Gregg ("Marvel's Agents of S.H.I.E.L.D.") and Michael Aronov ("The Americans") will join the cast in the upcoming season, courtesy of Deadline.
We also know from that publication that Season 4 will see a new showrunner take the helm of the series behind the scenes. Paul Zbyszewski will take the reins from Graeme Manson, the showrunner for Season 3. In a statement, Zbyszewsi said, "We have an exciting fourth season planned, and I can't wait to be on set with such an incredible cast and crew as we continue to explore new worlds, create new mysteries, and develop character relationships."
While nothing's been confirmed yet in terms of plot, we can assume it will pick up following the events of the Season 3 finale, where the train has been split in two, and the leaders of each subset have allowed the people to decide which train they want to get on. Additionally, there's the tease of the missile and who sent it, meaning we'll most likely learn more about that and how there's a potentially new faction of survivors our characters will have to deal with. Perhaps this is where Gregg and Aronov's new characters will come into play.