The Cast Of Top Gun: Maverick Confirms What We Always Suspected About Tom Cruise's On-Set Behavior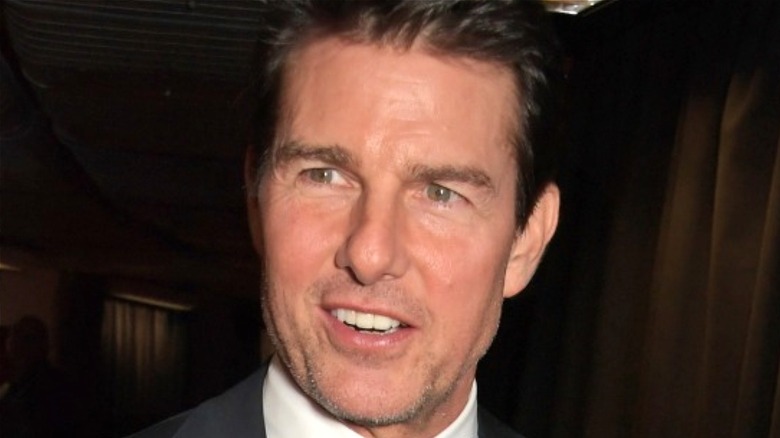 David M. Benett/Getty
Soon, after severe pandemic-related delays, the world will get to see Tom Cruise's long-awaited return to one of the franchises that made him a superstar: "Top Gun." In the intervening years since that film was released in 1986, Cruise has developed a reputation for perfectionism in his films, particularly when it comes to stunt work and shooting practically whenever possible, without depending on CGI.
That has most famously manifested in the latter "Mission: Impossible" films, which have essentially functioned as showcases for Cruise's wild and fearless stunts. But it also applies to "Top Gun: Maverick," and the rest of the cast, who weren't going to be allowed to stay on the ground while Cruise did all the flying.
A recent feature on the making of "Maverick" goes into detail on what exactly it was like to work on the film and with Cruise's exacting standards, and it pretty much confirms what we already figured it was like to work on a Tom Cruise production.
The cast of Top Gun: Maverick were put through a 'Tom Cruise Boot Camp'
A feature in the most recent issue of Total Film (via Games Radar) has an extensive interview with the cast and crew of "Top Gun: Maverick." They go into some pretty amusing detail about Tom Cruise's high standards for the project. Cruise himself says he had a "commitment to shoot the actors practically, inside the Boeing F/A-18 Superhornet jets."
That's not exactly a typical day on the job for a movie actor, and Cruise explains how he made sure the cast was up to the job. "I developed a whole program for the actors, and how we could get them in the [F/A-18s]," he says. Cruise continues: "It was every step of the way. I had to teach them how to fly. I had to teach them how to handle gs. I had to get them confident in the airplane."
Miles Teller goes into further detail about what Cruise's "program" was like, calling it a "Tom Cruise boot camp." That entailed "a very specific type of training" according to Teller, one engineered for performing the feats called for in the script.
Cruise didn't want a repeat of the first Top Gun film
"When I first committed to the first 'Top Gun,' I did it based on the fact that I'd be filmed in the F-14, and I'd get to fly in the F-14," Tom Cruise says, demonstrating that his commitment to believability on screen goes back to the early part of his film career. He says that he "wanted to give the audience that experience of what it's like being a fighter pilot, and what that world is like, and the culture of it." But despite the commercial success and enduring audience approval of "Top Gun," what made it to the screen wasn't exactly ideal, at least not by Cruise's exacting standards.
Cruise clearly learned a lesson during production of the original "Top Gun" — that if you put unprepared actors in the cockpit of a fighter jet, the footage will more than likely not be usable. Producer Jerry Bruckheimer recalls that "[on] the first movie, we put all the actors in an F-14, and we couldn't use a frame of it, except for some stuff on Tom — that was it," due to the fact that they couldn't handle the g-forces involved in the process. "Their eyes were rolling back into their heads. They were throwing up," says Bruckheimer, continuing, "So Tom remembered that, and since he's an avid pilot, he said, 'We've got to train them to be able to handle the g-forces.'"
Hopefully, the difference will be clear when viewers finally get to see "Top Gun: Maverick" on May 27th, 2022.