The Young Sheldon Character You Likely Forgot 1883's Isabel May Played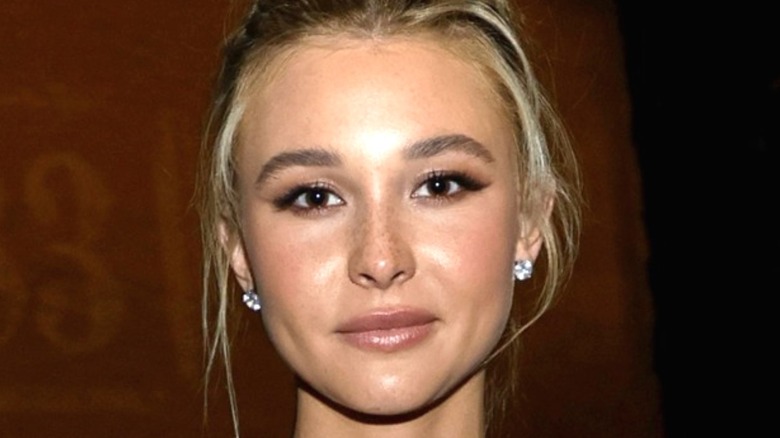 Ethan Miller/Getty
Though much of the promotional material for Taylor Sheridan's "1883" focused on the series' more well-known cast members (such as Tim McGraw, Faith Hill, and the legendary Sam Elliot), it became clear from the very first episode that the true star of the series was relative newcomer Isabel May. May portrays Elsa Dutton in "1883," and acts as both the series' narrator and the central protagonist of the story itself. Elsa became an instant favorite among viewers thanks to her headstrong attitude and overwhelming love for life, and in many ways, she serves as the emotional center of the entire series.
Indeed, showrunner Taylor Sheridan has said that the character was meant to represent the "innocence and hope" of a young America, and he praised May for bringing that vision to life. It's amazing to consider just how much of an impact May made to the series, especially since her acting career only began in 2018. Prior to starring in "1883," May's most notable role was Katie Cooper in the short-lived Netflix sitcom "Alexa & Katie" — though it's also worth mentioning that she also had a recurring role on "Young Sheldon."
May plays Veronica Duncan in Young Sheldon
Similar to how "1883" serves as a prequel to Paramount Network's "Yellowstone," "Young Sheldon" is itself a prequel to the CBS sitcom "The Big Bang Theory." The series follows a younger version of Sheldon Cooper (Iain Armitage) as he attends High School at just 9 years old. Isabel May appears in the series as Veronica Duncan, a recurring love interest of Sheldon's older brother, Georgie (Montana Jordan). Veronica is originally introduced as a reckless teenager who drinks, smokes, and is generally considered to be a bad influence on all others around her. However, this changes after Sheldon's mother Mary (Zoe Perry) manages to convert Veronica into a devout Christian.
Veronica would eventually come to stay with the Coopers in an attempt to flee her abusive stepfather, and during this time, it appeared that she and Georgie might end up together. That, however, never came to pass, and while she doesn't appear in the series' 4th season, it is speculated that she may end up returning and becoming Georgie's first wife, as we know that he married at just 19 (via the Big Bang Theory Wiki). In any case, if Isabel May does return to the "Young Sheldon," it will be hard to see her as anyone other than Elsa Dutton, considering "1883" now stands as undoubtedly the biggest role of May's still young career.