Walking Dead Fans Think This Was The Most Important Death In The Series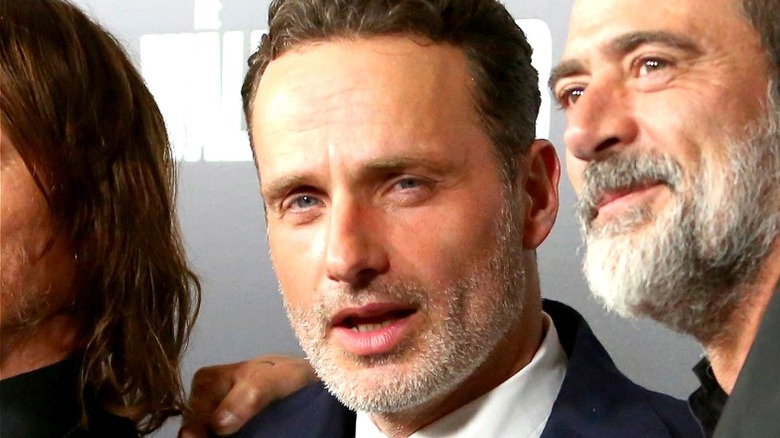 Jesse Grant/Getty
Anyone who compares an old cast photo from early seasons of "The Walking Dead" to more recent promotional images should quickly notice a fairly obvious observation. After more than a decade in the apocalypse, there aren't many people left from the early years of the series. Indeed, the only two characters from Season 1 still regularly appearing on the zombie walker drama are Daryl Dixon (Norman Reedus) and Carol Peletier (Melissa McBride) (via IMDb). 
Some characters like Rick Grimes (Andrew Lincoln), Michonne Hawthorne (Danai Gurira), Morgan Jones (Lennie James), and Dwight (Austin Amelio) ultimately saw fit to walk away from the series in favor of other projects within the same universe. Of course, other cast members have departed the franchise by way of more traditional means. As of this writing, nearly 30 different series regular cast members have been killed off throughout the course of the series.
Most fans would probably agree that some of these character deaths hit harder than others. For example, while many were likely saddened to see characters like Siddiq (Avi Nash) and Gareth (Andrew J. West) depart after relatively short runs, the demise of long-running characters like Glenn Rhee (Steven Yeun) and Abraham Ford (Michael Cudlitz) were a noticeable shock to the system.
Of course, this invites a fairly obvious question for debate: Which character death do fans think was the most important?
Shane's death was a transformative moment for the series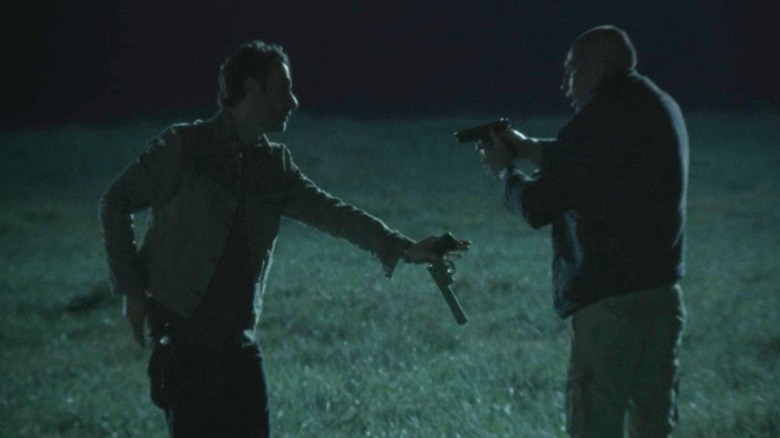 AMC
In a Reddit discussion focused on this very question, most fans of "The Walking Dead" zeroed in on the Season 2, Episode 12 ("Better Angels") death of Shane Walsh (Jon Bernthal). Of nearly 1,300 voters, nearly a whole third agreed that Shane's demise was the most important death for plot and character development. Interestingly, many viewers seemed to think that Shane's death signaled a serious change in the series.
In a comment that received nearly 30 upvotes, u/KramItFoo said, "I felt like Shane because that was kinda the starting point for Rick to have to do some gnarly stuff in order to keep the group safe." Others seemed to largely agree with this analysis. U/Hyperfangxz justified this choice by noting that this moment was "when Rick truly had to cross a line and become more brutal in that world." U/Jebus_17 similarly noted, "Rick killing Shane destroyed their trust in people and killed a part of all of their humanity." 
Another user also noted that Shane's death left an enormous impact on the series because of actor Jon Bernthal's talent. U/gooddaysirhowareyou said, "Shane was such a loss in terms of the acting ability of Jon Bernthal."
Glenn's death in Season 7, Episode 1 ("The Day Will Come When You Won't Be") earned a close second-place vote, but ultimately came in 13 votes short of the top spot in the Reddit discussion. This poll also included a number of other notable deaths throughout the history of the series. In order of their ranking, these included the Season 2, Episode 7 ("Pretty Much Dead Already") death of Sophia Peletier; the Season 4, Episode 8 ("Too Far Gone") death of Hershel Greene (Scott Wilson); the Season 3, Episode 4 ("Killer Within") death of Lori Grimes (Sarah Wayne Callies); and the Season 6, Episode 8 ("Start to Finish") death of Deanna Monroe (Tovah Feldshuh).