The Hitman's Bodyguard Brings In $1.65 Million In Thursday Previews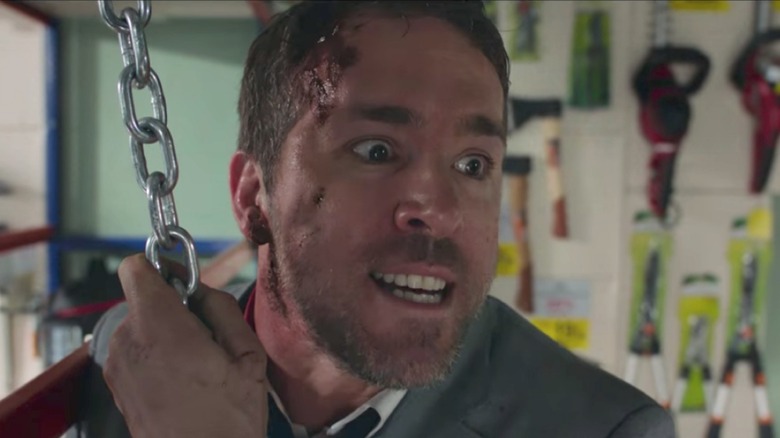 It looks like it pays to be an executive protective agent. The Ryan Reynolds and Samuel L. Jackson action comedy The Hitman's Bodyguard has already pulled in $1.65 million in Thursday previews, on track for an $18 million opening weekend. (via Deadline)
The Hitman's Bodyguard stars Reynolds as an executive protection agent tasked with protecting Jackson's former hitman from a ruthless dictator played by Gary Oldman. The movie, which also stars Elodie Yung and Salma Hayek, was directed by The Expendables 3's Patrick Hughes. While the movie doesn't have very positive reviews, falling below a 40 percent on Rotten Tomatoes, the chemistry of the two huge stars appears to have been enough to draw audiences out to the theaters. The movie also has a high audience score on the same platform, hinting that viewers responded better than critics.
The weekend's other new release, Logan Lucky, stars Channing Tatum as Jimmy, a down on his luck former construction worker, who, after losing his job, decides to team with his brother Clyde (Adam Driver) to rob the Coca-Cola 600 race, the biggest race of the year at the Charlotte Motor Speedway. Daniel Craig, Katie Holmes, Riley Keough, and Hilary Swank are among the rest of the star-studded cast for the film, which was directed by Steven Soderbergh. 
Logan Lucky is a favorite with critics, falling above a 90 percent on Rotten Tomatoes, leading the movie to bring in $525,000 in Thursday previews. The film is currently tracking for an $8 million debut, although it is a bit of an anomaly, with Soderbergh controlling the marketing himself and focusing it mostly on the week before the film was released, before tracking began. The movie could earn as much as $12 million or higher in its opening weekend, especially with its NASCAR plot line bringing in an added appeal in flyover states.
Still, it's unlikely that Tatum and the added star power of Logan Lucky will be able to top the team of Reynolds and Jackson. Also in the mix is last weekend's winner Annabelle: Creation, which had a terrifyingly impressive opening weekend and which could draw in some viewers who aren't looking to see either of the action comedies.
While we wait to see who wins the weekend box office, see some underappreciated movies you already missed out on this year.