Jason Biggs, Brenda Song Cast In Christmas Movie Angry Angel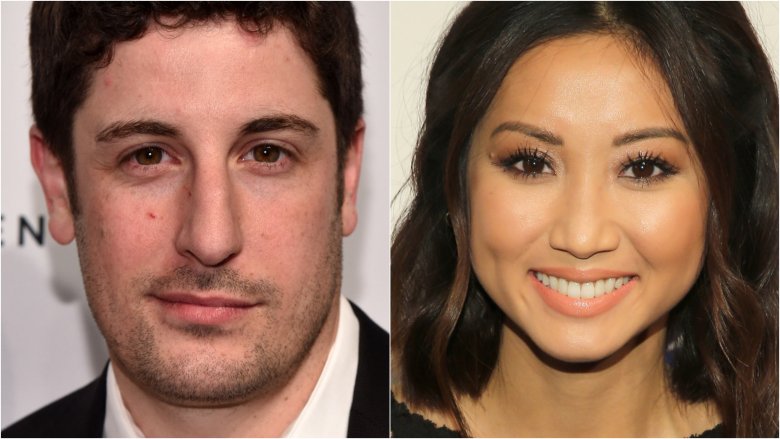 Getty Images
Freeform is preparing for Christmas early, as it's been announced the network has locked in the cast for its upcoming movie Angry Angel. 
Deadline reports that Orange Is the New Black actor Jason Biggs and former Disney Channel star turned Pure Genius actress Brenda Song are joining the movie, which is directed by Easy A and Friends with Benefits producer Will Gluck. 
Set in New York City, the perfect location for a winter wonderland flick, Angry Angel follows Song's character Allison Pyke, a young woman who's recently been turned into an angel. Trapped on Earth with seemingly no way out, as she keeps ringing all the wrong bells in attempts to pass through the pearly gates into heaven, Allison's situation gets much worse when she realizes Patrick, the man she loved while she was living, is in town. Not only does Patrick's presence frustrate Allison, but it also causes tension between her and her angel mentor, played by Biggs. 
Preacher star Ricky Mabe plays the dreamboat in question, whose status with Allison is seriously complicated by The Mick actor Andy Favreau's character Barker, who engages in a friends with sometimes benefits relationship with Allison. 
Meet the Blacks actor Andrew Bachelor also stars in the film, which is produced by Olive Bridge Entertainment in association with Sony Pictures Television. Director Gluck and Will Gluck and Richard Schwartz are set to serve as executive producers. 
Song is best known for her work on the Disney Channel, having starred as airhead heiress London Tipton in the Dylan and Cole Sprouse-led comedy series The Suite Life of Cody and The Suite Life on Deck. She also played one of Phil's friends as part of the cast of Phil of the Future. Since her Disney days, Song has appeared on Key and Peele, Scandal, New Girl, and Pure Genius. She also popped up alongside Justin Timberlake and Jesse Eisenberg in The Social Network. 
For Biggs' part, fans may recognize him from his breakout role in the raunchy 1999 teen comedy American Pie and its subsequent franchise installments. More recently, he's starred in Orange Is the New Black and The Good Wife, and has given his voice to the animated series Teenage Mutant Ninja Turtles. 
Angry Angel will premiere sometime in November 2017 as part of Freeform's annual "Countdown to 25 Days of Christmas." The television spectacle begins on Saturday, November 18 this year, and will feature beloved Christmas pics like Elf, Home Alone, and Richie Rich's Christmas Wish. The countdown event is followed by 25 Days of Christmas, and the full slate of films is expected to be announced in the near future. 
As we wait for the festivities to begin, check out the creepy things you never noticed in classic Christmas movies.