The Character You Likely Forgot Don Cheadle Played In Rush Hour 2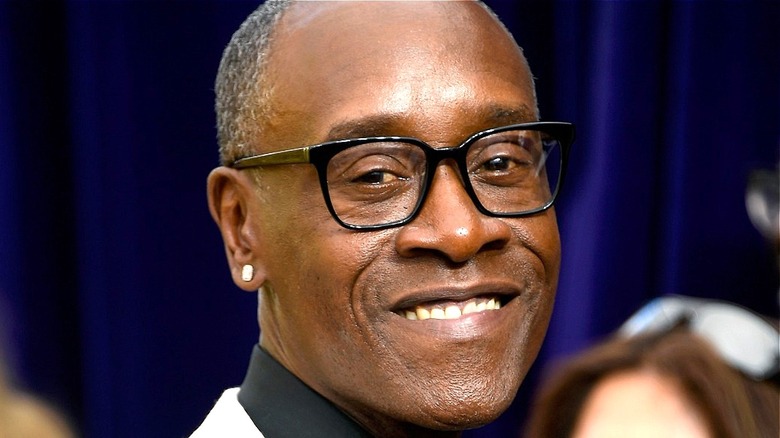 Frazer Harrison/Getty Images
Today, most fans of Don Cheadle know him from his long-standing role as War Machine in the Marvel Cinematic Universe film franchise, as well as his leading role as Mo Monroe on the Showtime comedy series "Black Monday." However, what modern fans of the actor may not remember is that he also played a part in one of the most popular buddy-cop film franchises of the early 2000s.
The "Rush Hour" franchise, known for its electric pairing of Jackie Chan and Chris Tucker as the bad-guy-busting duo of LAPD Chief Inspector Lee and Detective Carter, made waves with its irreverent humor and entertaining martial arts-based action sequences. The series spawned a trilogy of movies, the second of which was released in 2001 and featured Lee and Carter taking down a dangerous international criminal empire. It was in this particular movie that Cheadle himself made an appearance as a new character with an intriguing backstory.
Cheadle played kung fu master Kenny
Don Cheadle joined the main cast of "Rush Hour 2" as Kenny, the owner of a Chinese restaurant in Los Angeles and an informant for Carter. As it turned out, there was more to the character than what initially met the eye.
Partway through "Rush Hour 2," Lee and Carter visit Kenny's restaurant in Los Angeles to get information on a money laundering scheme. Kenny is frustrated by the duo's insistence and gets into a brief scuffle with Lee, during which he reveals that he knows a special kung fu technique called Twisting Tiger. The pair bond over their shared martial arts background and make a few jokes at Carter's expense before Kenny gives them the information they're looking for. It was a really fun scene and seeing Cheadle face off against Chan is especially cool in retrospect, but perhaps the most interesting thing about the actor's brief appearance was its influence on the work of another esteemed artist years later.
According to Fader, Cheadle's "Rush Hour 2" character actually served as a key source of inspiration for acclaimed rapper Kendrick Lamar on his 2017 album "DAMN." Throughout the album, Lamar refers to himself several times as "Kung Fu Kenny." As Cheadle eventually confirmed with Lamar, this alias was actually a reference to the actor's part as Kenny. It seems Cheadle's role in "Rush Hour" has had a compelling legacy all on its own, even if many fans don't remember this part of his filmography.