The Walking Dead Character Who Was Honored With A Real-Life Obituary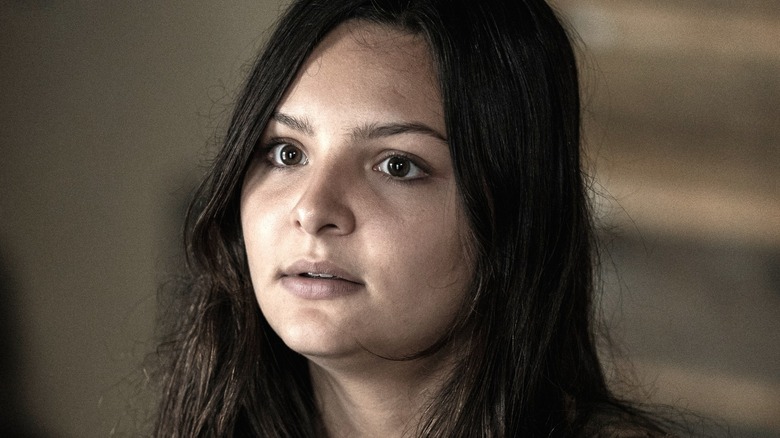 Jace Downs/AMC
"The Walking Dead" has always been willing to kill off its characters, and it has often done so in surprising and heartbreaking ways.
That constant sense of danger is partly what made the series so appealing to so many when it first premiered on AMC all the way back in October 2010. In the years since then, the show has produced well over 150 episodes of television and has inspired several spin-off series. All throughout that time, "The Walking Dead" hasn't ever lost its deadly edge though, so it should go without saying that the AMC series has said goodbye to a large number of characters over the years.
Some of the deaths on "The Walking Dead" have, of course, been sadder than others. However, only one character's death on "The Walking Dead" has ever inspired the creation of a real-life obituary. The character in question is somebody that viewers had to say goodbye to at the start of "The Walking Dead" Season 7 — much to the frustration and heartbreak of longtime fans of the series.
Steven Yeun's Glenn was publicly mourned in Arkansas
In the Season 7 premiere of "The Walking Dead," titled "The Day Will Come When You Won't Be," viewers were forced to watch on in horror as both Abraham (Michael Cudlitz) and Glenn (Steven Yeun) were brutally murdered by Negan (Jeffrey Dean Morgan). The bloody and heartbreaking scene traumatized viewers everywhere not only because of how violent it was but also because it resulted in them having to say goodbye to two fan-favorite characters. Yeun's Glenn had also, notably, been a part of "The Walking Dead" since it began (via IMDb), which just made his departure all the more gut-wrenching to watch.
In fact, Glenn's death hit viewers so hard that one fan even decided to mourn the character by writing an official obituary for him. The obituary, which was published by a newspaper in Batesville, Arkansas, was photographed and posted on Twitter back in October 2016, just a few days after the "Walking Dead" Season 7 premiere originally aired. The obituary describes Yeun's Glenn as a "husband, father-to-be, warrior, and friend," and briefly summarizes his fictional life. In a tongue-in-cheek nod to "Walking Dead" fans, the obituary also ends with a small note, which remarks that Glenn's family "asks that donations of LITERALLY ANYONE WHO CAN HELP THEM DEFEAT NEGAN be made in his memory."
All in all, the obituary is a fun and heartfelt tribute to Glenn, one that makes it explicitly clear just how much he really meant to fans of "The Walking Dead."