Elisabeth Moss Says 'You'll Never Guess' What Happens In The Handmaid's Tale Season 2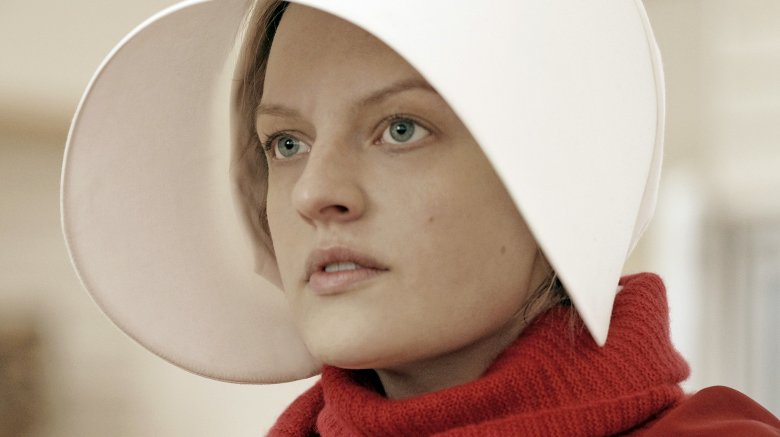 Hulu
Contains spoilers for the first season of The Handmaid's Tale
The second season of Hulu's runaway hit The Handmaid's Tale doesn't arrive til mid-2018, and according to star and producer Elisabeth Moss, viewers don't stand a chance of figuring out how the next chapter of the series will begin until they see it for themselves. 
"What I've been telling people, honestly, is don't try to figure out what's going to happen in the first scene of the second season," she told TheWrap. "You'll never guess. No matter what your options are, you'll never get it." 
As reported by Variety, Moss had a similar sentiment for reporters during an Emmys-related gathering, where she also said she got she got "full body chills" from reading the second season outline. 
Show creator Bruce Miller took the opportunity to drop hints that the second season could be more reactive to contemporary news than the first season was, mentioning said that both book author Margaret Atwood and the show's writing staff are responding to stories in the media through their scripts. "The writing staff is a smart, news junkie bunch," Miller said. "They are influenced by those events in the way they're thinking about the show. It's a political show. It's about politics and people in power."
The first season of The Handmaid's Tale ends similarly to the 1985 book, with Offred (Moss) entering a van driven by a group of men who could either be her saviors or captors. But the book also had a little more to its story following Offred's giving herself over into the hands of strangers—an epilogue in the year 2195 at a historical symposium, taking place after the fall of Gilead. Could this be a hint as to the weird place the next season may start? Or should we follow Moss' advice and stop guessing?
The second season of The Handmaid's Tale will run for 13 episodes when it comes back next year. Meanwhile, take a moment to revisit the gritty details of Moss' last big series with the untold truth of Mad Men.