This Is Where The Martian Was Filmed
When it hit the big screen, Ridley Scott's epic sci-fi film "The Martian" firmly established itself as a staple among survival stories. What sets it apart from typical tales of the marooned, however, is its location. This movie concerns a NASA astronaut, Mark Watney (Matt Damon), who finds himself stranded on none other than Mars after a violent storm forces the rest of his research crew to evacuate. Left alone on a planet where going outside without a suit means certain death, Watney must rely on his own gumption, grit, and knowledge of science to stay alive as NASA scrambles to plan, fund, and launch a rescue mission.
While imaginative and thrilling, the story of Mark Watney's struggle is also grounded in hard science, making it easier for viewers to suspend their disbelief that the events of "The Martian" could take place in the near future. Still, we earthlings haven't made it to Mars in person yet. Naturally, many fans might wonder where the filming for those Red Planet scenes actually happened, not to mention those set in the interiors of a government organization like NASA.
Filming was done in Hungary and Jordan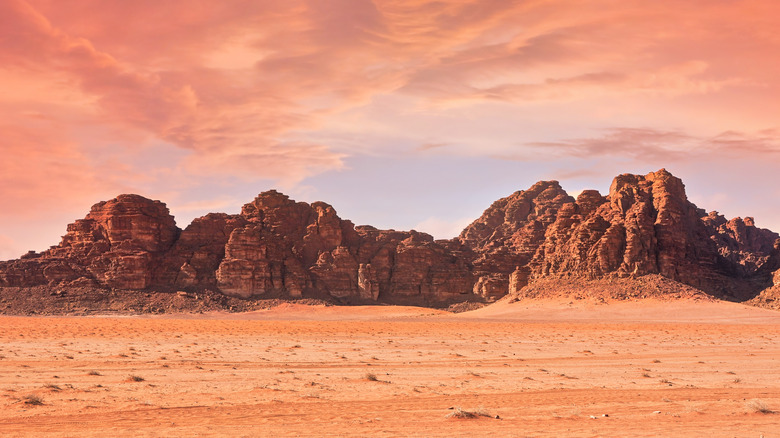 Lubo Ivanko/Shutterstock
Over a period of about 70 days, a total of 20 or so different sets were built for the making of "The Martian" (via Collider). Shooting for various NASA scenes took place at the Budapest Whale, a large multifunctional building complex, and Korda Studios, a site with large soundstages, both in Hungary (via IMDb).
The exterior scenes, which portray the iconic sweeping landscapes of Mars, were shot in Wadi Rum, an enormous desert valley located in southern Jordan. It features mountains of sandstone and granite rock among reddish sands, perfect for emulating a Martian vista. In fact, Wadi Rum has a history of being used as a visual setting for sci-fi movies. "Red Planet," "Mission to Mars," and "The Last Days on Mars" were also filmed in this valley to convey the eponymous planet's surface, while "Rogue One: A Star Wars Story" and "Star Wars: The Rise of Skywalker" shot scenes for various desert planets in the same location (via IMDb). Fans of "Dune" might recognize the sands of Arrakis, and Ridley Scott even filmed an alien planet from another of his films, "Prometheus," in Wadi Rum.