The Last Jedi Director Reveals How He Survived Filmmaking Pressures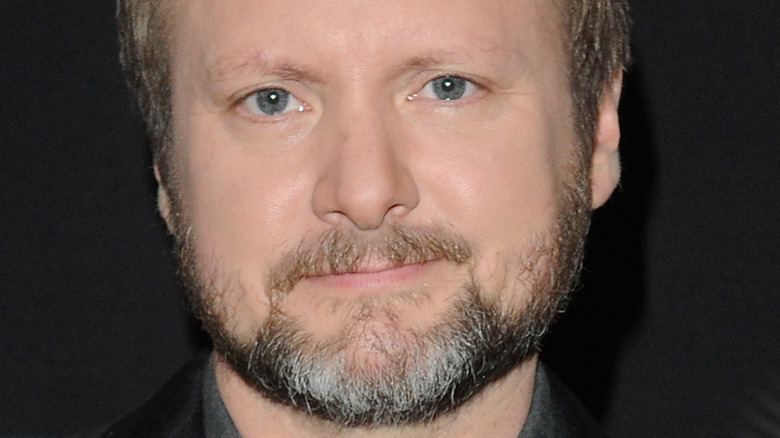 Getty Images
Filmmaking is by no means an easy feat, and for Star Wars: The Last Jedi director Rian Johnson, the pressure to craft a perfect film story was near tangible. With countless eyes on him, Johnson realized that the way to break through any self-doubt and avoid scrutiny from Star Wars enthusiasts was to trust what he calls his "inner fan." 
Johnson explained his method of surviving these filmmaking pressures in an interview with Hamilton and Grease Live! director Thomas Kail at Skywalker Ranch, the workplace of Star Wars franchise creator George Lucas. When Kail asked Johnson if he ever felt frightened about the experience of working in such a massive, wide-reading series, Johnson stated that once he "actually jumped into it," he had a ton of fun. 
"[The Last Jedi] was the most fun I've ever had writing," Johnson said (via The Hollywood Reporter). "It was the least scary process."
But it wasn't all Johnson behind the Last Jedi narrative. The enjoyability of the process was due in part to the film's wonderful story team, namely Lucasfilm's Kiri Hart. "I wasn't alone for the process. I was writing on my own, but I moved up to San Francisco for a few months, and every few weeks I would go in and sit down with [Lucasfilm's] Kiri Hart and her whole story group team, and I would just put everything I was thinking of up on the white board and just bounce it off everyone — just see what everyone thought. Having that kind of gut check—not just for, 'Wait, don't do that,' but for, 'Yeah, you can do that. If that's interesting to you, take that path' — having that permission from somebody, I think that had a lot to do with it."
Ultimately, Johnson revealed that his longtime love for the franchise was the key element that allowed him to come up with the storyline of The Last Jedi. "The first thing I kind of realized was, I have to trust, kind of, my inner fan," Johnson explained. "If it resonates with me, I have to trust that. That's what George [Lucas] did with the original movies, you know?"
Johnson and Kail also discussed where The Last Jedi currently stands in terms of post-production. "ILM is working on the effects, so we're having effects reviews nearly every day and just sitting and looking at all this amazing new stuff ILM is delivering," stated Johnson. "There's kind of this final rush of it all coming together, which is exhilarating."
The Last Jedi stars Mark Hamill as Luke Skywalker, the late Carrie Fisher as General Leia Organa, Daisy Ridley as Rey, Adam Driver as Kylo Ren, John Boyega as Finn, Oscar Isaac as Poe Dameron, Domhnall Gleeson as General Armitage Hux, Gwendoline Christie as Captain Phasma,Lupita Nyong'o as Maz Kanata, and Andy Serkis as Supreme Leader Snoke. Franchise newcomers Laura Dern, Benicio del Toro, and Kelly Marie Tran round out the cast. 
The Last Jedi is slated for a December 15 release. In the meantime, discover the biggest mysteries surrounding the upcoming movie.