The Real Reason Amy Adams Didn't Return To The Office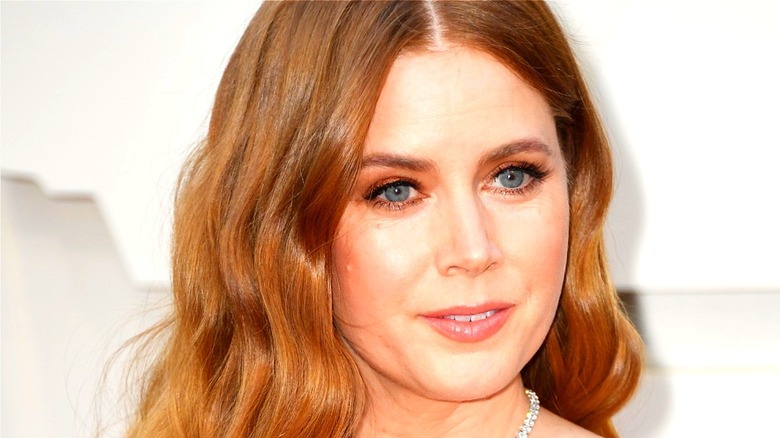 Frazer Harrison/Getty
"The Office" is one of the most popular sitcoms of all time, to say the least — since ending in 2013, the series has only maintained its popularity amongst TV viewers. Developed by Greg Daniels — and based on the British series of the same name — "The Office" is a mockumentary-style sitcom that follows the lives of the employees of a paper company, Dunder Mifflin. The employees include regional manager Michael Scott (Steve Carell), receptionist Pam Beesly (Jenna Fischer), accountant Angela Martin (Angela Kinsey), and salesmen Jim Halpert (John Krasinski) and Dwight Schrute (Rainn Wilson), among others. Along with the show's talented ensemble cast, the series also had a slew of famous guest stars. Notable guest appearances over the years include Idris Elba, Ricky Gervais, Will Ferrell, and Bob Odenkirk. 
Another big-name star who showed up on "The Office" was multiple-time Oscar nominee Amy Adams. Adams first appeared in a Season 1 episode as Katy Moore. Katy comes into the office wanting to sell her handbags, and Michael, immediately taken with her, agrees. Despite Michael's — and Dwight's — best efforts to woo her, Katy ends up dating Jim. She comes back for two more episodes in the next season, still in relation to her storyline with Jim, before Jim breaks it off with her.
After her third episode, "Booze Cruise," we didn't get to see Katy again — here's why Adams never returned to "The Office."
Adams had a busy schedule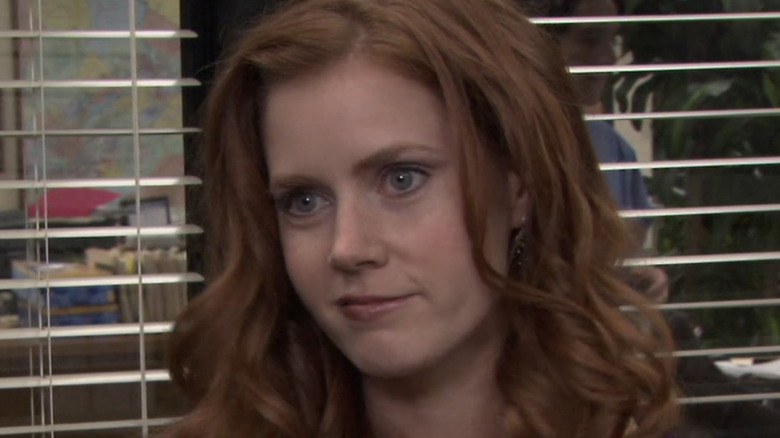 NBC
The hosts of the podcast "Office Ladies," former co-stars Jenna Fischer and Angela Kinsey, spoke about what it was like working with Amy Adams on "The Office" in one of their podcast episodes (via Mashable). Firstly, they pointed out that when Adams appeared on the sitcom, she hadn't yet turned into a huge star. Her first episode was filmed in 2004, then aired in spring of 2005, right around the time that Adams was gaining attention for her Oscar-nominated performance in "Junebug." From there, Adams' career only took off further.
Once the cast and crew knew that "The Office" was coming back for Season 2, Fischer knew she wanted Adams to return as Katy. Fischer said, "By then she was Academy Award-nominated Amy Adams. I was like, I hope we can get her back! And we did, she came back for two more episodes."
Cut to a few years later, and it turns out that there may have been talks about Adams returning to the series in Season 7. According to a Q&A with writer B.J. Novak, they wanted to include her character in the episode that involved making a home movie of Michael's screenplay, "Threat Level Midnight" (via OfficeTally). They had already scripted a scene of Katy playing a "floozy" character and hoped Adams could make the cameo appearance, much like they brought back Roy (David Denman) and Karen (Rashida Jones). Adams was interested in returning, but she was unable to due to her busy schedule — around that time, she was starring in David O'Russell's "The Fighter." Novak confirmed the conflict: "We really wanted Amy Adams," he said. "But she wasn't available to film the week we were filming."
Alas, we never got an update on Katy's life post-Jim.