Chris Hemsworth Was 'Weirdly Shaken' To Meet Chris Pratt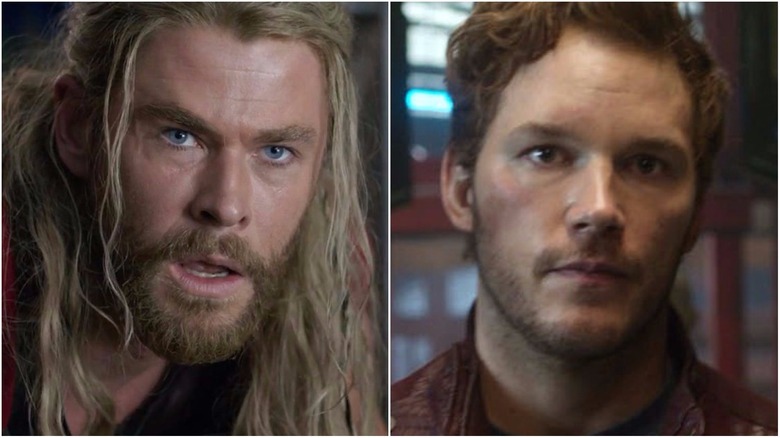 Even superheroes get starstruck. 
Although Chris Hemsworth has played Thor in the Marvel Cinematic Universe since 2011, he recently told Elle that he was intimidated when he first met Guardians of the Galaxy lead Chris Pratt on the set of Avengers: Infinity War.
"The first time I really met Chris Pratt and went on set with him and the Guardians, I was weirdly shaken," Hemsworth said. "I don't know why. He's just so charismatic and good at what he does."
It'll definitely be interesting to see how Thor and Star-Lord get along in the movie, which will bring together just about all of the major players in the MCU including Captain America (Chris Evans), Iron Man (Robert Downey Jr.), Spider-Man (Tom Holland), Doctor Strange (Benedict Cumberbatch), Ant-Man (Paul Rudd), and the Guardians of the Galaxy. They'll be teaming up to take on Thanos (Josh Brolin) in his villainous quest to gain the unlimited power of the Infinity Gauntlet.
Meanwhile, we know that two of the heroes will make a great duo in the movie: Spider-Man and Doctor Strange. Director Joe Russo said, "There's a really great chemistry there. They both have a proximity to each other, if that's a hint that I can give. But anybody who's a Marvel fan will know that they both reside within the same city, and I think that Tom and Benedict have a great chemistry, and we wanted to exploit that."
Avengers: Infinity War will arrive in theaters on May 4, 2018. In the meantime, check out more movies that will blow everyone away next year.