The Cosby Show Character Whitney Houston Almost Played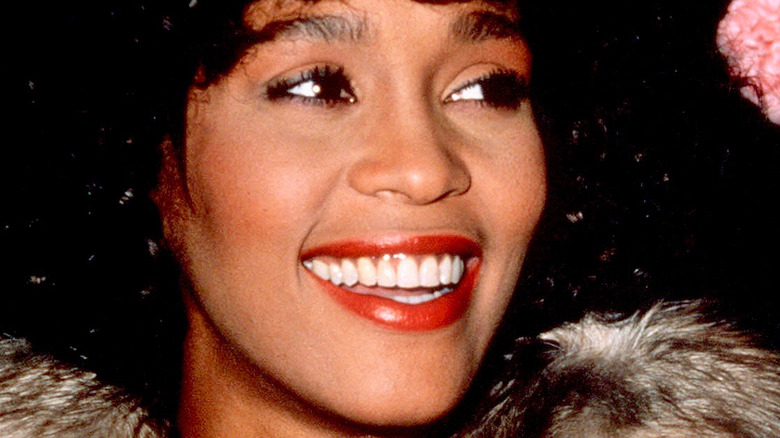 Steve Rapport/Getty Images
"The Cosby Show" made its debut on NBC on September 30, 1984, and it went on to become one of the biggest hit sitcoms of the decade. The show was groundbreaking for its portrayal of an upper-class Black family headed by a doctor father, Cliff Huxtable (played by Bill Cosby), and a lawyer mother, Clair (Phylicia Rashad). In an early-to-mid-'80s era that went heavy on primetime police stories and soapy drama, "The Cosby Show" has been credited for reviving the sitcom genre. In an essay for Time, Cosby biographer Mark Whitaker noted that when "The Cosby Show" made its debut, "there wasn't a single sitcom" in the Nielsen Top 20 and that many people in the TV industry "had declared the format 'dead.'" When advertisers were given a peek at the new NBC sitcom, some even feared the network would cancel the show before giving it a chance, even with seasoned star Cosby at the helm.
In the end, comedy won — big-time. "The Cosby Show" ran for eight seasons and was TV's top sitcom on television for years. The show won six Emmy awards, per Emmys.com, and made stars out of Cosby's TV wife and young actors Sabrina LeBeauf, Lisa Bonet, Malcolm-Jamal Warner, Tempestt Bledsoe, and Keshia Knight-Pulliam, who played the Huxtable children Sondra, Denise, Theo, Vanessa, and Rudy, respectively. But one thing fans may not know is that future pop superstar Whitney Houston was initially in the running to play one of the Huxtables, only for her to turn down the role to follow an even bigger dream.
Whitney Houston almost played a Cosby kid
In an interview for EMMY TV Legends, "Cosby Show" director Jay Sandrich revealed that up-and-coming pop star Whitney Houston was this close to snagging the role of Huxtable big sister Sondra –- until she came clean about her future goals. In the interview, Sandrich recounted his meeting with young actors who were signing their "Cosby Show" contracts. "And this girl we brought back from New York said to me 'I can't sign this contract,'" Sandrich recalled. When he asked her why, she said, "Well, I want to be a singer...I can't be in every show. ... I have to be able to tour." Sandrich then noted that if the show was a hit it might actually help her singing career, but the young star was adamant that she couldn't commit to the TV series. "Whitney Houston," he said. "She knew."
The role of Sondra Huxtable ultimately went to Sabrina Le Beauf, who appeared in 53 episodes of "The Cosby Show," from 1984 to 1992, per IMDb. This was the same era as Houston's peak of superstardom as a Grammy-winning singer.
Even though her dream to become a successful singer was fulfilled, Houston didn't totally turn her back on acting. Once she hit it big in music, offers for movies started pouring in. Her roles included the hits "The Bodyguard," "Waiting to Exhale," and "The Preacher's Wife." In a 1993 interview with Rolling Stone, Houston admitted she was 'apprehensive" to make the jump to movies because she feared people would "dog" her before giving her a chance as an actor.