The Worst Storyline In Blue Bloods Season 8
"Blue Bloods" knows how to keep its viewers on their toes. The central Reagan family all work in law enforcement, so it's their responsibility to do the right thing and set a good example for the next generation. This doesn't necessarily mean making the easiest decision, but it's a matter of making the right one. 
As such, it's easy to see the appeal in a television series where people's perceptions of right and wrong are challenged while the Reagans remain a shining beacon of virtue. It can be inspiring to watch, except for the rare instances where the Reagans fall short. While "Blue Bloods" typically maintains a consistent quality throughout its run, every so often, an episode misses the mark in fans' eyes. Season 8 has an unfortunate stain on its reputation with an episode that's garnered a 6.8/10 rating on IMDb, which is significantly less than the next lowest score of 7.5/10. Here's why fans aren't too keen on "Legacy."
Fans feel Legacy butchers Frank Reagan's character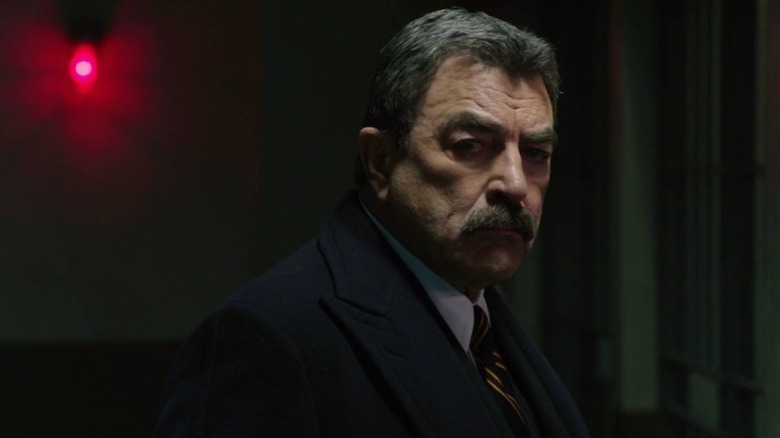 CBS/Hulu
"Legacy" has several intersecting plot points. One sees Danny (Donnie Wahlberg) considering a new job to make more money to support his family, while Nicky (Sami Gayle) deals with sexual harassment in the workplace. However, the plot that really seems to have struck a negative chord with audiences is the one involving Frank Reagan (Tom Selleck). Frank deals with a media circus when a rookie cop asks for a pedestrian's immigration status. Frank often has to make difficult decisions as police commissioner, sometimes where there's no solution where everyone will be happy. But audiences seem to be in agreement that he made the wrong choice in "Legacy," especially given how out-of-character it comes across.
Numerous negative reviews have been left on the episode's IMDb page, with many people confused about why Frank chose to fire an officer when she did everything by the book in their eyes. One individual wrote, "Frank was so out of character. He has always stuck up for his cops. This episode is not believable." Even on Reddit, one user went so far as to say, "I think I've watched my last episode of Blue Bloods" in reference to the storyline.
Many people believe the episode was completely out of character for Frank, and regardless of what the law would dictate in this situation, it remains one of the lowest-rated "Blue Bloods" episodes of all time.