The Real Reason Tiana From The Princess And The Frog Is Left-Handed
The 2009 release of "The Princess and the Frog" remains — as of now — the last full-length Disney princess film that was hand-drawn in 2D (via Digital Spy). Since its premiere, there have been other notable members of Disney royalty introduced, such as Merida (Kelly Macdonald) in 2012's "Brave" and Elsa (Idina Menzel) in 2013's "Frozen." But the titular princess of "The Princess and the Frog," Tiana (Anika Noni Rose), was the last to be created in Disney's traditional animation style.
Her story is a retelling of a timeless tale with a few sprinkles of the Disney enchantment that's so loved by millions. Set in the historic and mesmerizing city of New Orleans, Louisiana, the story provides ample room for the writers and animators to expand it into something worthy of being a Disney classic. With everything from hard work, wishing stars, and Voodoo loa, this film sends an uplifting message about pursuing one's dreams while still encouraging viewers to believe in the magic around them. In true Disney fashion, even the most minor details are crafted with such care that those who notice them can see how the animators poured their hearts into this inspiring movie.
Even the lovely protagonist of the story has a few small details about her that make a significant impact. Many viewers might not notice at first, but Tiana is actually left-handed. (It's true. Go look again.) There has only been one other Disney princess who is left-handed, the eponymous hero of 1998's "Mulan" (Ming-Na Wen), making Tiana the second to join a very exclusive club — and the reason Tiana is left-handed will warm your heart.
Tiana is left-handed to match Anika Noni Rose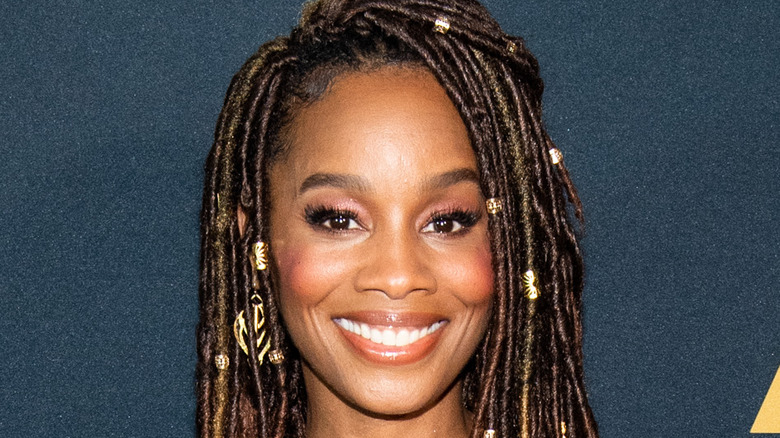 Timothy Norris/Getty Images
Princess Tiana is a character who does more than daydream. In "The Princess and the Frog," she isn't shy or afraid to put in a hard day's work to achieve her dreams of opening a glamorous restaurant in an old, run-down sugar mill. However, her formidable presence and charm might overshadow some of the more detailed elements of her character, like the fact that she is left-handed.
Tiana isn't just left-handed by chance. According to the official Disney fan club, D23, the decision was a deliberate addition to her character by request of Anika Noni Rose, the voice actress who plays Tiana. When Rose asked to have Tiana be left-handed, it was to make the princess more like herself. The creators liked the idea so much that they made it happen.
This isn't the only detail added in to make the princess more similar to the person voicing her. Animators watched Rose acting as Tiana and noticed that her dimples added something unique to her performance, so they matched the animation of Tiana's dimples to more closely resemble Rose as well. Without these small Disney details, Princess Tiana just wouldn't be the same.