Is There A New SNL Episode On Tonight? (March 19, 2022)
"Saturday Night Live" is currently in its 47th season, and the series remains appointment viewing for fans of topical comedy. For almost 50 years, "SNL" has used sketches and monologues to poke fun at current events, celebrities, pop culture, politics, and anything else that dominates the headlines at the time, ensuring that the show is always relevant and pushing the proverbial envelope. Of course, none of that would matter if "SNL" didn't have the talent to bring these ideas to life with aplomb. Fortunately, "SNL" has a rich history of discovering (and losing) some of the brightest minds in comedy, and the latest incarnation of the sketch series is no different. Featuring Michael Che, Pete Davidson, Colin Jost, Cecily Strong, Kenan Thompson, Alex Moffat, and Kate McKinnon as regular performers, "SNL" boasts some of the finest comedians working today.
Of course, "SNL" is also synonymous with appearances from A-list celebrities and important figureheads, and Season 47 has welcomed a variety of guest hosts and musicians into the fold. For example, Will Forte, Paul Rudd, Jason Sudeikis, Billie Eilish, Owen Wilson, and Jonathan Majors have all served as hosts in recent times. The last two episodes featured appearances from Oscar Isaacs and Zoe Kraviz who, while there to promote "Moon Knight" and "The Batman," respectively, took part in some memorable sketches. One skit saw Isaac play a city council member who launched an anti-"Paw Patrol" campaign. Kraviz, meanwhile, caused hilarity courtesy of a sketch featuring her as a daughter who's shocked to discover her father's secret videotape. Elsewhere, Taylor Swift, Saweetie, and Halsey have captivated viewers with their musical numbers during Season 47. 
It's an exciting time to be an "SNL" fan, but will there be a new episode tonight?
There will not be a new episode of Saturday Night Live on March 19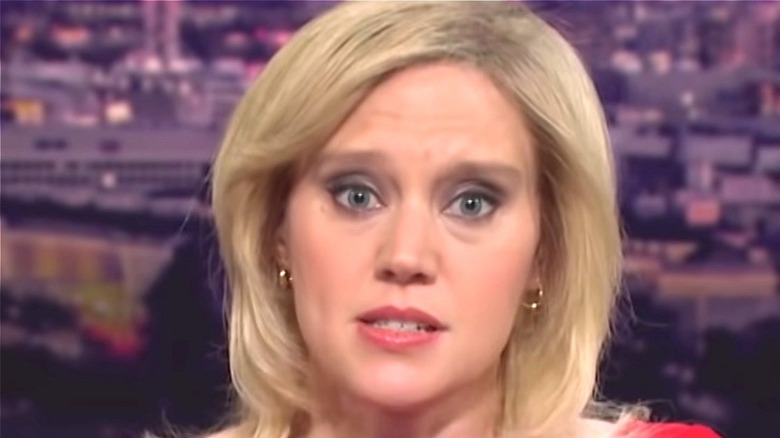 NBC
"Saturday Night Live" only just returned to screens last month following a short hiatus, with host John Mulaney tasked with overseeing the festivities. Unfortunately for fans of the popular late-night show, there won't be any new episodes of "SNL" tonight or for the foreseeable future. This week's program will be a rerun, and NBC has yet to announce when "SNL" fans can expect to see new episodes.
However, tonight's rerun will air at the regularly scheduled time of 11:30 p.m. EST on NBC. The episode in question is a repeat of Season 47's fifth episode, featuring "Succession" star Kieran Culkin as the host and Ed Sheeran as the musical guest. The episode received praise from critics, with Indiewire Culkin's performance. "It continues to be fascinating to watch these first-time hosts take a crack at and thrive in the realm of "SNL's" version of live sketch comedy," they wrote.