The Iconic Big Bang Theory Scene That Was Difficult For Mayim Bialik To Film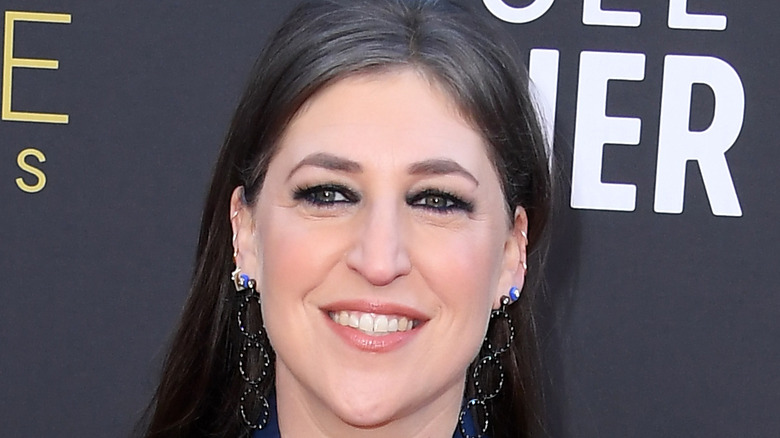 Steve Granitz/Getty Images
"The Big Bang Theory" is one of Warner Bros. Television's longest-running and most successful sitcoms. It stars the likes of Johnny Galecki, Jim Parsons, Kaley Cuoco, Simon Helberg, Kunal Nayyar, Melissa Rauch, and Mayim Bialik, among others, and features a bunch of nerds stumbling through life and love, trying their best to find their own personal happiness. Despite its many problematic elements, the show was adored by millions of fans worldwide during its run, running for an astonishing 12 seasons before finally coming to an end in 2019.
On the show, Bialik plays the brilliant and alliteratively named Dr. Amy Farrah Fowler. She and Sheldon (Parsons) start out a bit rocky, as tends to be the case with most relationships Sheldon gets into throughout the show, romantic or otherwise. But as they get to know one another, their budding friendship eventually turns into something more. She makes him a better man, and once he finally matures just enough to realize that, he proposes. When their romance eventually culminates in nuptials, it leads to a scene that was actually very difficult for Bialik to film.
Amy and Sheldon's wedding scene was filmed at a painfully emotional time for Bialik
At the end of Season 11, Amy and Sheldon finally get married. After numerous ups, downs, and misunderstandings, the two had a chance to express their love for one another in front of their friends and family. Expressing emotion doesn't always come easily to Sheldon, but he found a way for the woman he cared about more than anything else.
Although "Shamy" fans were jumping for joy, behind the scenes, it was extremely difficult for Mayim Bialik to pretend to be a smiling, happy bride. She even got personal with fans online, lamenting about how "as a divorced woman, it's hard to revisit that moment and those decisions" in a blog post she published on Grok Nation the night the episode aired. It's still highly admirable that despite revisiting that trauma, she was able to push through and play the part in a convincing way.
In the same blog post, Bialik confessed to getting "a series of antibiotic-needing bacterial illnesses and was not allowed to work out for a month," leading her to gain weight before the shoot. That's a double whammy, seeing as how a lack of physical activity and the negative effect that antibiotics have on the gut microbiome both contribute to weight gain (via GoodRx). She wrote that she "felt ashamed" and like people were judging her despite the fact that had no control over it: "Even though everyone said I looked beautiful, I didn't feel completely beautiful."
Surely, plenty of people can relate, and it just made her performance during the sequence all the more believable.
Mayim Bialik also suffered from intense anxiety during filming of The Big Bang Theory
Feeling down and out regarding her appearance during her wedding episode of "The Big Bang Theory" wasn't the only issue Bialik had to contend with. Like many performers, Bialik opened up about her battle with anxiety. She spoke about it at length during a 2021 episode of her podcast, "Bialik Breakdown." When speaking with her "Big Bang Theory" costar Kevin Sussman, Bialik mentioned, "With acting stuff, my level of anxiety surrounding performing is very, very high. It's a high level of anxiety." 
Apparently, it's only heightened when she does improvisational activities: "And when I've tried to do things like improv — things that are very, kind of, free form, I freeze. I literally freeze. It's like an instant knot in your throat ... it's stuck and there are tears there. Like, I want to cry." Many other celebrities, including Ryan Reynolds, Emma Stone, and Hugh Grant, have also opened up about dealing with anxiety as individuals who have to perform for a living. It's not easy, and Bialik went on to discuss how specifically it impacted her time on "Big Bang Theory."
"I've had this a handful of times when working on 'Big Bang Theory' when there was a certain way they wanted a line delivered, and I was like, 'Oh okay, I got that. I'll do that in the next take,'" she continued. "And I do it, but it's still not right. And sometimes it's like the audience isn't laughing, you know it's not funny ... I can usually do about four takes or five takes before my throat starts to do that thing."
Fortunately, there are ways in which Bialik manages her anxiety. She goes on to mention how she goes to therapy and practices meditation. She's also a big fan of weighted blankets. It may have been tough; fortunately, resources are available to those who struggle with anxiety, and Bialik was able to do phenomenally during her time on "The Big Bang Theory."