Nick Fury Isn't In Avengers 3, 4, Or Black Panther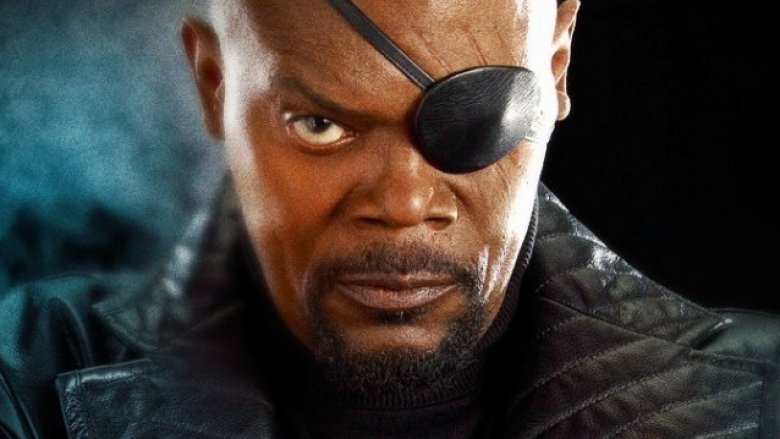 A Marvel icon will be missing from three major upcoming movies, and the actor behind the character is none too happy. 
Samuel L. Jackson, who plays Strategic Homeland Intervention, Enforcement, and Logistics Division (S.H.I.E.L.D.) leader Nick Fury confirmed to Yahoo! Movies UK that he won't appear in Avengers: Infinity War, the yet-untitled Avengers 4, or Black Panther. 
Though Jackson once thought he had a spot secured for the third and fourth Avengers movies, that isn't the case now. "I wasn't in the 'superhero argument' movie," Jackson began, referencing Captain America: Civil War. "I'm not in Avengers 3 and 4. They're shooting them now, and they haven't called me yet."
To add salt to the wound, the 68-year-old actor also stated that Nick Fury doesn't have a place in Marvel's first film starring a black superhero. "They wouldn't let me go to Black Panther-ville, so it's kind of like, how are you going to make a black Marvel movie and not let Nick Fury show up in it?"
This isn't the first instance in which Jackson has expressed his frustrations with not appearing in Black Panther, as he previously vented to Complex about the situation. "I asked [Marvel], 'So you're doing Black Panther and the only black character in the Marvel Universe is not showing up?' And they're like, 'Nick Fury is not in Wakanda!'" Jackson said. "How can [Nick Fury] not know the other black superhero on the planet? How the h*** does that work? But they just said, 'No you're not in that one.'"
It was originally believed that Marvel would make up for absence in the Chadwick Boseman-led flick by letting Nick Fury and T'Challa meet up in Avengers: Infinity War, but by the sounds of Jackson's comments here, it doesn't seem like Marvel will make any last-minute phone calls to Jackson to throw include him and scrub away any lingering disdain.  
It's also interesting to note that Jackson's remarks about not showing up in Avengers: Infinity War and Avengers 4 seem to go against previous reports. During the European production tour for Infinity War, media reports indicated that Jackson would be joining the ensemble cast. If Jackson is to be believed in his interview with Yahoo! Movies UK, past reports may have been entirely incorrect. Either that, or Jackson is backpedaling and attempting to cover up the fact that he really is appearing. 
Jackson may be missing from a handful of forthcoming Marvel movies, but we do know that he'll show up in 2019's Captain Marvel. Starring Brie Larson as Carol Danvers herself, Captain Marvel is said to be set in the '90s and will feature some old-school Marvel villains. The film is set to debut on March 8, 2019.
For now, it seems we'll just have to wait until Avengers: Infinity War is released on May 4, 2018 to discover if Jackson really is involved. While we wait, brush up on all the superheroes confirmed for the upcoming movie.