The Sweet Shaun Detail Fans Might Have Missed In The Good Doctor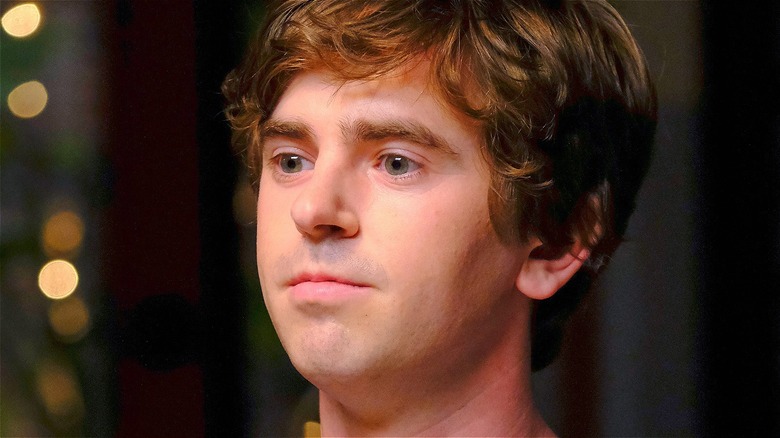 ABC/Jeff Weddell
On ABC's "The Good Doctor," Dr. Shaun Murphy (Freddie Highmore) doesn't have an easy life. His trials began in childhood when he escaped his abusive father (Michael Trucco) and lost his little brother, Steve (Dylan Kingwell), in a tragic accident. Though Shaun discovers his calling as a surgeon at San Jose St. Bonaventure Hospital thanks to mentor Dr. Aaron Glassman (Richard Schiff), being on the autism spectrum sometimes serves as a hindrance, especially when it comes to his love life.
However, Shaun finds happiness with his longtime friend and crush Lea Dilallo (Paige Spara), who finally reciprocates his affection at the end of Season 3 following a devastating earthquake. For Shaun, it's often difficult to express his feelings. He's rational and analytical, which is the complete opposite of the more go-with-the-flow Lea. Yet in Season 4, when Lea becomes pregnant with their child, Shaun begins to tap deeper into his emotions. As Lea questions their readiness to become parents, Shaun is excited at the prospect and tells her, "I love you, and I want a child, so I want this child."
Shaun's vulnerable side shines through even further during a brief scene that some "The Good Doctor" fans may have missed.
Shaun makes a sweet pros and cons list about having a baby with Lea
In the Season 4 episode "Teeny Blue Eyes," Lea urges Shaun to truly think about whether they're ready to have a baby. Shaun decides to make a pros and cons list that, upon a closer look, is extremely sweet.
Naturally, he lists several medical-based pros, including a decreased risk of breast cancer and other issues because of their young age. But the rest of his pros are very touching, such as, "Give a child a chance for a good life." As for the single con, he writes, "Lea is unsure." Many fans swooned over Shaun's list. On Reddit, u/spiritualroses said, "'Give a child a chance for a good life,' my heart!"
However, others disagreed with Shaun's disproportionately positive list. u/Andreas_from_Germany said, "Shaun's reasons for a child are less adorable than alarming proof how naïve he is regarding his fatherhood. Compare this with Lea's reasoning throughout the episode (career, mindset, child's health, ... ) and it becomes clear that she is the more grounded and mature partner in this relationship."
Though Shaun and Lea ultimately decide to move forward with the pregnancy moments before Lea is scheduled to have an abortion, they lose the baby not long afterward. But according to Dr. Audrey Lim (Christina Chang), the loss won't prevent Lea from getting pregnant again. If this does happen in the future, they won't need to make lists. They'll be ready.