Game Of Thrones Star Addresses Jaime's Shocking News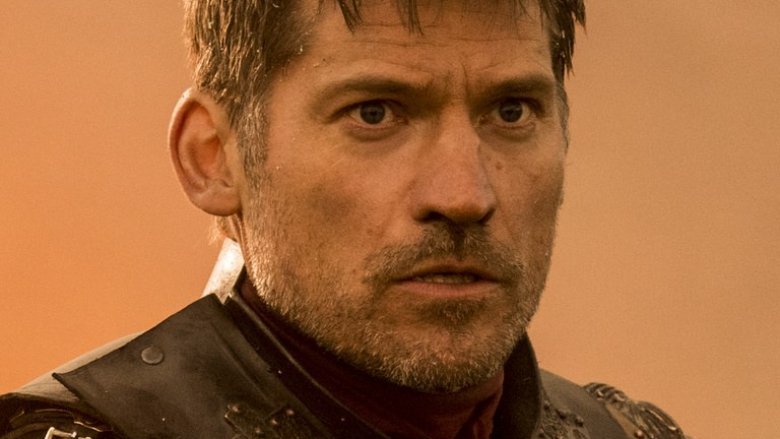 HBO
Warning: This post contains spoilers for Game of Thrones season 7, episode 5, "Eastwatch."
As expected, the latest episode of Game of Thrones was pretty thrilling. From the very first scene, in which fans were shown Jaime Lannister (Nikolaj Coster-Waldau) actually did survive the near sinking to the bottom of a river, "Eastwatch" gripped viewers and didn't let go. But perhaps the most intense moment of the episode was one no one was expecting: Cersei Lannister (Lena Headey) revealed that she's pregnant with Jaime's child, their fourth one together. Suddenly, the pair are now back to where they first began—and with the very same byproduct that started the war in Westeros.
Speaking with The Hollywood Reporter, Coster-Waldau opened up about the shocking news, and how this episode was a rollercoaster of emotions for his character. 
The actor began by stating that Jaime becoming a father for the fourth time is "a surprise to all of us." Coster-Waldau then joked that Jaime would love to be gifted "an antidote... some fire repellant... [and] maybe some really thick armor" to prepare for the birth of the child, who will undoubtedly cause nationwide outrage. 
"There's that little tiny moment where he thinks, 'Is this possible? Could I be allowed to be the father?' Because he's never really been allowed to be a father. He had that moment with Myrcella [Nell Tiger Free], the briefest of moments of feeling open about it, and now she's telling him that it won't be a secret," Coster-Waldau said. "And so he's happy for maybe a millisecond before she goes ahead and ruins it by saying, 'And don't ever betray me again.' Suddenly, he's like, 'Oh, that's right. It's Darth Vader. I forgot that I've been f***ing Darth Vader.'"
Even before Cersei's announcement, Jaime had been knocked around and thrown for more than a few loops in "Eastwatch," having returned to King's Landing after watching nearly his entire army be incinerated by Danerys Targaryen's (Emilia Clarke) forces and reuniting with his brother Tyrion (Peter Dinklage). Coster-Waldau agreed that the episode was an especially hard one for Jaime, but the character is trying to push through the struggles. 
"I'm obviously a little bit biased, but I think he's doing quite well!" said Coster-Waldau with a laugh. "He's like, 'Okay, I'm back in this dump again. Everybody wants to kill us. I have to make the best of this.' He actually gets to do what he does best. He's a soldier. Now he's a military commander. As Tyrion says: "You were really smart! You outplayed and outmaneuvered me. That was very well done." Things are going very well. He's getting the troops back. He has the gold... and then of course Daenerys comes in with her weapons of mass destruction, and it's all f***ed. Of course, his sister is also still not quite willing to accept facts. She's just pretending: 'If we're going to go out, I'm going to go out in a blaze of glory.' I don't think he thinks that's the best solution. It's not easy. Certainly, he's trying his best."
With Game of Thrones quickly approaching the ends of its seventh season, Jaime might be in for another metaphorical whiplash-inducing few episodes. Until we find out if Cersei really is pregnant, and what that could mean for Jaime and the whole of Westeros, check out the biggest mysteries Game of Thrones has yet to solve.