The Throwback Cameo You Probably Missed In Finding Dory
For anyone who grew up loving Pixar's "Finding Nemo," the adorable tale of a young, curious clownfish named Nemo (Alexander Gould) who wants nothing more than to explore the depths of the ocean, the 2016 sequel "Finding Dory" came as a pleasant surprise.
The 2003 original follows Nemo's overprotective, widowed father, Marlin (Albert Brooks), as he sets out to find his son after Nemo is captured by a diver. Along the way, Marlin encounters Dory (Ellen DeGeneres), a happy-go-lucky blue tang who suffers from short-term memory loss. Her character was such a hit that Pixar made an entire sequel about her quest to find (and remember) her parents.
In addition to DeGeneres, "Finding Dory" boasts quite the star-studded lineup. Top-notch actors who lent their voices to the animation include Eugene Levy and Diane Keaton as Dory's parents, Charlie and Jenny; Pixar regular John Ratzenberger as Bill the hermit crab; Idris Elba as sea lion Fluke; and Kaitlin Olson as one of Dory's friends, a nearsighted whale shark named Destiny.
While these voices are pretty recognizable, there's another that may have gone unnoticed by "Finding Dory" audiences — one that was first heard in the Pixar universe in 2003.
Alexander Gould, the original voice of Nemo, is also heard in Finding Dory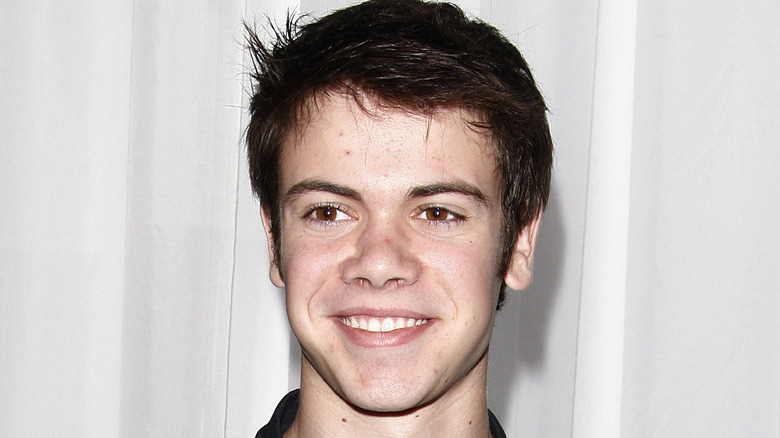 Joe Seer/Shutterstock
At the end of "Finding Dory," Dory and her new octopus friend, Hank (Ed O'Neill), hijack a moving Cleveland-bound truck in an effort to save Nemo (Hayden Rolence) and Marlin, who are trapped inside. Though Carl, one of the drivers, tries to prevent the truck from being taken by two sea creatures, his efforts are unsuccessful. Carl is voiced by original Nemo voice actor Alexander Gould, who at the age of 21 was invited back to Pixar for the cameo. Gould, who started his vocal work for Nemo at the age of 6, was thrilled to be included.
"It was a big chunk of my very early childhood, and it was really awesome to be a part of," he said in an interview with Disney YouTuber Jace Diehl. "Pixar definitely likes to keep a lot of things in the family. They wanted me to have some part in it. Obviously, my voice had changed too much to be Nemo anymore, but they wanted me to have some role in the film."
Andrew Stanton, who directed both films, said it "just felt right" to have Gould involved in the highly anticipated follow-up (via CinemaBlend). "We had him read for a couple roles, but the meatiest one was this truck driver, so that just worked out," said Stanton.