This Look At Ryan Hurst As Marvel's Sentry Is Jaw-Dropping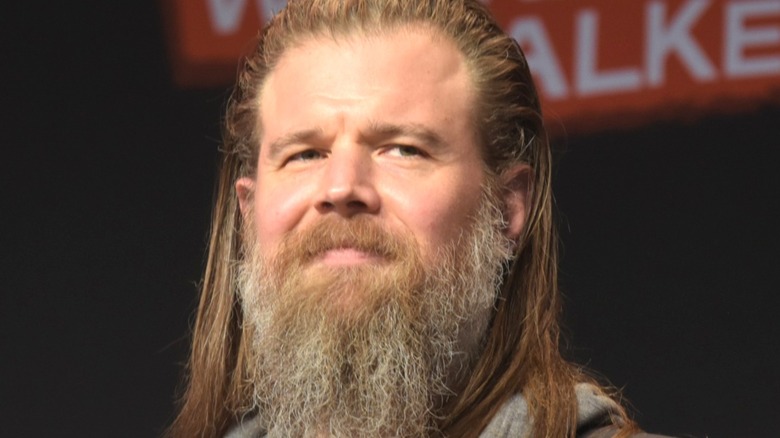 Markus Wissmann/Shutterstock
Ryan Hurst's career has gone through the stratosphere. After getting his start in the likes of "Remember the Titans" and "We Were Soldiers," Ryan Hurst has since gone on to appear in a number of properties, including a recurring role in "The Walking Dead" for a time. He'll next be heard in the upcoming video game "God of War: Ragnarok," lending his voice acting talents to the role of Thor, and while the chance to play the God of Thunder in the Marvel Cinematic Universe may be gone, Hurst is clearly still hoping a call for Marvel comes out soon.
Given the ever-expanding nature of the MCU, it seems like every actor will star in a superhero property at some point. Given Hurst's extensive resume, it looks like it would only be a matter of time until he's suiting up to take on bad guys, and the actor already has an idea of who he'd like to play. In October 2021, Hurst uploaded some artwork of him as the superhero Sentry, who has yet to make an appearance within the shared universe. 
Ryan Hurst looks powerful as Marvel's Sentry
There's nothing wrong with trying to manifest some positive energy from the universe, especially when it relates to the MCU. It famously worked out well for Simu Liu. He tweeted in 2014 about wanting to be Shang-Chi in the MCU, and as we know all too well, that hopefulness eventually came to fruition when he headlined that precise property in the 2021 film (via Entertainment Tonight). Could lightning strike twice and land Ryan Hurst the role of Sentry?
It's safe to say Hurst is certainly hoping so, as he took to Instagram to share some fan art of him as Sentry along with the caption, "BOOM! Manifest! Collective Manifesting! Thank you!" The artwork comes courtesy of illustrator @monstatron, who shared some additional Sentry artwork on their own Instagram profile. 
There's still the question of whether Sentry would be a good fit for the film side of Marvel. The character's been controversial in the comics for being too overpowered and essentially being a walking deus ex machina (via CBR). But perhaps the MCU can find a place for him, especially if they realize what picture-perfect casting Ryan Hurst would be for the character.