The Character You Likely Forgot Amy Adams Played In Catch Me If You Can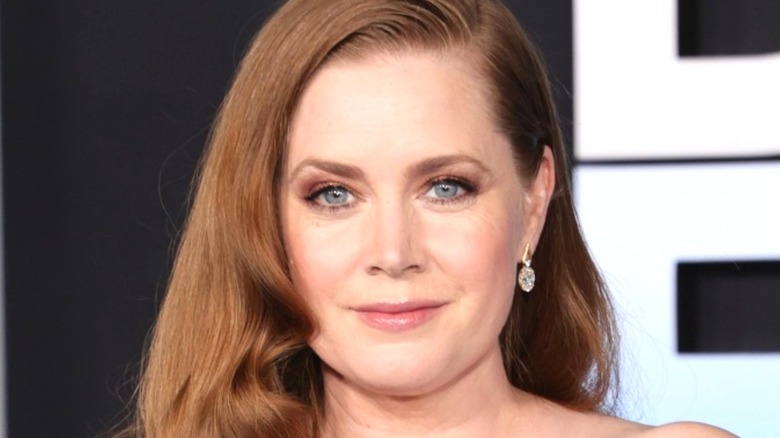 Rich Fury/Getty
With the amount of varied and captivating roles she has taken, there is no doubt that Amy Adams is one of the more prolific actors currently in the entertainment industry. In recent years, she has tackled the darker side of the human spectrum. Roles in "Sharp Objects" and "The Woman in the Window" feature complex female characters who are ensnared in their respective emotional trauma. Judging from her recognition from the Academy, it goes to show that she has truly come into her own as a performer (via IMDb).
Her roles have become so impressive, it is hard to remember a time where she wasn't a household name. But like any up and coming actor, she got her start in smaller roles. One of her early endeavors was in Steven Spielberg's biopic about con artist Frank Abagnale Jr. Starring Leonardo DiCaprio and Tom Hanks, "Catch Me If You Can" premiered in 2002 and featured some of the biggest stars of the time. Even Adams who only had a brief role compared to the rest of the actors, demonstrated great acting ability that portended a promising career in the industry.
Adams has memorable performance as Frank's fiancee
As Frank (DiCaprio) attempts to escape the clutches of FBI agent Hanratty (Hanks) in "Catch Me If You Can", he engages with many women including Elizabeth Banks and Jennifer Garner. But the closest who gets to Frank's heart is his fiancee Brenda (Adams). First meeting her when pretending to be a doctor, Brenda is a kind — albeit naive — hospital worker who falls for Frank's charms. And though Frank is being completely dishonest with her for the entirety of their relationship, there is a part of him who wants to live a normal life. When he realizes that Hanratty is hot on his trail, Frank knows he has to escape. He tells Brenda everything and tries to get her to come along with him. Adams' performance steals the show for the short amount of time she is on screen. She demonstrates humor as well as heartbreak when she comes to terms with the fact Frank is not who he says he is.
As much as Frank wants to have a normal life, it isn't possible for him. Brenda is a physical personification of this internal struggle. He wants love and acceptance but has gone too far in his con. This was also memorable for Adams. Her vulnerable portrayal was just a hint of what she is capable of as an actor. She soon went on to appear in her breakout film "Junebug" for which she was nominated for her first Academy Award.