The Detail You Might Not Have Noticed About The Vampire Diaries' Season 6 Episode Titles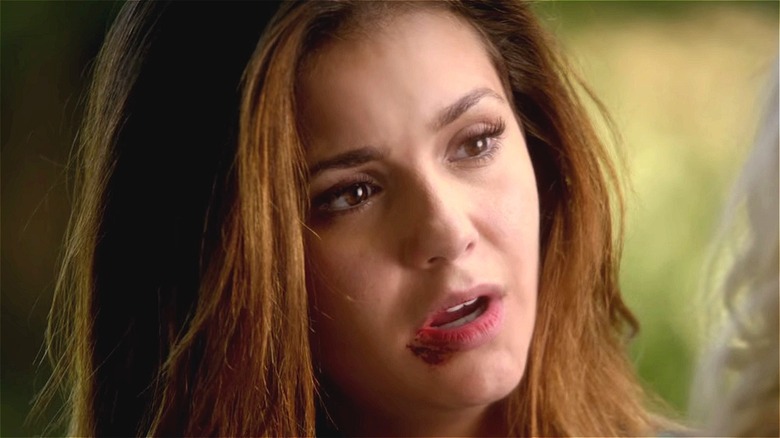 The CW
Although the vampire craze of the 2010s has come and gone, its impact is still present in pop culture. The cult classic "Twilight" franchise has led to Gen Z TikTok users donning blue-green filters, dressing like Bella Swan, and dancing to "Supermassive Black Hole" by Muse. Meanwhile, vampire dramas like "True Blood" and "The Vampire Diaries" have found new audiences.
The latter series aired for eight seasons on The CW, though some fans saw Season 6 as the beginning of the end since lead actress Nina Dobrev stepped down. "The Vampire Diaries" follows Elena Gilbert (Dobrev), a newly-orphaned teenager living in the mysterious Mystic Falls, as she navigates grief, supernatural beings, and a love triangle with vampire brothers Stefan (Paul Wesley) and Damon Salvatore (Ian Somerhalder).
While Season 6 was notable for being Dobrev's final season as a main cast member, there's one unique detail about the episode titles you might've missed.
TVD took inspiration from songs of the 1900s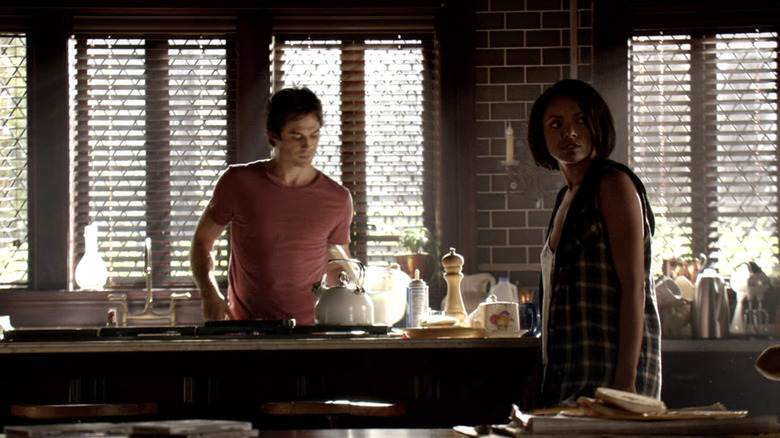 The CW
Season 6 of "The Vampire Diaries" may have begun airing in the fall of 2014, but its soundtrack features countless hits from the 1990s. If you look closely, you'll also realize that all 22 episodes are named after songs released between the 1890s and the 1990s.
This may seem like fun trivia, but it fits within the show's shifting timelines. Season 6 spans the 1900s to the 1990s to the present day. As Bonnie McCullough (Kat Graham) explains it in Episode 2, "Yellow Ledbetter," she and Damon are stuck in a "snapshot of another time, or something."
The two characters find themselves in a purgatory-like state where they relive the same day in 1994, complete with throwback hits like "Everybody Hurts" by R.E.M. and "Whatta Man" by Salt-N-Pepa blaring on the stereo.
As for the references to songs from circa 1903, Bonnie later finds herself in an alternative prison world during said time. While songs like 1899's "I'd Leave My Happy Home For You" by Harry Von Tilzer may not necessarily correlate with the plotlines, they're clever Easter eggs for fans to uncover.
Other Season 6 episode titles reference the angsty "Welcome to Paradise" by Green Day, "Black Hole Sun" by Soundgarden, and "Fade Into You" by Mazzy Star.