The Howard Scene On Better Call Saul That Went Too Far
A spin-off prequel of "Breaking Bad," "Better Call Saul" follows new, well-meaning lawyer Jimmy McGill (Bob Odenkirk), who has trouble moving on from his con artist past in order to build a legitimate law practice. Over time, Jimmy inches closer and closer to becoming Saul Goodman, the greedy criminal defense lawyer we all know from "Breaking Bad." Other key characters in Jimmy's world include a fellow lawyer and his eventual wife, Kim Wexler (Rhea Seehorn), and his stickler-for-justice brother Chuck (Michael McKean), whose desire to keep "Slippin' Jimmy" from practicing law only makes Jimmy resort to his old ways more often. In the process, Kim and Jimmy's close relationship leads to Kim becoming more like con artist Jimmy.
There's also Howard Hamlin (Patrick Fabian), one the partners of HHM, Chuck's law firm where Jimmy is denied a job after he passes the bar exam. While Howard is the one who tells Jimmy they won't hire him, Jimmy finds out later that it's only because Chuck doesn't want him there. When it comes to fans' opinions of Howard, as can be seen in this Reddit thread, most agree that he doesn't seem to have a life outside of the firm — thus, every questionable thing that Howard does, such as forcing Chuck into retirement, is in an effort to maintain the success of the firm. Still, whatever his motivations are, Howard, like every other major character of the show, is far from perfect.
So, what is the one action of Howard's that went too far?
Howard ices out Kim for Jimmy's mistake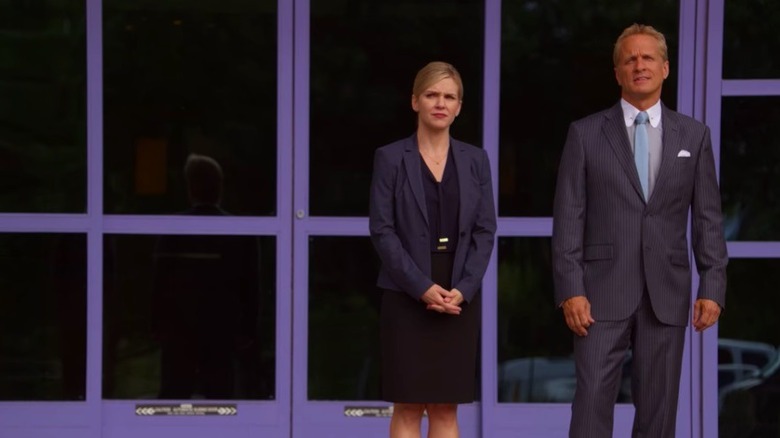 AMC
When Howard refuses Jimmy a job once again — even after Jimmy brings in Sandpiper, a massive case — he listens to Kim and gets his friends at Davis and Main to offer Jimmy a job. However, once Jimmy has the job, he runs a commercial ad without getting approval from his bosses, which infuriates them and gets back to Howard. In turn, Howard takes out his anger on Kim and assigns her entry-level document review work as punishment — not even bothering to ask Kim if she knew about Jimmy not getting the ad approved (which she didn't).
Desperate to get back to her real work, Kim spends hours going through all of her old contacts, looking to bring in a major client to the firm and get back on Howard's good side. Eventually, her countless calls pay off and she brings in Mesa Verde, a bank looking to expand. She accompanies Howard in greeting the Mesa Verde clients, thinking she's finally earned her spot back at the table. But after the clients leave and Kim says she'll get started on it, Howard declares that he'll give the task to someone else, because Kim has "too much on [her] plate in doc review."
Howard may be frustrated that Chuck has made him deal with Jimmy all this time, but taking out his frustrations on Kim is far from the right move. Luckily for Kim, Howard's behavior only motivates her to leave HHM and start her own practice — which, unluckily for Howard, eventually leads to her and Jimmy planning to sabotage Howard's career.