The Blue Bloods Character You Likely Forgot Tia Carrere Played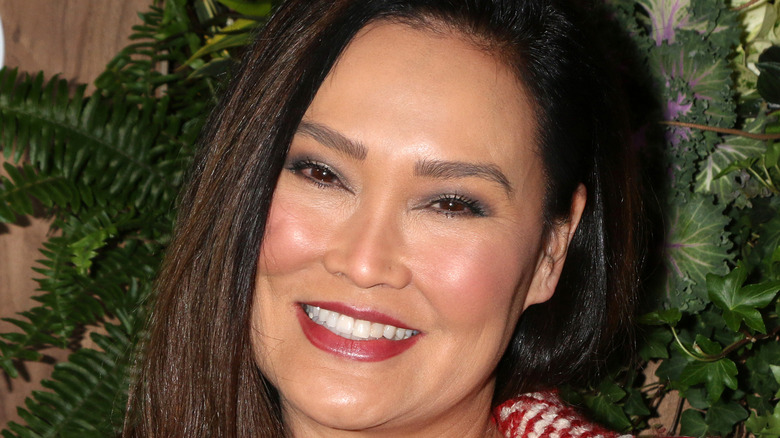 Kathy Hutchins/Shutterstock
In the course of her nearly four decades as an actress in Hollywood, Tia Carrere has played a variety of different roles. Although she first appeared onscreen in a 1985 episode of the CBS series "Cover Up," she has since been credited in everything from soap operas like "General Hospital" to reality TV shows like "The Celebrity Apprentice." Additionally, the multi-talented performer is the recipient of four Grammy Award nominations, two of which she won. 
If you spend more time watching the small screen, you are most likely to recognize Carrere for her portrayal of Dr. Sydney Fox on all three seasons of the CBS series "Relic Hunter." Her additional television work includes guest appearances on everything from "Dollface" and "Hawaii Five-0" to "CSI: Miami" and "Nip/Tuck." Of course, if you remember Carrere from the big screen, it's likely you're thinking of her notable roles in "Wayne's World," "Wayne's World 2," "True Lies," or "Lilo & Stitch" (via IMDb).
However, some people may have forgotten about Carrere's appearance in a 2017 episode of the CBS police procedural "Blue Bloods." Like many other famous stars of Hollywood, Carrere opted to make a visit to the Reagan family of New York City. Here's a closer look at her brief role in the series.
Tia Carrere played a Season 8 character named Chow Lin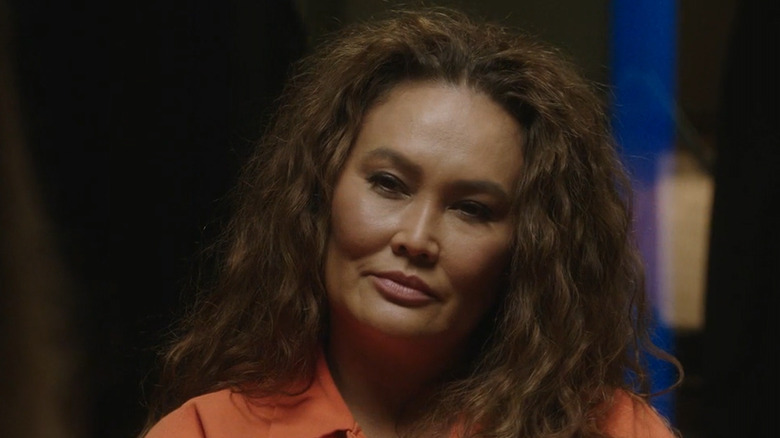 CBS/Netflix
In "Blue Bloods" Season 8, Episode 3 ("The Enemy of My Enemy"), Carrere played Chow Lin, a woman charged with multiple counts of sex trafficking and assault (the latter charge stemming from her forced amputation of a defenseless man's hand). During her first scene, Lin has a testy pre-trial conference with District Attorney Erin Reagan (Bridget Moynahan) and the judge assigned to her case. Although Lin goes out of her way to threaten Erin, the judge is later suspiciously found dead, leading Erin to suspect foul play. 
In order to avoid a mistrial, Erin sets out on a mission to prove that Lin's henchman murdered the judge. Erin initially fails to prove such an accusation, but is aided by a bevy of investigators, including Danny Reagan (Donnie Wahlberg), Maria Baez (Marisa Ramirez), and Anthony Abetemarco (Steve Schirripa). During an unfriendly meeting at the prison, Lin puts it together that Danny is Erin's sister and offers yet another ominous and vaguely worded threat. Mere hours later, Erin is nearly run over by a vehicle. As she recovers from the trauma of the near-death experience, she discovers Lin's calling card left on her windshield.
While this experience is undoubtedly difficult for Erin, it ultimately proves that the team is on the right track. Although Erin fails to avoid a mistrial and is removed from the sex-trafficking case, Danny and Anthony manage to turn Lin's second in command against her, revealing evidence that she ordered the murder of the judge. As a result, Erin is instead handed a first-degree-murder case against Lin. We haven't seen Lin in the series since and, given the standard life-without-parole sentence associated with a conviction on such a charge, it seems doubtful that she will ever return.