Final Defenders Trailer Released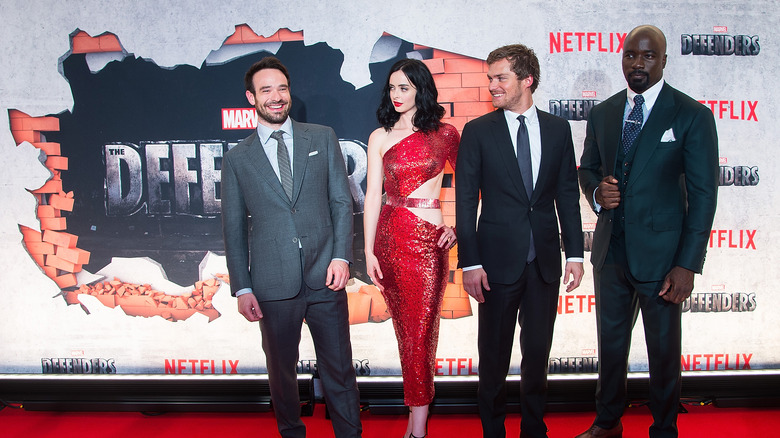 Michael Stewart/Getty Images
The gang's all here, but they're not exactly happy about it.
Netflix has just released the final trailer for Marvel's The Defenders, the super-sized superhero series set to premiere in just a few days. This last bit of footage proves more than ever that the heroes, who have embarked on their own personal journeys in their respective small screen outings, aren't too keen on joining forces. Sure, Danny Rand/Iron Fist (played by Game of Thrones alum Finn Jones) appears enthusiastic in comparison to his sour-faced supposed team mates, but the others are quite wary. For now, at least.
The clip begins with the four crime-fighters sharing a post-victory dinner. Beaming with pride, Danny seems to be basking in the dynamic, perceiving it as camaraderie rather than a whole lot of reluctance. Luke Cage (Mike Colter) and Matt Murdock/Daredevil (Charlie Cox) quickly shoot down Danny's optimism, stating that they and Jessica Jones (Krysten Ritter) aren't looking to make "super friends." 
However, things change when Stick (Scott Glenn), Daredevil's highly intelligent and skilled mentor, walks into the room. "The war for New York is here, so get your s*** together," Stick sternly warns them. 
Despite their resistance to become a team, a connection exists between the four heroes, one that even super-villain Alexandra (Sigourney Weaver) can't deny. 
Take a look at the final Defenders trailer above.
Here's the official synopsis for the upcoming show: "Marvel's The Defenders follows Daredevil, Jessica Jones, Luke Cage and Iron Fist. A quartet of singular heroes with one common goal: to save New York City. This is the story of four solitary figures, burdened with their own personal challenges, who realize they just might be stronger when teamed together.
The series also stars Sigourney Weaver (Alexandra), Jessica Henwick (Colleen Wing), Rosario Dawson (Claire Temple), Babs Olusanmokun (Sowande), Elden Henson (Foggy Nelson), Simone Missick (Misty Knight), Rachel Taylor (Trish Walker), Scott Glenn (Stick), Eka Darville (Malcolm Ducasse), Debbi Morgan (Delores), Carrie-Anne Moss (Jeri Hogarth), and Deborah Ann Woll (Karen Page). 
Marvel's The Defenders is set to premiere on Netflix on August 18. Until then, check out the untold truth of the superhero group.