Queen Elizabeth II's Favorite Film Will Definitely Surprise You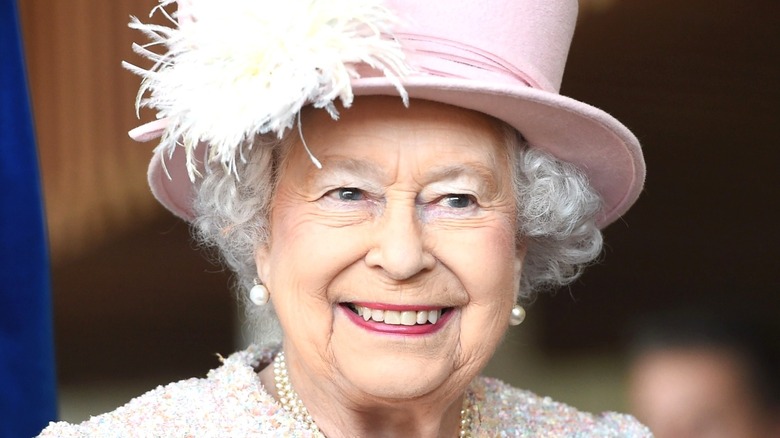 Stuart C. Wilson/Getty
Queen Elizabeth II is fast approaching her 96th birthday, which means that she has lived through (among other things) nearly a century of cinema, and has watched as the first sound films of the 1920s morphed into the action-packed, CGI-filled blockbusters of the modern age. Naturally, one has to assume that the Queen has plenty of strong opinions on the direction that cinema is going, having witnessed it transform right in​​ front of her — especially since she herself has been depicted across a wide variety of films and television shows, such as Netflix's "The Crown."
Considering the professional, elegant, and overtly regal portrayal of Queen Elizabeth II that we see so often in the media, one might expect her favorite film to be something along the lines of "Pride and Prejudice," or "The King's Speech," the latter of which is an incredibly moving film about her own late father. However, it may come as a shock to those who have followed the Queen for all these years to learn that her favorite movie is actually "Flash Gordon," a cult-classic space opera that was released in 1980.
Brian Blessed says Flash Gordon is the Queen's favorite movie
The film follows New York Jets quarterback Flash Gordon (Sam J. Jones) as he fights to protect Earth from the evil alien emperor Ming the Merciless, from the Planet Mongo. The film achieved cult status for its campy, over the top sci-fi action, and apparently made a lasting impression on Queen Elizabeth II according to actor Brian Blessed. During an interview with Yahoo Movies UK, Blessed (who played Prince Vultan in the film) said that the Queen once told him that she and her grandchildren absolutely love "Flash Gordon."
"The Queen, it's her favorite film, she watches it with her grandchildren every Christmas," Blessed explained. He even alleged that she asked him to recite his famous line "Gordon's alive!" for her and the grandchildren in question. Blessed left it unclear as to when this interaction took place, but we know that he has at least met the queen once: when he was appointed Officer of the Order of the British Empire in 2016. It's hilarious to consider the fact that, of all the movies The Queen has seen throughout her life, "Flash Gordon" is the one that she holds above all else — especially since the film's soundtrack was (ironically) performed by none other than the band Queen.