Hidden Gems On Disney+ That Pixar Fans Will Love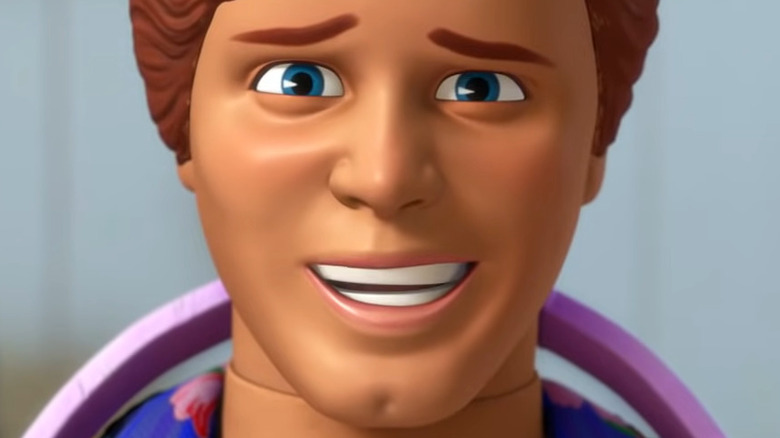 Pixar
What if there really are monsters in your closet? What if a rat had a dream of becoming a chef? What if your emotions were managed by a team of specialists inside your head? Pixar Animation Studios tells stories by asking wild questions that somehow have a knack of speaking to the core of human nature. Plus, the studio's artists are pioneers of computer animation. From "Toy Story" to "Coco," "Soul to "Turning Red," there's hardly a rotten pick in the whole bunch.
But aside from their big features, there's a lot of great Pixar content out there. And if you're in the mood to take a deep dive into the studio's past work that you might've missed — or learn more about the behind-the-scenes life at the studio itself — Disney+ is your pot at the end of the rainbow. You just have to know where to look, and that's where we've got you covered. Here are some hidden gems on Disney+ that Pixar fans will love.
Luxo Jr.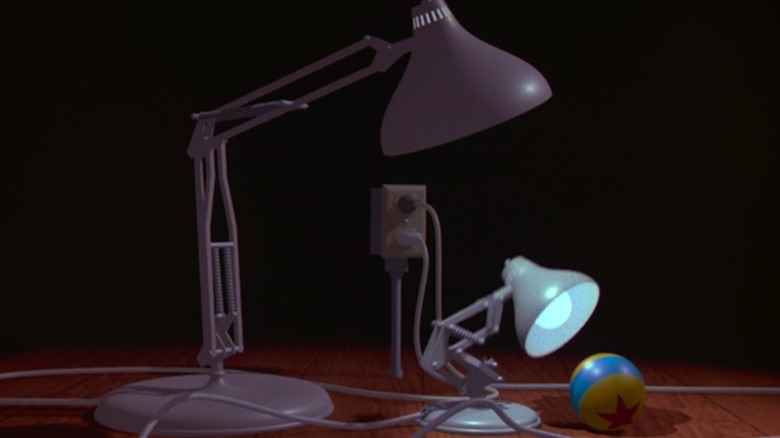 Pixar
You may not know the name "Luxo Jr.," but you'd definitely recognize the character. It's the energetic desk lamp that appears in Pixar's logo at the beginning of all their films. The character made its debut in a 1986 short film of the same name, which you can find on Disney+. The story is little more than a larger Luxo desk lamp observing as a smaller lamp gets excited about playing with a ball. There's no dialogue and no narration, yet everything is communicated expertly, telling the audience all they need to know.
In 1986, Pixar was mostly a computer hardware company, and this was one of its first story-driven film projects. For the time, the computer-generated animation was stunning. Arguably more influential, though, was its ability to breathe life and personality into inanimate objects. The way the lamps' movements present a relationship of parent and child, the way their squeaks indicate happy or sad emotions, the way the audience empathizes with both of them ... it's a masterclass.
According to the book "Pixarpedia," when the short debuted at the Siggraph conference, it received a standing ovation. In fact, "Luxo Jr." was nominated for an Oscar for Best Animated Short Film. It put Pixar on the map, earning its energetic star a place as the studio's mascot for decades to come. (Fun fact: As a tribute to the short film, the ball the lamp plays with appears in every Pixar film.)
Tin Toy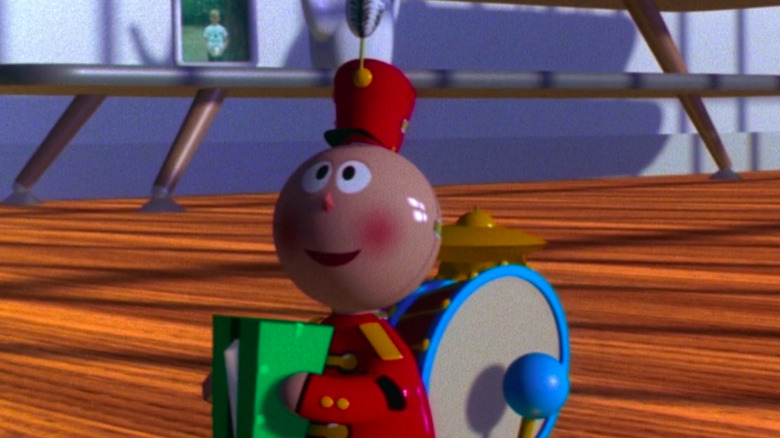 Pixar
What if toys were alive? What if toys treated being played with by a child as their job and the relationship with a kid as the most important thing in their world? What happens when a toy gets jealous of a child playing with something else? These questions may sound like lead-ins to "Toy Story," and they could be, but they're also true of "Tin Toy," a short film created by Pixar in 1988 that's available on Disney+.
In the short, a toy resembling a one-man band is terrorized by a drooling, hyperactive toddler. The animation is crude by today's standards, but the story and character work hold up over 30 years later. "Tin Toy" actually won the Oscar for Best Animated Short film. And the concept proved so appealing that, as shared in the 2008 documentary "The Pixar Story," the studio wanted to expand "Tin Toy" into a half-hour holiday special. The project soon became a full-length feature film and eventually morphed into the "Toy Story" we know and love today, making "Tin Toy" a fun watch for anyone curious about the origins of "Toy Story" or storytellers looking for an example of how one idea can take on different forms over time.
Also of note? A 2019 issue of "Entertainment Weekly" points out that Tinny, the main character from "Tin Toy," can actually be spotted in the antique store in "Toy Story 4," bringing "Tin Toy" full circle.
Your Friend the Rat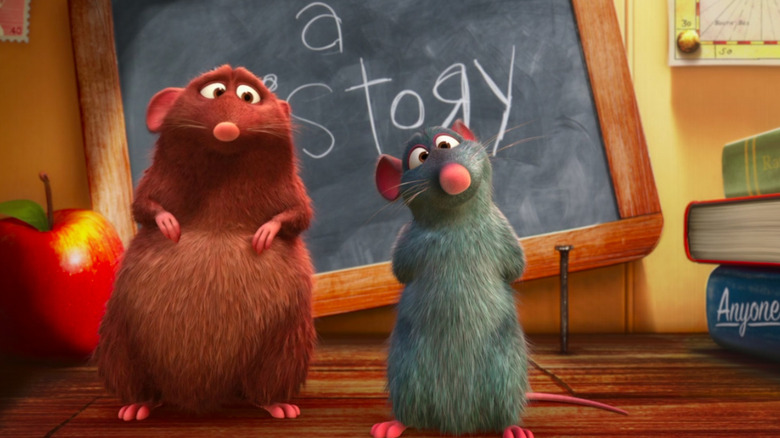 Pixar
Remy the rat from Pixar's "Ratatouille" is the rat of all our dreams. Sadly, while the namesake of the TikTok musical sensation never got a sequel, Remy did star in a short film in 2007, "Your Friend the Rat," which you can find on Disney+. 
In "Your Friend the Rat," Patton Oswalt reprises his voice role as Remy for a lighthearted educational journey to find out more about humanity's relationship with rats across history and throughout different cultures. It functions as sort of a quasi-"Schoolhouse Rock," employing traditional hand-drawn animation and music to teach real facts. Maybe the craziest? When Remy tells the audience that one rat couple can have 15,000 babies in one year. Wow! And also ... yikes! As Remy assures us, though, it's necessary and helpful to humanity's way of life.
While fun, it's a shame "Your Friend the Rat" is the only official follow-up to "Ratatouille" that Pixar created. It almost feels like a proof of concept. This short could easily function as a pilot for a series of episodes with Remy teaching other subjects. In any case, "Your Friend the Rat" is an overlooked treat that "Ratatouille" fans will want to add to their watchlist.
The Pixar Story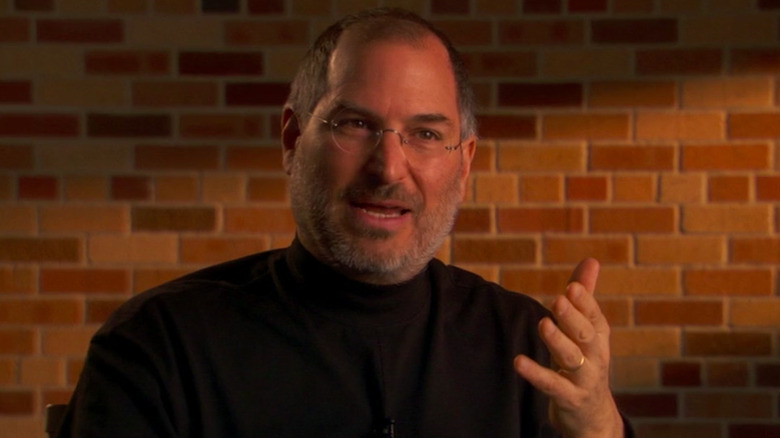 Pixar
This Emmy-nominated, feature-length documentary is a comprehensive look at the first two decades of Pixar Animation Studios. It touches on each feature film and major milestone of the studio through 2006, including its humble start as a computer-graphics division of Lucasfilm. The documentary includes inspired interviews with George Lucas, the late Steve Jobs, and many others whose voices were influential to the iconic studio.
Interestingly, "The Pixar Story" is directed by Leslie Iwerks, granddaughter of legendary Mickey Mouse animator Ub Iwerks. Of course, one aspect of "The Pixar Story" is unfortunately awkward and potentially triggering in retrospect. While essential to Pixar's beginnings and even directing its first few films, John Lasseter was relieved of his duties as Pixar's chief creative officer in 2018 due to inappropriate workplace behavior. The documentary having been made in 2008, he's featured prominently throughout.
A curious anecdote shared in "The Pixar Story" comes from former Disney CEO Bob Iger. Recalling the grand opening of Hong Kong Disneyland in 2005, he noticed the only Disney characters from the last 10 years featured in the park's parade were from Pixar movies. It was then that he began to seriously consider what it would look like to purchase the studio that was arguably doing more for the Disney legacy than the company's own animation division. The documentary is brimming with stories like these that fans will find insightful.
Studio Stories: The Movie Vanishes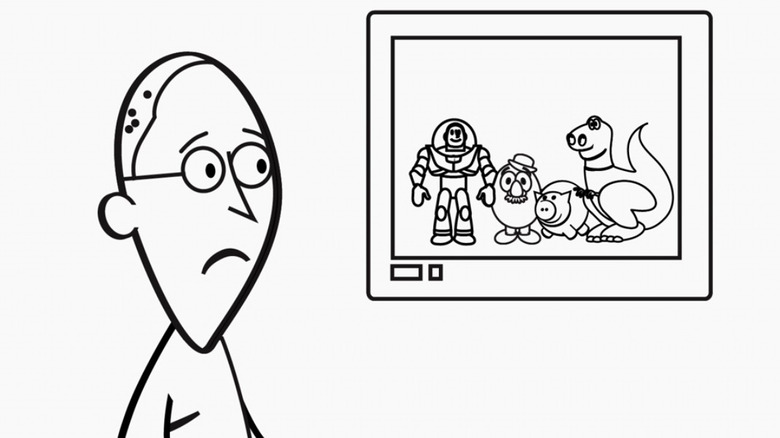 Pixar
Before the age of streaming, remember how excited you'd get for those Tuesday releases of new movies released to DVD and Blu-ray, filled to the brim with bonus material about the behind-the-scenes making of the movie? Sometimes a studio would even re-release an older classic and give it a special edition treatment with newly created bonus features. Thankfully, some of that bonus content lives on via Disney+, if you know where to look.
The 2010 re-release of "Toy Story 2" included a two-and-a-half-minute animatic called "The Movie Vanishes." It was part of an ongoing series called "Studio Stories" on Pixar home video releases that told backstage stories from the animation studio, presented as black-and-white animated doodles. In particular, "The Movie Vanishes" is one of the "Studio Stories" that is required viewing and truly unbelievable.
It tells of a catastrophic incident in which the entirety of "Toy Story 2" was deleted from Pixar's computers. The only way the movie was saved was because Galyn Susman, the film's technical director, happened to have a backup of the film on her home computer so that she could work while taking care of her newborn child. As recalled by Susman and Oren Jacob, the film's associate technical director, "The Movie Vanishes" is a comical, if stressful, reminder to always, always back up your work. You can find it in the "Extras" tab of "Toy Story 2" on Disney+.
Toy Story Toons and television specials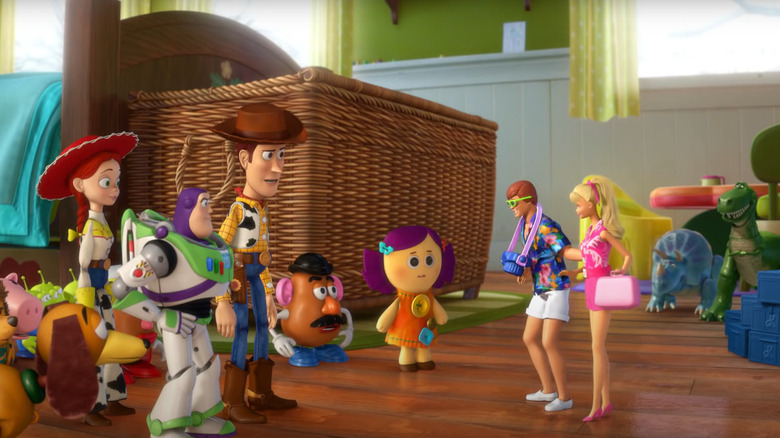 Pixar
"Toy Story 3" was a massive success in 2010. It not only won the Oscar for Best Animated Feature but was also nominated for Best Picture. And Pixar delivered on more adventures for Woody and Buzz sooner rather than later. "Toy Story Toons" was a series of short films showing life in Bonnie's room after "Toy Story 3."
These shorts included "Hawaiian Vacation" (released theatrically with "Cars 2"), "Small Fry" (released with "The Muppets"), and "Partysaurus Rex" (released with a 3D reissue of "Finding Nemo"). This collection was followed up by two half-hour television specials, "Toy Story of Terror!" (just in time for Halloween) and "Toy Story That Time Forgot" (connected to the holiday season). While it might've been hard to keep track of all of those as they initially debuted, you can now find them all on Disney+.
The combined run time of the five productions clocks in at just over one hour, providing a lot to enjoy for those who've never seen these projects. The filmmakers explore different kinds of toys not seen in the feature films, like fast-food toys, bath toys, and Christmas tree ornaments. These projects also give prominent roles to supporting characters like Jessie the cowgirl, Trixie the triceratops, and Mr. Pricklepants the porcupine. Rounded out by the entire original "Toy Story" voice cast, including Tom Hanks as Woody and Tim Allen as Buzz Lightyear, this overlooked collection is the real deal.
A Lesson in Flashbacks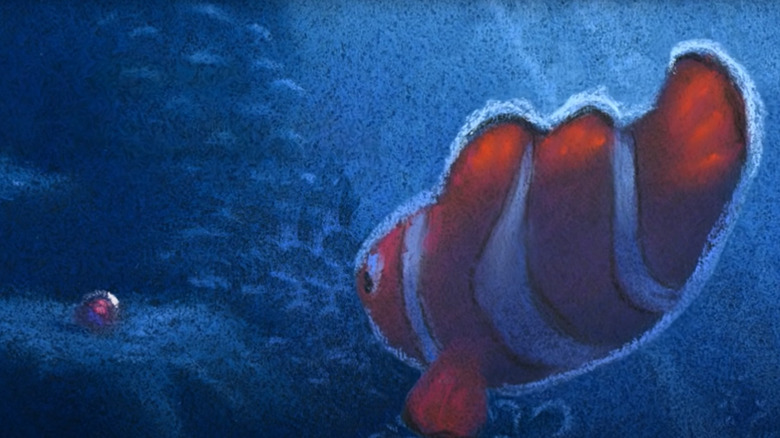 Pixar
The tragic opening sequence of 2003's "Finding Nemo" begins the movie on a startling note as a barracuda attacks and kills Coral, a mother clownfish, along with most of her eggs. The father clownfish and the one surviving egg become the protagonists, Marlin and Nemo, of the resulting story. But this wasn't always the way that Pixar filmmakers presented this series of events.
"A Lesson in Flashbacks" is an eight-minute backstage look that initially dropped on the 2012 Blu-ray of "Finding Nemo." Here, director Andrew Stanton shares that the movie was originally edited non-linearly to include flashbacks of Coral and Marlin's life presented parallel with the present-day story of Marlin searching for Nemo. The barracuda attack would've been shown simultaneously with the fish net climax of the movie. However, it just didn't work. The audience was unsympathetic toward uptight Marlin in test screenings. Changing the barracuda attack to the opening of the film and removing all the other flashbacks corrected the problem.
Curiously, Stanton says, "I might still try to do a flashback here or there in another movie, but I really learned my lesson about what it can and can't do for you." In retrospect, that's exactly what he'd end up doing because 2016's "Finding Dory" does employ the flashback editing technique to thread two parallel stories. You can find "A Lesson In Flashbacks" in the Extras tab of "Finding Nemo" on Disney+.
Party Central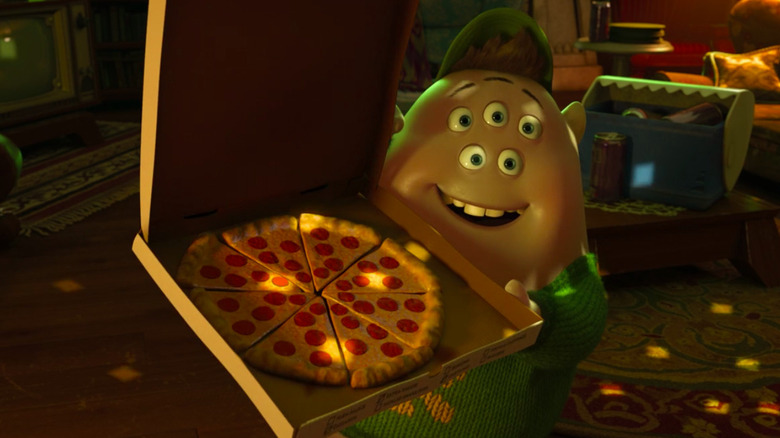 Pixar
Unless you saw "Muppets Most Wanted" in theaters in 2014, you might have missed "Party Central," a short film that takes place in the world of "Monsters University." 
Determined to get more freshman pledges for their fraternity, Oozma Kappa, Mike and Sulley throw a college rager. Oozma Kappa is traditionally a more low-key, unpopular frat compared to others like Roar Omega Roar, but that's all about to change thanks to a sly, fun twist on the audience's understanding of how doors work, as first explained in 2001's "Monsters, Inc." Billy Crystal and John Goodman return as Mike and Sulley in what amounts to a gleefully chaotic, visually vibrant cartoon that many people might not even know exists.
If you love "Monsters, Inc." you'll also definitely want to check out "Monsters at Work," a 2021 Disney+ original series. It gets a pass from being an official item in this list because, as its end credits and logos show, the series is actually produced by Disney Television Animation, not Pixar. Still, it's definitely worth a watch.
SparkShorts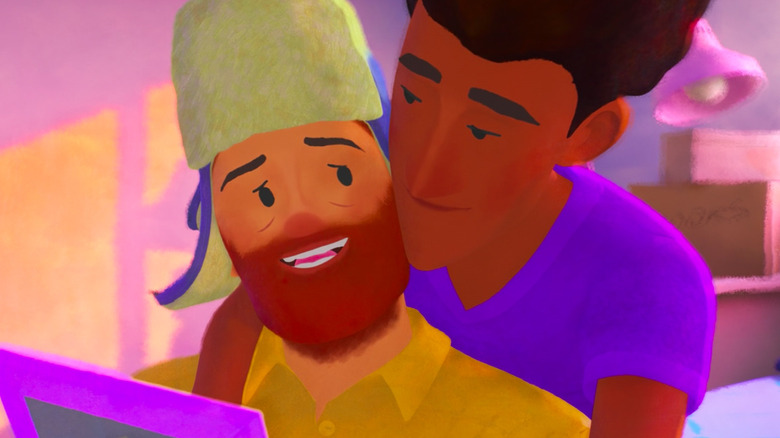 Pixar
The "SparkShorts" program launched in 2019 and is officially described in its title card as "Pixar artists' projects." Pixar president Jim Morris has elaborated that "SparkShorts" are "designed to discover new storytellers, explore new storytelling techniques, and experiment with new production workflows."
Director-driven, each film is deeply personal and entirely fresh from the next, with subjects as different from each other as a ball of yarn experiencing prejudice in her workplace, a man coming out to his parents, and a bunny burrowing a home for itself with other woodland creatures. The director of each short also gets to choose the visual style of the film too, so each one has a unique look. Some go for the computer-generated style one might expect from Pixar, while others take a more traditional, hand-drawn approach. Even within those two categories, different styles are employed that make each entry in the "SparkShorts" filmography exciting.
So far there are 10 "SparkShorts." They're all on Disney+, but finding them can be a bit cumbersome. Perhaps the easiest solution is select the Pixar tab from the Disney+ home screen and then scroll down until you see the "SparkShorts" heading.
Pixar in Real Life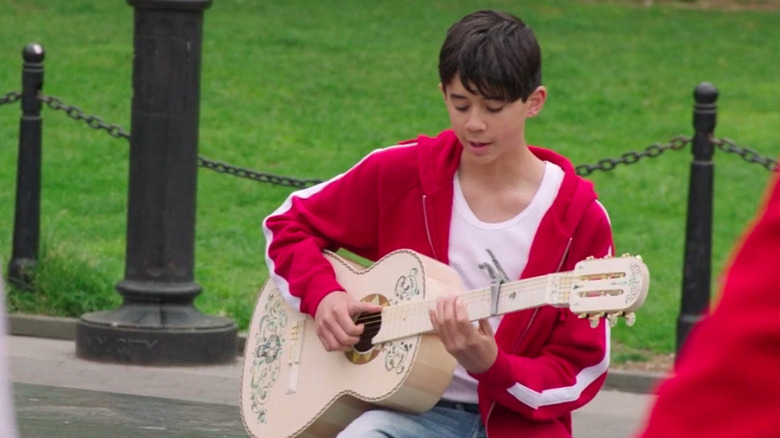 Pixar
Have you ever imagined what a cross between an episode of "Punk'd" and a Pixar movie might look like? No? Well, Disney+ gives it to you anyway with "Pixar in Real Life," a hidden-camera series that shows real people in the real world reacting to Pixar characters brought to life.
Picture it. You're at a local archery range, and someone in a silky blue dress with tangled red hair shows up and completely puts everyone around her to shame with her bow-and-arrow skills, all the while shouting about how she's a princess fighting for her own hand. Or you're going for a walk, and you maneuver around some construction cones placed on the sidewalk, when suddenly the cones start to move. You could even swear you see a dinosaur tail poking out from underneath one of the cones. Or how about this? You're at a park playing music when an elderly woman approaches you asking if you've seen her grandson, Miguel, and while she's at it, she snaps at you, "No music!"
These famous scenarios from Pixar movies like "Brave," "Toy Story 2," "Coco," and more play out during the quick episodes of "Pixar in Real Life." Some bystanders understand what's happening immediately, while others either take a minute to catch on. Others still simply have no clue what they're witnessing. The results are humorous and at times heartwarming. 
Inside Pixar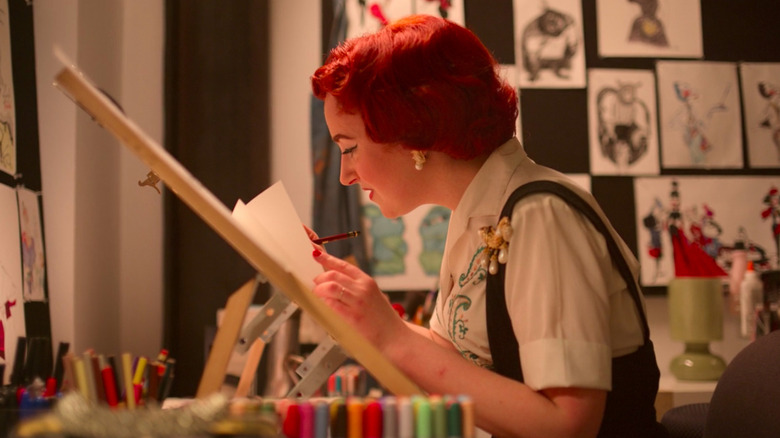 Pixar
"Inside Pixar" is a deep dive into Pixar office culture and storytelling technique by way of docuseries. While Disney+ categorizes all 20 episodes as part of one season, they're broken up into four distinct categories that have very different styles.
"Inspired" highlights individual Pixar filmmakers and gives a bit of background on their personal and professional journeys. "Portraits" takes a look at Pixar employees who may not be at the forefront of the public eye but are important to the studio running like clockwork, such as a pastry chef at the internal bakery and a director of facilities operations. "Foundations," narrated by Cristela Alonzo (the voice of Cruz Ramirez in "Cars 3"), teaches the different steps of a production cycle. Lastly, "Unpacked," narrated by W. Kamau Bell, tackles topics like narrative timelines and realism, feeling like what one might study in a film theory course.
"Inside Pixar" episodes cover fascinating subjects that fans will enjoy, but they're also presented in a way that's still palatable for casual viewers or young/newer movie buffs. It's the perfect watch for someone who wants to start learning more about the animation industry or storytelling.
Pixar Popcorn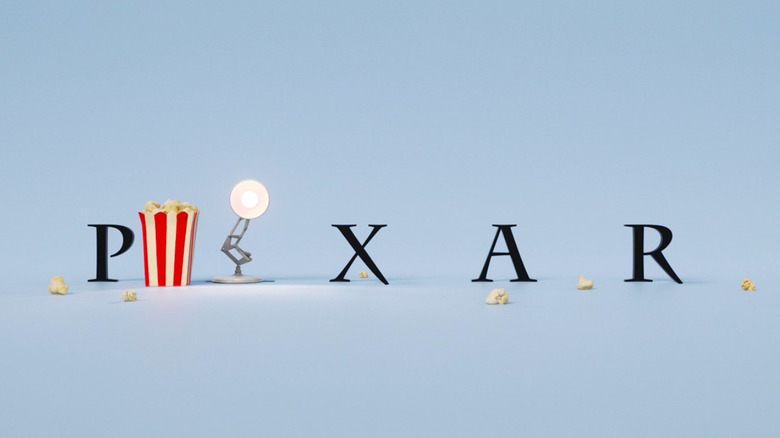 Pixar
Whatever the word is for a really, really short short film, that's what "Pixar Popcorn" consists of. This collection of animated vignettes features characters from "Toy Story," "Finding Nemo," "The Incredibles," "Cars," "Coco," and "Soul." Most of the entries feel less like narrative threads and more like fully rendered deleted scenes from those movies. They're essentially miscellaneous gags, all of them void of dialogue except for two bits with Keegan-Michael Key and Jordan Peele, reprising their voice roles as Ducky and Bunny from "Toy Story 4."
Still, these slice-of-life shorts give us the opportunity to see what these characters are up to when they're simply hanging out, without the threat of a major antagonist or life-altering moment as seen in a feature film. The best of the bunch are "Soul of the City," a poetic portraiture of New York, and "Chore Day — The Incredibles Way," a look at what household duties look like when you have superpowers. And each installment concludes with a different variation of Pixar's logo, featuring the iconic lamp interacting with popcorn.
Dug Days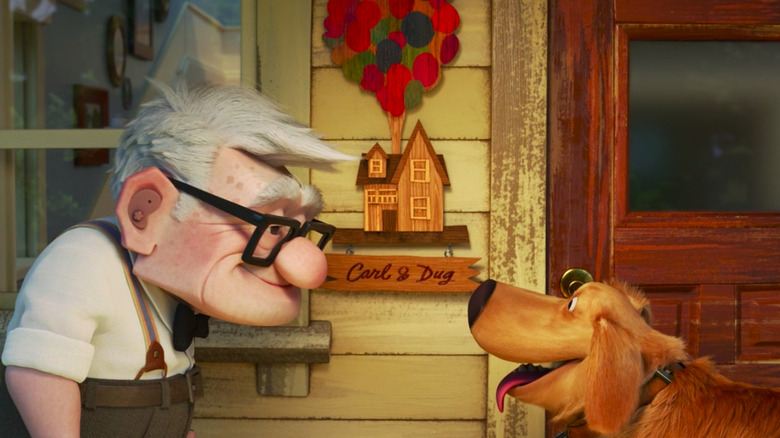 Pixar
"Dug Days" is an underrated, adorable animated series consisting of five episodes. Given that 2009's "Up" never received a sequel, this is as close as we're able to get to catching up with curmudgeon turned philanthropist Carl Fredricksen and this series' namesake, Dug, a dog with a special collar that verbalizes his thoughts out loud.
Dug lives with Carl now, and the two enjoy a comfortable life in a new home. (Carl's old house flew into the sky, remember?) Having previously lived in the South American jungle, suburban living in the U.S. is all new to Dug, and each episode chronicles his discoveries of strange new things in his neighborhood.
Handled with care and brimming with heart, "Dug Days" is one of the best Disney+ series no one is talking about. It's made even more special given that it's one of the final performances of the late Ed Asner, reprising his role as Carl. Asner, a legend of film and television, passed away on August 29, 2021, just three days before "Dug Days" released.
A Spark Story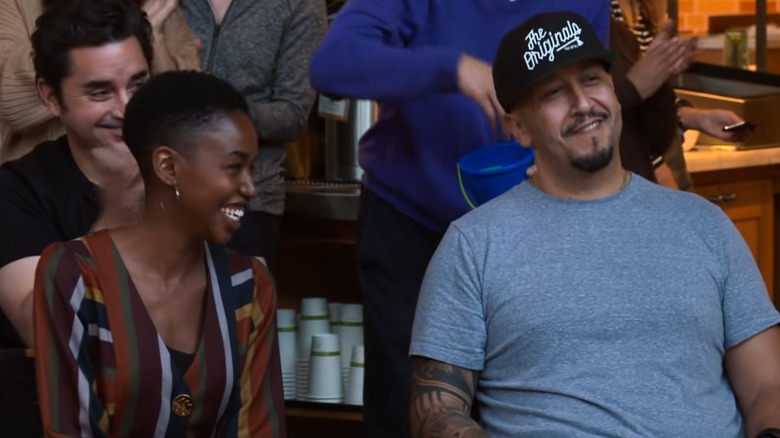 Pixar
The 87-minute documentary "A Spark Story" takes a deep dive behind the creation of two short films in Pixar's "SparkShorts" program, "Twenty Something" and "Nona." As detailed in the doc, the only parameters for these projects are that the short has to be a narrative story animated through computer graphics or traditional animation with a six-month turnaround from start to finish. Beyond that, anything goes in these experimental short films.
With this documentary being feature-length and its subject matter being, well, short, it's able to take its time and essentially become a portrait of the short films' respective directors, Aphton Corbin and Louis Gonzales (both pictured above). They were story artists at Pixar before being selected to participate as first-time directors for their "SparkShorts." Corbin's "Twenty Something" tells of a girl going out for her 21st birthday, but she's haunted by the insecurities of her younger self. Gonzales' "Nona" shows a grandmother who's at odds with taking time to honor a tradition held by her late husband while also babysitting her granddaughter. Both stories are rich in character development and emotional heartbeat despite their brief runtime.
"A Spark Story" shares a lot of wisdom from Corbin, Gonzales, and their teams, with plenty of quotable takeaways applicable to the workforce and family relationships alike. If you've ever wanted a peek into the nitty-gritty of what it takes to make a Pixar short from its initial concept all the way through to completion, don't miss this documentary.
Embrace the Panda: The Making of Turning Red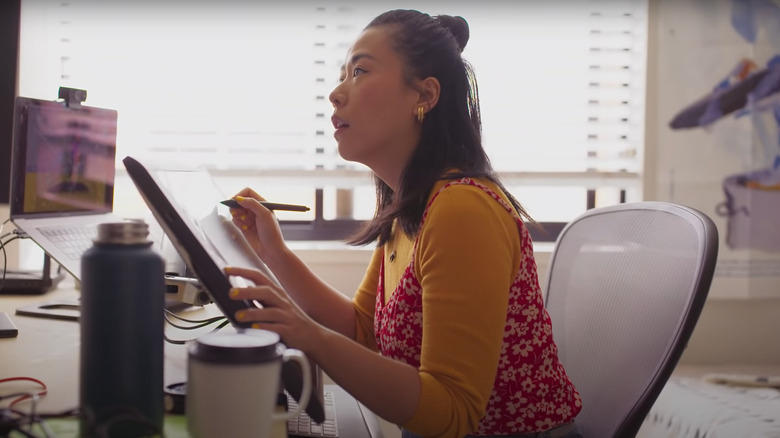 Disney+
"Embrace the Panda" is a 48-minute documentary providing an all-access pass into the production of "Turning Red." In the traditionally inventive spirit of Pixar stories, the 2022 movie asks a highly creative "what if" question: What if a teenage girl, Mei, turned into a giant red panda every time she was nervous? This documentary particularly focuses on the all-female leadership that helmed the "Turning Red" crew — director Domee Shi, production designer Rona Liu, producer Lindsey Collins, and visual effects supervisor Danielle Feinberg.
Documentary director Erica Milsom and her team at Core Studio present a look backstage at "Turning Red" that feels intentional, design-driven, and purposeful, with fantastic interviews and cutaways to visual representations of the filmmakers' stories in sketch form. We see the crew study red pandas at a zoo, overcome logistical limitations inflicted by the pandemic, and be inspired by elements of their own childhood that informed the characters and themes of "Turning Red."
The four filmmakers also share their different career paths that led them to Pixar and the wisdom behind decisions they made that got them to this point, making "Embrace the Panda" insightful for anyone trying to break into the animation industry or the movie business in general.