Fans Of HBO Max's Harley Quinn Series Just Got Some Amazing Spin-Off News
Right next to Batman and the Joker, one of the most popular DC comic book characters in history is undoubtedly Harley Quinn. Notably, although Harley has been transplanted into nearly as many different mediums as Bruce Wayne himself, she is one of very few comic book characters whose origins actually do not lie within another comic book. In fact, the first appearance of Harley Quinn came courtesy of 1992's "Batman: The Animated Series" (via DC Fandom). Upon her debut on television, Harley proved so popular among audiences that DC opted to incorporate the character into a comic book series only a single year later (via DC Fandom). 
In the years since, Harley has been portrayed on the big screen by actress Margot Robbie and has also made way her back into animation more than a few times (via YouTube). In HBO Max's "Harley Quinn" series, the eponymous character is voiced by "The Flight Attendant" star Kaley Cuoco. 
The first two seasons of the character's latest series have been praised by fans and critics alike (via Rotten Tomatoes). Fans eager for more of this show's irreverent sense of humor will surely be pleased by the latest news of a coming spin-off.
Kite Man gets ready for his closeup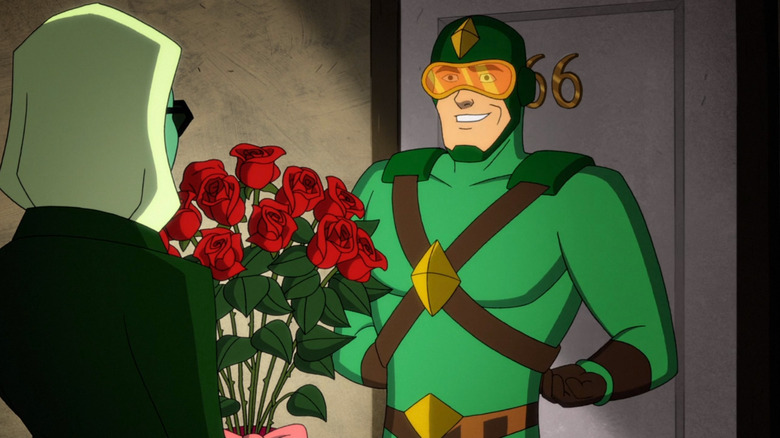 HBO Max
During the Warner Bros. Animation panel at the South by Southwest (SXSW) festival, "Harley Quinn" co-creator Patrick Schumacker confirmed that an animated spin-off series centered on Kite Man (Matt Oberg) is currently in development (via Slashfilm). The series, which will be titled "Noonan's," is set to follow Kite Man during his ill-fated attempts to run a bar named after infamous DC hitman Sean Noonan (via DC Fandom). "He tries to run the bar by himself, but it doesn't turn out so easy," Schumacker said.
Interestingly, Schumacker described the series as "'Cheers' for supervillains," noting that Harley Quinn and Poison Ivy (Lake Bell) will appear in the first episode. Although Schumacker did not go into detail about any potential further appearances by the duo, he made sure to note that each subsequent entry in the series will feature "different goons and villains." In particular, Schumacker specifically mentioned Lex Luthor and Bane as characters fans should expect to see pop in for a drink or two.
Kite Man is one of many colorful characters in "Harley Quinn" voiced by Matt Oberg (via IMDb). The popular HBO Max series is expected to return for its third season sometime in 2022.