The Best Time Andrew Lincoln Broke Character On The Walking Dead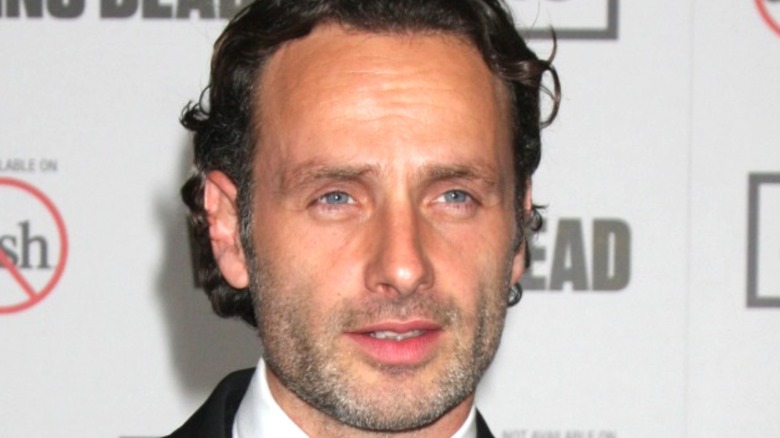 Kathy Hutchins/Shutterstock
Andrew Lincoln's performance as zombie apocalypse survivor Rick Grimes in "The Walking Dead" made Grimes one of the most beloved characters of the ever-expanding franchise. The British star gained international acclaim when he headlined the series based on the hit comic series of the same name. The AMC series first debuted in 2010, with Lincoln appearing as the leader of the motley crew of survivors until Season 9. The star ultimately left the show to spend time with his family, though he's set to reprise his role in a trilogy of feature films.
Rick Grimes is best remembered as one of the most serious characters in "The Walking Dead," known for his brooding approach as a leader and decision-maker in the zombie-riddled wasteland. To be fair, the apocalyptic hellscape which caused division and anger amongst humans doesn't necessarily allow one to lighten up and enjoy the moment. Despite that, there's one notable moment in the history of "The Walking Dead" that sees the stoic Rick character turn apologetic rather quickly.
Lincoln literally broke a wall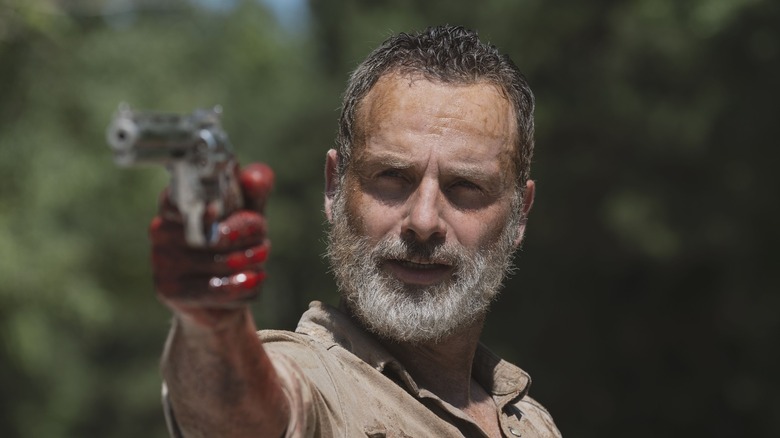 Jackson Lee Davis/AMC
Every actor has their own method of getting into a scene. While some prefer method acting, others prefer to get themselves psyched up before scenes that are pivotal to the project. Andrew Lincoln was known to hype himself up before big scenes to get into the shoes of Rick Grimes. Sometimes, Lincoln got too involved in a scene, which in one case resulted in a hilarious moment that caused him to break character.
While filming a key scene where Rick Grimes pulls out a gun on Carter (Ethan Embry) when he realizes a coup is in the works, Lincoln was getting into the zone to capture some of the adrenaline his "The Walking Dead" character must have been facing. In a video of "The Walking Dead" bloopers, the actor is shown hitting a wall until he punches a hole through it, which causes him to immediately break character. Talk about breaking the fourth wall. 
In an interview with Entertainment Weekly, Lincoln elaborated on the moment, first clarifying that it was a fake wall. "I was getting psyched for a scene and I just thought I'd hit the wall a couple times ... I just pushed and it went all the way through the wall. I went, 'I'm so sorry. Is that in shot?' They went, 'Directly in shot.' I felt like an idiot."
The video does show Lincoln muttering expletives before apologizing to the crew. It's a hilarious and honest moment where the rough exterior of Rick Grimes fades away, resulting in one of the most memorable bloopers from Lincoln's run on "The Walking Dead".