James Franco Reveals What The Room's Tommy Wiseau Thinks About The Disaster Artist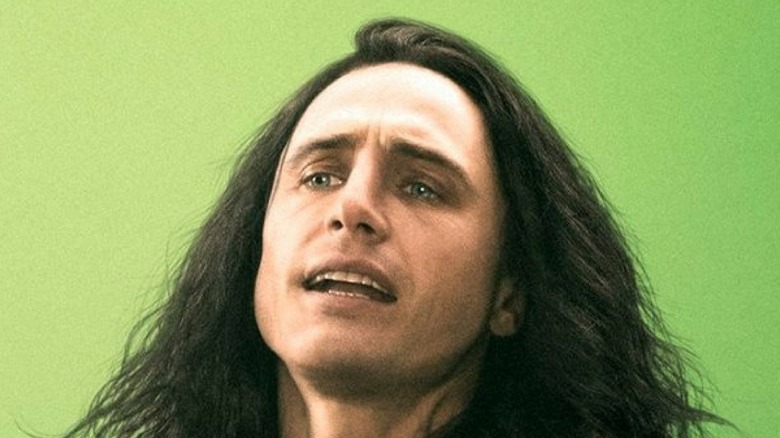 James Franco has 99.9 percent of Tommy Wiseau's approval for his upcoming biopic The Disaster Artist. Franco, who will play the The Room writer, director, and star in the film, revealed to Entertainment Weekly that Wiseau had mostly positive things to say about the film when he saw it at SXSW, although there was one pointer he offered.
The Disaster Artist tells the behind-the-scenes story of the makings of Wiseau's critically maligned cult hit The Room. The movie is based on the book from star Greg Sestero of the same name, and Franco said he worried right away that the source material would cause some contention with Wiseau. "We were unsure of what he was going to think, especially because he said, 'Greg book only 40 percent true,'" Franco said, adopting Wiseau's signature accent. "It was like, well, that's what we based it on, so what are you going to think about our movie?"
However, Franco said that the screening ended up being a huge success, adding that it felt "like a rock concert." Afterwards, he asked Wiseau what he thought, and the auteur said that he approved of all but 0.1 percent of what he saw. "He said, 'I think the lighting, in the beginning, a little off,'" Franco said. "I told [our cinematographer] Brandon [Trost]. He was like, 'Yeah, maybe we should watch The Room, get some lighting pointers!'"
Lighting concerns aside, Wiseau's positive opinions fit with what most critics have been saying about the film, which currently sits at a 92 percent on Rotten Tomatoes. The movie also stars Franco's brother Dave as Greg, with Seth Rogen playing the film's script supervisor. Alison Brie, Josh Hutcherson, Ari Graynor, Zac Efron, Andrew Santino, Nathan Fielder, June Diane Raphael, Hannibal Buress, Casey Wilson, Jerrod Carmichael, Judd Apatow, Christopher Minz-Plasse, Zach Braff, and Bryan Cranston fill out the movie's all-star cast.
Franco directs The Disaster Artist based on a script from Scott Eric Neustadter and Michael H. Weber (The Fault in Our Stars). The movie has a Dec. 1 release; in the meantime, prepare by reading up on the untold truth of The Room.