The Lilo & Stitch Easter Egg You Might Have Missed In Big Hero 6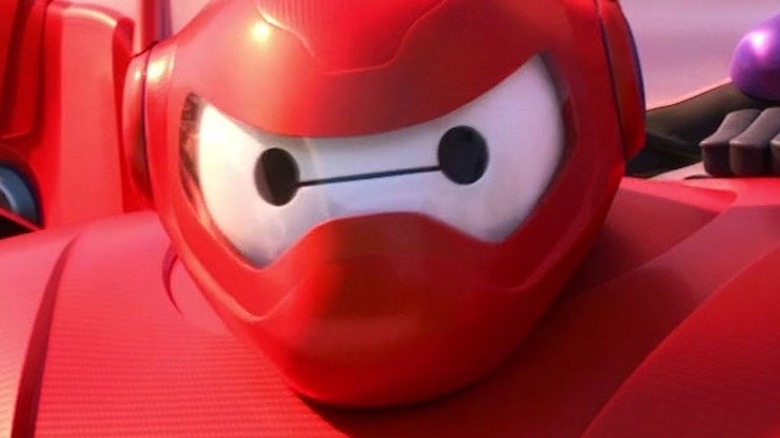 Walt Disney Pictures
Disney has been known in recent years for the Easter eggs it includes in its big-screen and small-screen projects. For instance, in the film "WALL-E," Rex, the beloved dinosaur from "Toy Story," is spotted on the shelf with the rest of WALL-E's things that he has collected over the years. Another example is Heihei, the goofy rooster from "Moana" doing his Heihei thing in a scene from "Raya and the Last Dragon." 
Given how Disney loves sneaking in references to previous projects, eagle-eyed viewers try their best to find as many as they can during a movie or TV show. "Big Hero 6" is the tale of a young boy, Hiro (voiced by Ryan Potter), and his lovable robot companion and caregiver, Baymax (Scott Adsit), trying to navigate life after the loss of Hiro's brother, Tadashi (Daniel Henney). Not surprisingly, this film has quite a few notable Easter eggs. Some are subtle, like the Wanted poster of Hans from "Frozen" in the police station, and some not quite, as seen with the Stan Lee cameo at the end of the credits. With that being said, it can be easy to miss most of these Easter eggs, especially this particularly quick reference to "Lilo & Stitch."
Picture perfect Mochi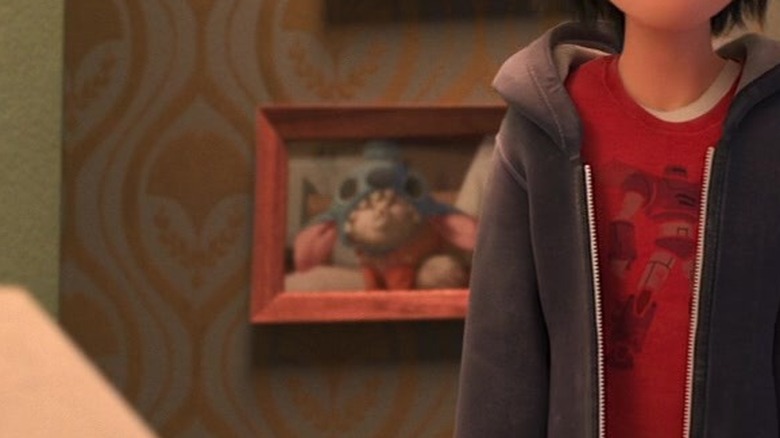 Walt Disney Pictures
At first glance, this "Big Hero 6" Easter egg might not be obvious to viewers, but thanks to the TikTok account Hidden Movie Details, viewers can spot it with ease. The cameo only appears on screen for a few minutes before not showing up again for the rest of the film. When Hiro and Aunt Cass (Maya Rudolph) are chatting on the stairs after Baymax and Hiro go on their first adventure together, the picture becomes clear. It is right behind Hiro's right arm and is visible for a few moments while the two are talking to each other. Mochi, the family cat, is dressed up in a Stitch costume from "Lilo & Stitch." 
The adorable fluff ball is looking at the camera completely unimpressed and has a Stitch hat tied around his head and the Experiment 626 jumper on his body. He definitely doesn't want to be wearing the Stitch costume, but it makes for a cute Easter egg nonetheless. There are a lot of fun Easter eggs throughout the Disney/Pixar world, and it is always enjoyable putting the pieces together while watching these films.