Topher Grace Opens Up About His Pitch For Venom: Let There Be Carnage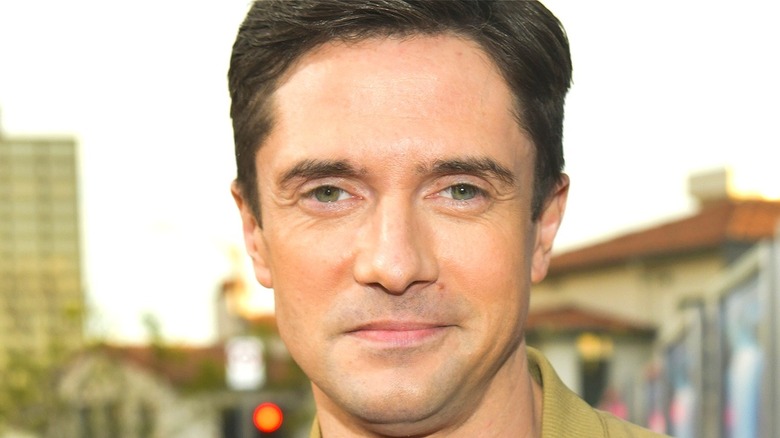 Rodin Eckenroth/Getty
With multiversal casts all the rage in superhero movies nowadays, it only makes sense that an actor who previously stepped into the symbiotic goo of Venom would have an interest in the character's most recent incarnation on the big screen. That appears to be the case with Topher Grace, who presented an intriguing idea about how the world of Tom Hardy's Eddie Brock/Venom character would interact with his character from the ABC sitcom on which he currently stars, "Home Economics." Now, if you're wondering why Grace has a horse in the "Venom" race, it's because he played both Eddie Brock and the symbiote-controlled character in much more villainous fashion in 2007's "Spider-Man 3," opposite Tobey Maguire's web-slinger.
Unfortunately, it wasn't meant to be, despite a working relationship between Sony Pictures, the producers of "Venom: Let There Be Carnage," and Disney, the parent company of both ABC and Marvel Studios. But at least we can hear Grace's version of the idea and imagine how nice it would have been to see it pan out as he had envisioned.
Grace's pitch brings the worlds of Home Economics and Venom together
Topher Grace shared his idea for a "Venom: Let There Be Carnage" on a recent episode of "Late Night with Seth Meyers" (via YouTube). Per the actor's quietly ingenious idea, it seems that he wanted to take advantage of a fortuitous dovetail between the release of "Venom: Let There Be Carnage" and his own "Home Economics." If you cast your mind back to late 2021, you may recall the Season 2 premiere of "Home Economics" aired in late September, and the "Venom" sequel was set for release on October 1. Grace explained that he pitched taking advantage of the ABC sitcom's release date, which fell before "Let There Be Carnage" hit theaters by releasing a fun ad that poked at the actor's "Spider-Man 3" performance as Venom.
Grace told Meyers, "We couldn't make it work as an ad. Because 'Home Economics' premiered literally like, one day from when 'Venom 2' was gonna premiere. I was like, 'We should do an ad.' They just couldn't — It was, like, Sony and Disney, and they couldn't figure it out."
That's unfortunate, because it sounds like he had a pretty funny idea for a commercial, one that plays off the history that Grace has with Venom. He explains his idea like this: "Where all of our characters on 'Home Economics' were sitting watching the trailer for 'Venom 2." And I just wanted my character to be, like, not into it. So, I'm like, 'Who even is this guy?'"
Alas, the crossover ad wasn't meant to be. But now that Grace has shared the idea, maybe Sony and Disney can get their act together in time for the next "Venom" installment?