The MCU Role Robert Pattinson Doesn't Regret Passing On
Alexander Tamargo/Getty
When Robert Pattinson made his big screen debut in 2005 as Hufflepuff student, Quidditch star, and Triwizard Tournament champion Cedric Diggory in "Harry Potter and the Goblet of Fire," he effortlessly achieved swoon-worthy status. In 2008, when he took on the role of vampire teen Edward Cullen in the "Twilight" saga, his army of enthusiastic fans only intensified.
However, as he neared the end of his reign as the brooding bloodsucker, Pattinson began to depart from youth-focused films and take on more mature parts. Examples include 2011's "Water for Elephants," which sees Pattinson portraying Jacob Jankowski, a veterinary student who embarks on an unexpected, romantic circus journey; and 2019's "The Lighthouse," in which Pattinson stars as Thomas Howard, a lighthouse keeper who struggles to keep it together while on a deserted island.
After 17 years of climbing the industry ladder, Pattinson is now taking on the coveted leading role in "The Batman," following in the footsteps of legends such as Adam West and George Clooney. For Pattinson, his career has been a steady trajectory upward. But one potentially major job opportunity just didn't seem like the right fit for his journey.
Robert Pattinson didn't want to be in Guardians of the Galaxy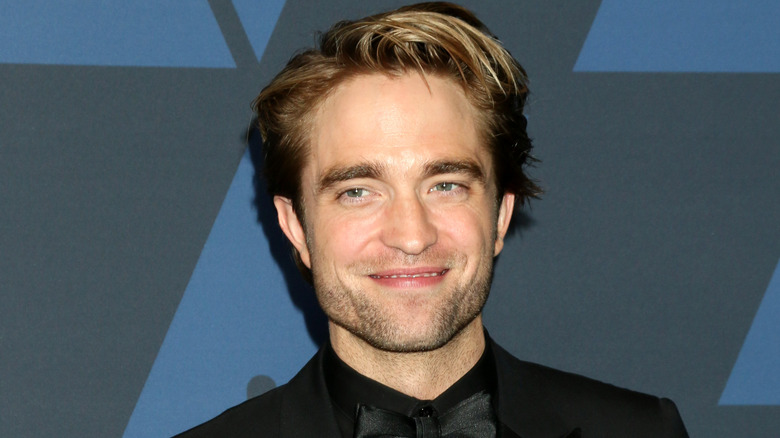 Kathy Hutchins/Shutterstock
Prior to the release of the Marvel Cinematic Universe film "Guardians of the Galaxy" in 2014, which follows the adventures of Groot (Vin Diesel), Rocket Raccoon (Bradley Cooper) and friends, Pattinson revealed that he and Marvel execs briefly discussed the possibility of him appearing in the movie (via Variety). It's unclear which character he would have played.
Despite "Guardians of the Galaxy" being a massive success, raking in $94.3 million during opening weekend (via The Hollywood Reporter), Pattinson didn't envision himself jumping from a teen romance franchise to Marvel. He said, "I don't really know what I would be chasing. The idea of trying that transition after 'Twilight,' I never saw a road in that direction." At this point in his life, Pattinson is making an exception for Batman, which he described as an "interesting part" due to the Dark Knight's lack of superpowers.
Though some Pattinson fans had their fingers crossed that he'd be involved with the forthcoming "Guardians of the Galaxy Vol. 3," set for release in May 2023 (via Insider), director James Gunn quickly dashed their hopes and dreams (via Comic Book Resources). When asked on social media if the Pattinson rumor was true, Gunn answered, "No, it's definitely not."