The Mike Scene On Better Call Saul That Went Too Far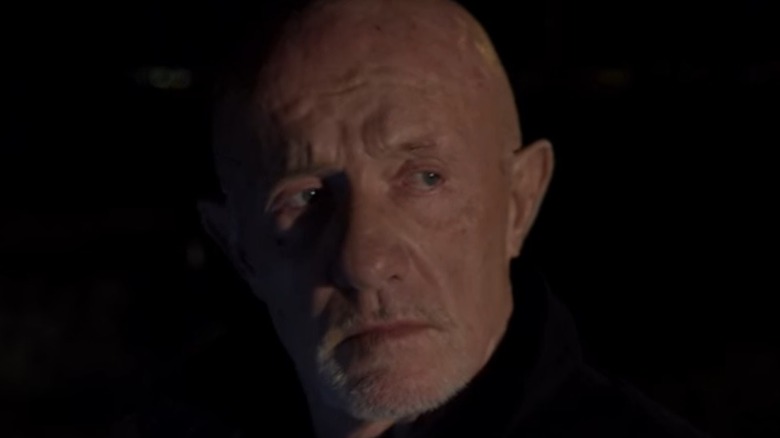 AMC
Mike Ehrmantaut (Jonathan Banks) is one of the most fascinating characters Vince Gilligan and Peter Gould offer to audiences in the expansive universe that encompasses AMC's hit shows "Breaking Bad" and "Better Call Saul." Mike is first introduced in Season 2 of "Breaking Bad" as Saul Goodman's (Bob Odenkirk) clean-up man and go-between for Gus Fring's (Giancarlo Esposito) criminal operation. Mike helps Jesse Pinkman (Aaron Paul) "clean up" the scene of his girlfriend's death, and he goes on to develop an odd relationship with Jesse and Walter White (Bryan Cranston). While Mike gives professional and personal advice about life in the criminal world to Jesse, he maintains an instinctual distrust toward Walt that proves to not be unfounded. In the "Breaking Bad" Season 5 episode "Say My Name," Walt angrily kills Mike, triggering the downfall of his criminal empire.
"Better Call Saul" turns the clock back several years in Albuquerque to depict how Mike, Saul, and Gus grew acquainted, providing plenty of ways for its creative team to flesh out Mike's character over five (and counting!) more seasons of content. Mike's backstory is expanded upon midway through the 1st season of the prequel spin-off, showing how his time as a police officer in Philadelphia came to an end and set him down the long journey from corrupt cop to the calculating career criminal audiences meet in "Breaking Bad." One flashback sequence, in particular, breaks away Mike's cool facade completely, showing audiences a revenge-driven and grief-stricken man they might not have realized was under his typically stoic demeanor. 
Mike's revenge for his son's death and subsequent confession hit hard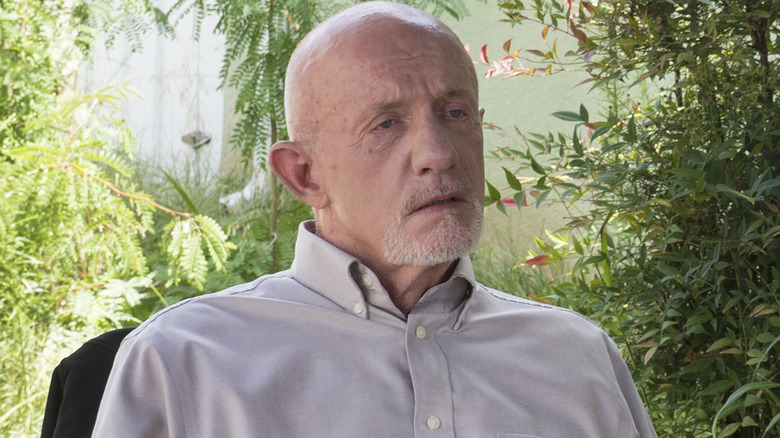 Ursula Coyote/AMC
In the "Better Call Saul" Season 1 episode "Five-O," flashbacks to Mike's life as a Philadelphia police officer reveal that two corrupt cops killed his son Matt, the only officer in their precinct not engaged in corruption — Mike included. Mike confronts the pair at a neighborhood bar and pretends to be intoxicated as he leaves, prompting the officers to kidnap him. However, Mike eventually reveals his ruse and shoots them both dead with little hesitation. 
The violence itself isn't so surprising, but it's the heartwrenching confession Mike makes to Matt's widowed wife, Stacey (Kerry Condon), that proves to be difficult to watch. With tears welling up in his eyes, Mike takes the blame for his son's death, and the viewer gets an uncomfortably honest look into the psyche of a character who had previously kept much of his interior life to himself. This scene showcases a well-intentioned father breaking bad and turning to a life in the criminal underworld because of tragedy — not too different than Walter White himself. 
On the series' subreddit, fans have spoken about this painful Mike moment. Reddit user u/AtticusLynch noted the contrast between Mike's emotional confession compared to his typical collected manner throughout even the most chaotic moments we'd seen him in previously. "It's been years since we've known Mike. Never once has he had any other emotion than 'f*** this bulls***t I'm not dealing with it I have no f***s to give,'" they wrote. "Now we just saw the opposite. It was sad really."
Other users agreed, with u/Haxa writing, "Seeing Mike being so stone cold, not only throughout Better Call Saul so far, but through the entirety of Breaking Bad, and then seeing him being emotional like that really got to me."