The Worst Storyline In Blue Bloods Season 9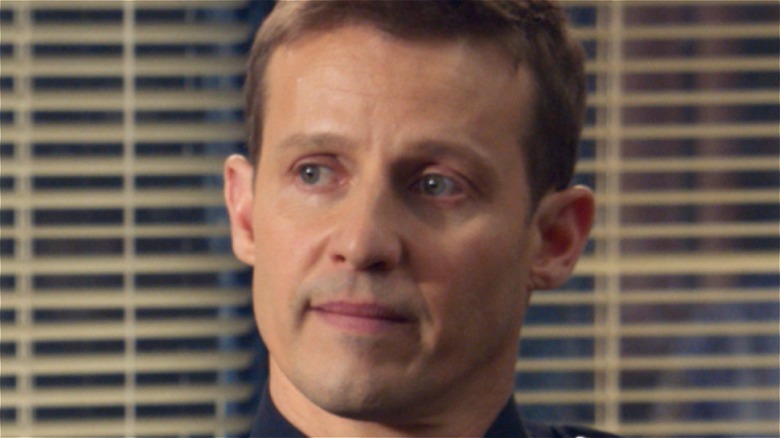 CBS Entertainment/CBS
Usually, "Blue Bloods" offers some of the most entertaining storylines you can find on television on a Friday night. The Reagan family is always on the case, with Danny (Donnie Wahlberg) typically taking to the streets to chase down bad guys while his sister, Erin (Bridget Moynahan), works in the office to ensure bad guys get their just desserts. That's not even getting into all of the hard work family patriarch Frank Reagan (Tom Selleck) does as commissioner to keep all of the gears of law enforcement turning properly.
It's a tried-and-true formula that's worked for the police procedural for over a decade at this point. Fans know what to expect for the most part and enjoy seeing the family tackle whatever the crime of the week ends up being. However, that doesn't prevent there from being a stinker of an episode every now and then. Sometimes the formula just doesn't pan out, or fans don't respond well to the contents of a particular episode. That appears to be the case with one installment of "Blue Bloods" Season 9.
Fans have a lot to say about Season 9's 'Disrupted'
"Blue Bloods" Season 9, Episode 11, "Disrupted," brings real-life issues to the world of "Blue Bloods." Frank Reagan's meal is interrupted by protestors while Danny gets sidelined in a story about his son dating a girl next door. While it has all of the hallmarks of a good "Blue Bloods" episode, fans didn't respond well to the outing. The episode is currently the lowest-rated of its season on IMDb, with a score of 7.6/10.
Fans also weren't shy about sharing their opinions via IMDb reviews. One user thought the episode just never really managed to find its footing, writing, "There is so much going on that it all crashes and [loses] momentum and just putters out. By the time you get to the end of the episode you do not feel like you just got off of an amazing ride. In fact it feels like you got on the ride ready to go looked around and realized that the park is closed and you have no idea why you are even there."
There was also quite a lot of contention over the depiction of Danny's neighbor, who's from Texas. Apparently, quite a few people thought the portrayal of a Texan was insulting, as another user stated, "The stereotyping of people who live in 'Texas' is laughable." You can't win them all, and given the fact almost every other episode in Season 9 has a rating over 8.0/10, it's safe to say the show mostly excels even later into its run.